(Clearwisdom.net) During his term of office as the Communist Party Secretary of Dalian City, Liaoning Province, Bo Xilai relentlessly persecuted Falun Gong practitioners. After his appointment to the Communist Party Secretary of Chongqing, he continue to act as the mastermind of the persecution of Falun Gong practitioners there. As a result of his backstage direction, many practitioners were arrested, detained and tortured. Many were brought to trial and imprisoned despite having done nothing illegal. Some were seriously injured, handicapped and even killed in the persecution. According to information from some insiders, Bo wanted to capitalize on his persecution of Falun Gong as a means to serve his political ambitions. Thus, he swore to the Central Communist Party Committee that he would wipe out Falun Gong from Chongqing during his term of office. To that end, he announced "A three-year plan of total war to fight Falun Gong from 2010 to 2012." He later shortened the period of the plan from three years to two years and escalated his persecution of Falun Gong.
1. Hundreds of Falun Gong Practitioners Persecuted
According to the Minghui website (Chinese version of Clearwisdom) in 2009 there were 188 arrests and detentions of Chongqing practitioners. They were arrested even though police had no evidence of any crimes. Among them, six practitioners were killed, 18 were sentenced to imprisonment, 76 were sentenced to forced labor and five were sent to mental hospitals, notwithstanding their perfectly normal mental health.
From January 1, 2011 to August 11, 2011, however, Minghui reported 295 practitioners were persecuted, among whom 224 were arrested, 22 sentenced to forced labor and 49 harassed and intimidated by police.
From July 20, 1999 to 2010, at least 255 practitioners from Chongqing were sentenced to imprisonment and 20 of them are still being held in the Yongchuan Prison. The details of their imprisonments are under investigation.
Various methods of physical torture and mental brainwashing were involved, including coercion to renounce Falun Gong. Though the total number of those persecuted is not known, it is estimated to be far larger than confirmed reports.
2. 610 Office of Chongqing Actively Involved in Brainwashing Innocent People
In recent weeks, 13 new brainwashing centers have been set up by authorities of Chongqing City and surrounding areas. The increase is in-keeping with stated efforts to persecute Falun Gong.
Among the measures police are implementing include cutting off electricity and water supplies to practitioners' homes. Locksmiths have been hired when practitioners refuse to open their doors, and full-fledged home invasions are employed to assist in the arrest of practitioners when deemed necessary. Mr. Zhang Yougao, a practitioner from Shapingba District, Chongqing, was forced to open his door and arrested when police cut his power and water supply for a long period of time.
Mr. Gu Jiushou, a 73-year-old retired engineering professor from Chongqing University, was cruelly beaten and suffered severe back injury when police attempted to arrest him by force. As a result, he became debilitated from the pain caused by the injury. He is now held in a brainwashing center.
3. Ms. Zhou Kailan Force Fed and Almost Killed
On July 24, 2011, Ms. Zhou Kailan was force fed by a group of guards in a brainwashing center in Chongqing's Wanzhou District. As a result she fell unconscious, foaming at the mouth. After one day of critical care, her condition had not improved. Because doctors feared being held responsible for her condition, the guards took her home in secret on July 30 and dashed away.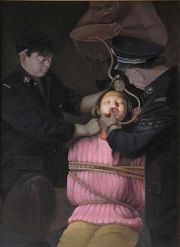 Torture re-enactment: Force feeding
4. Practitioners' Food Poisoned
Food poisoning is being utilized as a means to induce practitioner renunciations of Falun Gong. After some practitioners were sent to the brainwashing center, several guards offered them some water to drink. The water had an unpleasant smell, but the practitioners dismissed it as anything unusual, since plastic cups sometimes smell funny. But upon drinking the water and after they ate, they suffered from intestinal disorders and abnormal excrement. They felt sick about 1 hour after they ate and noticed their hands were numb and their minds were unnaturally slow. They were awakened by nightmares overnight, as well as symptoms of extremely dry skin, heart irregularities, bitterness of mouth, and unstable blood pressure.
Doctors from the brainwashing center tested the practitioners' blood pressure daily. Several days later the symptoms had grown worse, so the practitioners then realized that their food had been laced with drugs. Ms. Huang Yonggui, a practitioner from Wanzhou District, lost her memory after being fed the drugs and was in critical condition. The police sent her to the Wanzhou District No. 3 Hospital. Ms. Huang's family requested to bring her back home, but the police demanded that Ms. Huang's son write a statement in which he had to promise to send Ms. Huang back to the police station after she recovered. Desperate to get his mother out of there, Ms. Huang's son signed the letter and brought Ms. Huang back home. The authorities sent police to watch her home, waiting to arrest her again. On March 28, 2011, the police ransacked her home and attempted to take her away. They didn't succeed. On April 1, 2011, police invaded her home and forced her to sign a paper describing her peculiar sentence of 1 year of forced labor without having to serve her term in a labor camp. This signature was demanded of her despite the fact that she was incoherent and suffering from memory loss at the time.
Ms. Chen Qing is a teacher from the Taian Middle School of Tongnan County, Chongqing. She was highly recognized for her diligence and outstanding performance at work. On December 10, 2003 she was shadowed by police and was arrested when she was working at her school. She was then sent to a brainwashing center called a "school of law". After she was released the authorities attempted to arrest her again, so she left her home to wander about. Her school suspended her salary and confiscated her bonus. Grief stricken, her mother passed away from illness
5. Victimized Practitioners' Family Implicated
Ms. Zhang Denghui, in her 40s, is a Falun Gong practitioner from Zhichang Street, Xiaba Town, Jiangjin District, Chongqing. Because of her practicing Falun Gong she was persecuted by Hu Wenbi, chief of the village of Xiaba town and Liu Xiuqiang, an officer from the Xiaba Town Police Station. She was arrested and sent to the Jiangjin District Police Department and was later held in the district detention center, where police interrogated her for a confession. She was savagely beaten, exposed to the scorching sun, and forbidden from cafeteria or restroom privileges. As a result her body was covered with bruises and swelling.
Ms. Zhang's 6-year-old son was very scared when he saw police ransack his home and his mother handcuffed and sent to prison. Such scenes left a deep impression of fear of police in his young mind. After Ms. Zhang was released, police went to her home to search for Falun Gong materials numerous times. They even asked her if her son practices Falun Gong and threatened that they would go to her son's school to investigate him.
On the afternoon of March 23, 2011, Liu Zhenhuai, chief of the 610 office of Jiangjin District, Chongqing and two police officers went to the home of practitioners Mr. Wu Zongrong and Ms. Huang Shunrong and threatened that they would send them to a brainwashing center. Their son and daughter-in-law were fed up with the harassment to the point of leaving their own home to rent an apartment in another city.
Recently, Liu Zhenhuai went to the home of practitioner Ms. Wen Qinghua and forced her husband to divorce her.
6. Practitioner Cremated Alive
Mr. Jiang Xiqing is a retired officer from the Tax Office of Jiangjin District. Before the Beijing Olympic games in 2008 he was arrested and held in the 7th group of the Xishanping Labor Camp only because he was a Falun Gong practitioner. On the afternoon of January 27, 2009, his family saw him in good health in the labor camp, although he was already 66 years old. The next day his family received a call from the labor camp, saying that Mr. Jiang had died of a heart attack.
After the labor camp's official statement of Mr. Jiang's death his body was put in deep freeze at the funeral parlor. Seven hours later, when his children went to pay their condolence to him they found his forehead, chest, abdomen and legs were still warm! They cried out to the police officers on the spot: "Save my father, quickly, please save my father. He is still alive!" However, the police officers never gave them the chance to save him—they dragged them out of the frozen area of the funeral parlor and cremated Mr. Jiang with no hesitation.
To seek justice for their father, Mr. Jiang's son Mr. Jiang Hongbin and his daughters Ms. Jiang Hong, Ms. Jiang Ping and Ms. Jiang Li appealed to authorities for their father's death. They hired Mr. Zhang Kai, a lawyer from the Yijia Law office in Beijing and Mr. Li Chun Fu, a Lawyer from the Gaobolonghua Law Office in Beijing to provide them legal assistance.
In the afternoon of May 13, 2009, when the lawyers were studying the case in Chongqing, Mr. Jiang's children were arrested by more than 20 police officers from the Political and Law Committee of Jiangjin District, the 610 Office, the Youxi Police Station and the Police Department of Jiangjin District. They were interrogated and beaten with their hands cuffed for more than 5 hours.
In their effort to obtain justice for their father, Mr. Jiang's children suffered a lot from the mistreatment by authorities. Mr. Jiang Hongbin, his elder son, was constantly harassed by local 610 officers as he received telephone calls from them all through the days. The authorities also sent officers to closely watch them and kept ringing his door bell and knocking at his door all day and all night. Unable to tolerate all the harassment, his wife divorced him.
Mr. Jiang's other relatives, including his fourth elder brother Mr. Jiang Dehua and his elder brother-in-law Mr. Xia Buchu, insisted on seeking justice for him, despite officials threatening them that they should give up their appeals. On March 2, 2010, Mr. Jiang's elder daughter Ms. Jiang Hong and second daughter Ms. Jiang Ping were arrested by the 610 office of Chongqing City and Jiangjin District. Later Ms. Jiang Hong was evicted from her job and forced into homelessness, leaving her children home alone without any care.
Mr. Jiang's fourth daughter was an employee of Shanghai Aviation. On September 29, 2009, she was arrested before she boarded an airplane bound for Beijing to appeal for her father. Authorities attempted to deter her from appealing further with a death threat and forced her to sign a guarantee that she would never appeal for her father again. She was later fired from her job and her husband divorced her.