New York: UN Summit Held, Practitioners Call for an End to the Persecution (Photos)
September 23, 2011
|
By a practitioner in New York
(Cleawisdom.net) From September 19 to 27, 2011, the 66th session of the UN General Assembly is being held at UN Headquarters in New York. On September 19, Falun Gong practitioners held a rally in the park in front of UN Headquarters to call on the international community to pay attention to Falun Gong practitioners' human rights and help stop the Chinese Communist Party's (CCP) brutal persecution of Falun Gong.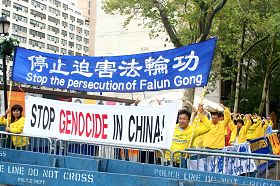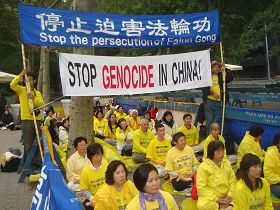 Falun Gong practitioners and supporters rally in the park in front of UN Headquarters in New York
On September 20, Falun Gong practitioners held a press conference. Dr. Wenyi Wang introduced Falun Gong and the facts about the CCP's persecution. Practitioner Lianying Zhang and Yahui Jia from China shared their personal experiences of suffering torture in the persecution.
Dr. Wang said that more than 3400 Falun Gong practitioners have been tortured to death in the persecution and that many more are missing. She also talked the CCP's harvesting of vital organs from Falun Gong practitioners for lucrative profit and how an investigation by two Canadian human rights lawyers confirmed the allegations.
Dr. Wang said, "Since the initiation of CCP's persecution, Falun Gong practitioners in New York have come here during the UN Summit each year. We call on the international community and people of conscience to pay attention to the plight of Falun Gong practitioners and help stop the persecution."
She continued, "Two weeks ago, Mr. Jin, a Falun Gong practitioner, was arrested in South Korea. He had suffered the persecution in China before and now faces deportation. We heard that President Lee of South Korea will arrive in New York this afternoon and will receive an award for promoting democracy and human rights tonight. He will attend the UN Summit and give a speech. We call on him not to yield to the CCP's pressure and not to become an accomplice in the persecution, but to protect Falun Gong practitioners."
Practitioner Lianying Zhang suffered persecution in China and during her speech she presented photos of herself after being beaten in police custody. She said that her young daughter was scared when she was arrested. More than 20 practitioners among her family, relatives and friends were tortured to death.
Yahui Wang from Liaoning shared her experience during the press conference. She said, "In 2008, when China hosted the Olympic games, we were tortured in Masanjia Forced Labor Camp. A dozen male camp guards beat us with electric batons and forced us to sing CCP songs. They did not allow female practitioners to go to restroom for long time, even during menstruation. They did not allow practitioners to have food and water for days. Many practitioners are missing. A practitioner I knew was beaten and her skull was fractured. Many practitioners were tortured to mental disorder."
She continued, "Falun Gong practitioners' family members are dismissed from their jobs or school as part of the persecution. My 8-year-old daughter suffered depression as a result of the abuse our family has suffered. The 12-year-long persecution has resulted in many broken families of practitioners and displacement. I advise everyone not to go to China for organ transplantation because it is very likely that the organs have been obtained illegally from innocent Falun Gong practitioners who would not have died otherwise."
After the press conference, practitioners demonstrated the Falun Gong exercises. Many passers-by stopped to learn about the persecution and accepted informational materials.