Name: Pan Benyu (潘本余)
Gender: Male
Age: 62
Address: Qiqihar City, Heilongjiang Province
Occupation: Former employee from the Qiqihar Railroad Bureau Environment Sanitation Station
Date of Death: July 17, 2011
Date of Most Recent Arrest: December 8, 2006
Most Recent Place of Detention: Tailai Prison (泰来监狱)
City: Qiqihar
Province: Heilongjiang
Persecution Suffered: Forced labor, illegal sentencing, beatings, imprisonment, solitary confinement, torture, physical restraint, burned with cigarettes
(Clearwisdom.net) Mr. Pan Benyu from Qiqihar City, Heilongjiang Province, saved the lives of six people. He firmly believed in Falun Dafa and followed the principles of Truthfulness-Compassion-Forbearance but was sentenced to forced labor twice and to prison twice (once for four years, once for seven years) by Chinese Communist Party agents. After suffering repeated abuse and torture in police custody, he passed away on July 17, 2011. Local police refused to issue a death certificate and canceled his residence registration, claiming that it was because he was a "special figure."
Mr. Pan was born in 1949 and was employed by the Qiqihar Railroad Bureau Environment Sanitation Station.
In the summer of 1997, one of Mr. Pan's neighbors gave him a copy of Zhuan Falun, and he started practicing Falun Gong. In September 1997, at a railroad crossing near his home, two children on bikes collided on the tracks and fell on the rails just as a train was approaching. When Mr. Pan saw what was about to happen, he rushed over and pushed both children out of harm's way. The train came so close that his clothes were caught and torn.
Mr. Pan also saved four people from drowning in a river in Qiqihar. One of them was Mr. Zhang, a man in his 30s, who was on the other side of the river when he got into trouble and cried for help. Mr. Pan jumped into the river to save him. Mr. Zhang grabbed Mr. Pan so hard that he tore open the skin on Mr. Pan's arm. Using all his strength, Mr. Pan finally was able to pull him out.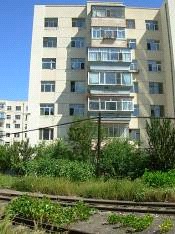 Top floor balcony and rooms on both sides are Mr. Pan Benyu's home. The room over the right side of the balcony was for Mr. Pan. Behind the building is the railway line where Mr. Pan once saved two children.
The cause of Mr. Pan's illnesses resulted from beatings inflicted by the Tiefeng District 610 Office head Wang. On December 8, 2006, two officers from Beijuzhai Police Station arrested Mr. Pan at his parents' home. At the station, he was handcuffed to the heating pipes by Wang. He was kicked so hard in his stomach that blood came out of his anus. He was beaten to unconsciousness. Two days later, he was sent to Qiqihar First Detention Center, where he was beaten so brutally that it caused his heart, liver, and kidneys to fail. When he was on the verge of death, he was taken to Tailai Prison on April 18, 2007.
During his detention in Tailai Prison, Mr. Pan was tortured brutally and had symptoms of heart disease, liver ascites, and myocardial infarction. He vomited blood and his head swelled badly. He was not able to take care of himself. On May 22, 2009, prison and 610 Office personnel let his family take him home on medical parole.
Mr. Pan returned home on medical parole for the second time from Tailai Prison on July 31, 2010. His entire body itched, convulsed, and became swollen; his abdomen swelled up.
Police officer Ling Zhenya and two other officers broke into Mr. Pan's house in February 2011 and took Mr. Pan's Dafa books and MP4 player. They threatened him saying, they were going to take him back to prison. Mr. Pan had to leave home to avoid being persecuted.
Mr. Pan returned home on April 28, 2011, and his health worsened. On June 28, he could no longer walk or have a bowel movement. His mouth was swollen and purulent. There was a rotting hole below his right ribs with a tumor inside, which was extremely painful. His entire body swelled, and his feet were so swollen that he was unable to wear shoes.
On July 8, 2011, Mr. Pan was on the verge of death. The family took him to the emergency room of Qiqihar Third Hospital. As soon as he was hospitalized, Ling Zhenya and several plainclothes officers from the Beijuzhai Police Station arrived at the hospital. They learned of Mr. Pan's whereabout after tapping his family members' cell phones. A female emergency physician, instructed by the police, claimed that Mr. Pan was suffering from "gastric bleeding." Mr. Pan suffered massive loss of blood at the time, but the doctors didn't give him any blood transfusions. Instead they applied the hospital's homemade hemorrhoid medicine. Moreover, there was no record of Mr. Pan's illnesses in the patient's case history book.
After Mr. Pan passed away, his younger sister went to the Beijuzhai Police Station to have a death certificate issued and cancel Mr. Pan's residence registration. The police officer yelled, "He is a special figure, his residence registration can't be canceled." Mr. Pan has now been dead for more than 30 days, but his household registration hasn't been canceled.
Related articles:
Mr. Pan Benyu, Who Once Saved Six People's Lives, Died as a Result of Relentless Persecution and Torture (Photo)
http://www.clearwisdom.net/html/articles/2011/8/20/127589.html
Mr. Pan Benyu from Qiqihar Tortured to the Verge of Death (Photos)
http://www.clearwisdom.net/emh/articles/2009/7/27/109530.html