Name: Luan Xiuyuan(栾秀媛)
Gender: Female
Age: 58
Address:Jiamusi City, Heilongjiang Province
Occupation: Cashier in the Sales Department of Jiamusi Industrial and Business Bank
Date of Most Recent Arrest: June 10, 2011
Most Recent Place of Detention: Jiamusi City Detention Center (佳木斯看守所)
City: Jiamusi
Province: Heilongjiang
Persecution Suffered: Detention, interrogation, denied family visits, fired from workplace, forced labor reform, denial of washing face and brushing teeth, physical constraint, beatings, extortion, home ransacked, solitary confinement, living under surveillance
(Clearwisdom.net) Falun Dafa practitioner Ms. Luan Xiuyuan was arrested by CCP (Chinese Communist Party) police officers on June 10, 2011. She is being held at the Jiamusi City Detention Center. Currently the Jiamusi City Domestic Security Division is fabricating charges against her and intends to sentence her. During the past 12 years, she has been arrested by CCP police officers ten times and has suffered brutal persecution.
Tenth Arrest: Practitioner Jiao Lingyun, Arrested at the Same Time, Persecuted to Death
On June 10, 2011 at 7:20 a.m., Ms. Luan Xiuyuan and Dai Lixia, who temporarily worked at the Jianxin Middle School Cafeteria in Jixian County, were reported to the CCP authorities and were arrested by seven or eight police officers led by officer Wu Hua from the Domestic Security Division in Jixian County Police Department and deputy chief Geng Zhendong of the Jixian County Police Department. Practitioner Jiao Lingyun, another cafeteria worker, was also arrested. Jiao Lingyun was detained in the Jixian County Detention Center and died after 29 days of maltreatment. Ms. Luan and Dai Lixia were detained at the Jiamusi Detention Center and have suffered from persecution.
Domestic security officers Zhang Hongyu and Wang Yujun from Jiamusi City interrogated Ms. Luan and Dai Lixia, then fabricated the charges against them. They conspired with other government departments and reported to the Xiangyang District an approval for the arrest of these two practitioners. Later they transferred the case to the Xiangyang District Court in order to sentence them.
Ms. Luan and Dai Lixia have been in the Jiamusi City Detention Center for over two months. They are extremely weak due to the persecution. Their family members have submitted requests to the appropriate government departments and the detention center many times to allow them to visit the practitioners. But the police have denied their requests. Ms. Luan Xiuyuan is still detained.
Below are the accounts of Ms. Luan Xiuyuan's nine prior arrests.
First Arrest: Fired by Her Employer
In October 1999, Ms. Luan went to Beijing to appeal for Falun Dafa and was arrested and taken to the Jiamusi City Beijing Office. Later she was taken back by the Yonghong District Police Department in Jiamusi City. After she came back, she was fired by her employer, the Industrial and Business Bank in Jiamusi City.
Second Arrest: Sentenced to Forced Labor
In October 2000, she went to Beijing again to validate the . She was arrested and taken back to the Yonghong District Police Station in Jiamusi City. She was sentenced to forced labor and brutally persecuted in Xigemu Forced Labor Camp in Jiamusi City.
On January 24, 2011, Chinese New Year's Day, He Qiang became the chief of the Xigemu Forced Labor Camp. Fifteen Falun Gong practitioners who were being restricted and persecuted on the east side of the first floor of the forced labor camp building requested that the chief provide them a legal environment for cultivation. But they were brutally treated by Liu Hongguang and other guards. The guards covered the mouths of Liu Guihua (from Jixi City, who has since been persecuted to death in Harbin Prison), Wang Shujun (also persecuted to death), and Zhang Lianying with tape and secretly transferred them to the second floor of the forced labor camp clinic through the west door of the first floor. At about 2 p.m., the deputy chief, Hou Ruixiu, came to the women's division and discussed how to intensify the persecution of Falun Gong practitioners with guards Liu Hongguang and He Qiang. They put the practitioners' names on their black list, including Wang Junhua, Zhao Yaxian, Gao Guiling, Ms. Luan, Yang Yubo, Deng Chunxia, Fu Meilin, Ma Xiaohua, Jin Lihong, Wang Guimei, Wu Yanping, and Liu Rangfang. Liu Hongguang and He Qiang got dozens of guards from the men's division to trick the 12 practitioners into going to the second floor of the south building. Liu Hongguang interrogated them and ordered them to cooperate with the guards. The practitioners refused, so the guards brutally beat them. Guard Hu Yunsen pulled Ms. Wang Junhua's hair out by the fistful. He also tied Ms. Zhao Yaxian's hands and feet on the bed frame to torture her. Ms. Zhao was over 60 years old. Guard Peng Haisheng yelled at the practitioners and handcuffed all 12 of them to beds or chairs for eight days. Peng didn't allow them to go to the restroom or clean themselves.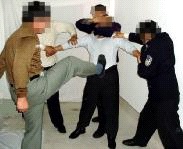 Torture Re-enactment: Brutal beating
Guards Guo Zhenwei, Yu Longjiang, Xu Jinli, and Xu Hengji (administrative section leader) also participated in the persecution.
Third Arrest: Seriously Injured
In the winter of 2001, Ms. Luan Xiuyuan posted a small sign on an electric pole in front of a suburban court. A police officer saw her and arrested her. The officer took her to the Women and Children's Hospital to be examined and then wanted to take her to the detention center. In order to escape, she jumped out of the third floor window of the hospital, shattering her pelvis and sustaining multiple other injuries. She could not move. Police officer Chen Wanyou from the domestic security division arrived and took charge. He told the police officer to find Ms. Luan Xiuyuan's sister and force her to write a statement declaring that the police department would not be held responsible for Luan Xiuyuan's injuries. After Ms. Luan returned home, she lay down on the bed and could not take care of herself. The Jiamusi City Forced Labor Camp officials frequently went to her home to harass her. She could not stay at home anymore. With great physical difficulty, she left home with a friend.
Fourth Arrest: Violence Used to Extract a Confession
In May 2003, Ms. Luan and another practitioner went to the Qianjin District to visit practitioner Men Xiaohua (who has since been persecuted to death). They were arrested by several police officers who hid and monitored Men Xiaohua. They were brutally persecuted. The provincial police department appointed certain officials to supervise the case. During the interrogation, police officers slapped Ms. Luan in the face and used a water bottle to hit her head. Team leader Liu from the provincial police department beat her extremely hard. After using violence on her for a whole night to try to extract a confession, police officers sent her back to the detention center early the next morning. She was detained for over three weeks and then sent to a forced labor camp. But she was not accepted because her health did not meet the forced labor camp's standards.
Fifth Arrest: Almost Sent to Forced Labor Camp Again
On March 28, 2004, Ms. Luan went to an apartment that another practitioner was renting. As soon as she opened the door, she was dragged inside by the police who were hiding inside. The officer from the city domestic security division followed and monitored Falun Gong practitioners. When they found out about this practitioners' rental place, they illegally made a door key and arrested the practitioner. Then they hid inside the room to keep arresting other practitioners who came by. The police officers who directly participated in this scheme included Gao Dongxu, Chen Yongfu, former criminal crime team leader Ma Jingyun, and others. Ms. Luan was detained for over three weeks and then was sent to a forced labor camp. But the forced labor camp refused to accept her because her health did not meet their standards.
Sixth Arrest: Life in Great Danger Due to Persecution by Forced Labor Camp
On June 15, 2005, Ms. Luan and other two practitioners were arrested by Nangang Police Station officers in Jiamusi City. After six weeks, she was sentenced to forced labor and was sent to the Jiamusi City Forced Labor Camp. Inside the labor camp, she was brutally tortured and her life was in great danger. Officer Chen Wanyou from the Jiamusi City Police Department and police officers from the forced labor camp refused to release her. Instead, they extorted a few thousand yuan from her family members.
Seventh Arrest: Home Ransacked by Police
In May 2006 when Ms. Luan and other two practitioners went to the Mining Equipment Park to hang Falun Gong banners but were reported to the police. Four officers from the Songlin arrested her and took her to the Jianshe Police Station. Her home was ransacked that same night by police.
Eighth Arrest: Police Extort Money from Her
In the summer of 2008, Ms. Luan was reported to the police for clarifying the truth in Yanjiang and was arrested by officers from Yanjiang Police Station. She was taken to the Xiangyang Domestic Security Division. Officer Chen Wangyou from the domestic security division in Jiamusi City Police Department directly participated in the persecution and extorted 3,000 yuan from Ms. Luan.
Ninth Arrest: Brutally Tortured to Extract a Confession
CCP officials were infuriated when a Jiamusi practitioner used a portable loudspeaker to expose their atroticities. Beginning on February 8, 2009, the CCP started a new round of severe persecution of Jiamusi practitioners. The Public Security Department in Beijing sent officials to Jiamusi City to supervise. The Heilongjiang Province Public Security Bureau sent its "special case group" to direct the persecution. The Jiamusi City 610 Office, police department, public security department, all the subdivisions of the police department, and all the police stations cooperated in the persecution. They followed and monitored many practitioners, went to their homes to harass them, and broke into their home to arrest them. The police used telecommunications equipment to monitor the practitioners' telephones and used the cellphone monitoring vehicle to monitor the practitioners' cell phones. Within two weeks, the police had arrested over 20 practitioners. Ms. Luan Xiuyuan was one of the practitioners most severely persecuted.
On February 13, 2009, in the afternoon, Ms. Luan went to the home of practitioner Liu Xiufang and was arrested by seven or eight officers from the "special case group" who hid and monitored Ms. Liu's home. Ms. Liu Xiufang and her husband (not a practitioner) and practitioners Zhang Shuying, Zhang Peiqing, and Zhang Guizhen were also arrested. The police then ransacked Ms. Luan's home. They threw all of her clothes and other personal belongings on the floor. They also took away the special edition coins Ms. Luan's family had collected and saved for many years. The police kept hiding inside Luan Xiuyuan's home and arrested practitioner Song Yuzhi who showed up at Ms. Luan's home on February 14 afternoon. The police also ransacked Song Yuzhi's home. The CCP authorities and personnel who directly participated in the persecution of Ms. Luan included the Public Security Department in Beijing, the provincial public security bureau, the Jiamusi City 610 Office, and Gao Hongwei from a special division that persecutes Falun Gong.
The police imprisoned Ms. Luan alone and interrogated her frequently. They took her to a horrible room and used many terrible methods to brutally torture her physically and mentally. They also threatened to sentence her with the heaviest penalty.
Homeless and Destitute for Two Years: Her Grief-stricken Mother Passes Away
Ms. Luan Xiuyuan was severely injured physically and mentally. After she was in the Jiamusi Detention Center for two months, she was extremely weak and in critical condition. The CCP officials told her family to provide money for medical treatment. But since her family had been persecuted for many years and she had been fired before, her family's financial situation was very bad. She also had an elderly mother who needed to be taken care of. Her family could not come up with any money at all. The CCP officials were afraid that Luan Xiuyuan would die, so they took her home, but sent Changhong Police Station officers to monitor her at her home 24 hours a day. Ms. Luan resisted the persecution. She left two nights after she had returned home. She became homeless and destitute for over two years.
When she was gone, her mother, who was over 80, fell ill as a result of prolonged grief for her daughter's suffering and passed away. Ms. Luan could not go back home to see her mother before she died. Her child was still a minor and was left alone at home without care. Her child had to work to survive. After Ms. Luan left home, the police and the community officials went to her sister's home to harass her and discover Luan Xiuyuan's whereabouts in order to arrest her.
CCP authorities and officials who participated in the persecution:
Jiamusi City Detention Center: 86-454-8519599
Anti-Cult Team in Jiamusi City Police Department:
Zhang Hongyu, team leader: 86-13904549088(Cell)
Wang Yujun, Political commissar: 86-13704545588(Cell)
Zhao Mingwu: 86-454-6519930
Xiangyang District Procuratorate: 86-454-8608306
Related article: http://clearwisdom.net/html/articles/2011/8/5/127236.html