Mr. Yang Xiaojie Dies from Forced Feeding in Hebei No. 4 Prison (Photo)
August 04, 2011
|
By a Clearwisdom correspondent from Hebei Province
Name: Yang Xiaojie (杨晓杰)
Gender: Male
Age: Unknown
Address: Unknown
Occupation: A former employee of the China Youth Daily newspaper
Date of Death: Janurary 26, 2006
Date of Most Recent Arrest: September 28, 2001
Most Recent Place of Detention: Hebei Province No. 4 Prison (河北省第四监狱)
City: Shijiazhuang
Province: Hebei
Persecution Suffered: Brainwashing, illegal sentencing, beatings, solitary confinement, torture, force-feedings, physical restraint, detention
(Clearwisdom) Falun Gong practitioner Mr. Yang Xiaojie, a former employee of the China Youth Daily newspaper, was sentenced by the Chinese Communist regime authorities to eleven years of imprisonment because he remained steadfast in his belief. He was persecuted to death on January 26, 2006 in Hebei No. 4 Prison. A person who was detained together with Mr. Yang witnessed the persecution he suffered in the prison.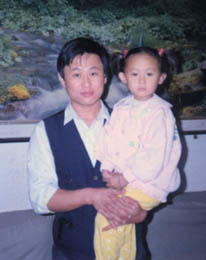 Mr. Yang Xiaojie and his daughter Ms. Yang Wenjing
Mr. Yang refused to watch videos slandering Falun Gong while in prison. As punishment he was taken away and put into solitary confinement cell by the guards and officers from the education section and prison affairs section. On the way to the solitary cell, Mr. Yang told Wang Guobin, head of the education section, that he would receive karmic retribution if he committed crimes against Falun Gong practitioners. Wang became very angry and viciously told Mr. Yang that if anyone was going to die, it would be Mr. Yang. Afterward, he was locked in the solitary confinement cell.
In the solitary cell, Mr. Yang started a hunger strike to protest the persecution. On the fourth day of his hunger strike, Wang led division head Liu Ning, along with several inmates, to force feed him. Wang dissolved a bag of powdered milk into water and poured coarse salt with very large particles into the milk. He told prison doctor Xu Wen to insert the feeding tube into Mr. Yang. Xu was a new doctor and he told Wang that he didn't know how to insert the feeding tube. But Wang ordered Xu to do it. While five or six inmates held Mr. Yang down, Xu inserted the tube into his nose. As soon as he inserted the tube, Mr. Yang shouted out very loudly because of the pain. He broke away from the inmates and pulled the tube out himself. His nose bled profusely and he kept coughing afterward.

Torture re-enactment: Forced feeding
In less than two months, Mr. Yang lost a lot of weight and was skin and bones. A large tumor began growing on his abdomen that finally prevented him from standing or walking. Despite his poor health condition, the prison eleventh ward personnel would not allow him to meet his family members. Some inmates later said that when Wang looked for a doctor to insert the feeding tube, he knew which doctors knew how to do it, but Wang didn't choose them, instead he deliberately ordered Xu, who was a freshman, to do it. Mr. Yang passed away only few days after being released on medical parole.
(For more information, please refer http://www.clearwisdom.net/emh/articles/2008/2/23/94713.html )