Wang Jianjun, the Brutal Persecutor of Panjin Prison
August 27, 2011
|
By a Clearwisdom correspondent from Liaoning Province, China
(Cleawisdom.net) Since the Chinese Communist regime started the persecution of Falun Gong in 1999, Panjin Prison has been used like a concentration camp to imprison and torture Falun Gong practitioners. Many practitioners have been injured, disabled, or murdered in the prison. The following are a few examples of such crimes which happened between 2005 and 2010.
Warden Wang Jianjun was promoted to be the director of Section Six of the prison in October 2004. He was known as a brutal and cold hearted "tiger" among inmates, who noted that Wang's torture tools and methods included spade handles, electric batons, and heavy punches and kicks.
For six months in 2005, Wang Jianjun tortured Falun Gong practitioner Mr. Zhang Pengzhu from Benxi on a Death Bed. After that, Mr. Zhang was handcuffed and ankle-shackled around the clock for many days. Wang Jianjun and warden Han Xuesong were responsible for the direct torture of Mr. Zhang during that period.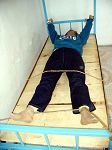 Torture reenactment: Death Bed
In April 2006, in order to protest and prevent further persecution from inmates, Mr. Zhang injured himself by cutting his wrists (Editor's note: It is against Falun Dafa teachings for practitioners to commit self-injury or suicide). To punish Mr. Zhang's protest, Wang Jianjun and Wang Hui tortured the practitioner on a Death Bed for another six months and handcuffed and ankle-shackled him afterwards for extended periods of time.
On the morning of September 28, 2007, Wang Jianjun, Wang Hui, Liu Jichun, and Zhao Hongyu tortured Mr. Zhang in the Educational Room of the prison with spade handles and electric batons for over two hours. The brutally tortured practitioner was then handcuffed and ankle-shackled until January 24, 2008.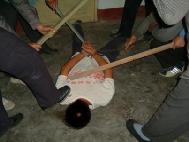 Torture reenactment: Beating
At around 10:00 a.m. on January 24, 2008, Wang Jianjun, Liu Jichun and Zhao Hongyu started to torture two other Falun Gong practitioners, Mr. Zhang Xianting and Ms. Shang Yanming. The wardens shocked the practitioners with electric batons for over forty minutes, until Mr. Zhang's upper body was covered with red bruises. Ms. Shang's hands were badly swollen and her jaw was bruised. The practitioners' wounds did not go away in eighteen months. Before they were released, the two practitioners had been hung and handcuffed for thirty-forty days.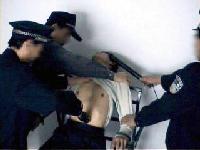 Torture reenactment: Electric Shock
On July 15, 2008, the wardens of Group 3 turned down practitioner Zhao Lu's request to make a family call. Zhao Lu tried to reason with warden Liu Jichun, but was beaten by the latter. The next day, the head of the Educational Department of the prison, Dou Chun produced a written statement indicating that Zhao Lu had attacked a warden, for Zhao Lu to sign. Zhao Lu, of course, refused to sign the untruthful statement. At around 8:00 p.m. on July 17, Wang Jianjun, leading all wardens of his section, handcuffed and tortured Zhao Lu with electric batons. Zhao Lu was soon covered with burns, some of which turned into dead flesh.
Among the wardens in Panjin Prison, there is Yu Xiaodong, who used to work at a prison in Heilongjiang Province. He had to leave his old job because he had tortured an inmate to death and the inmate's family tried to sue him. Yu Xiaodong is currently working in the Administrative Department of Panjin Prison and is in charge of so-called "transformation" of inmates. He also has been taking an active part in the prison's persecution of Falun Gong practitioners.