Elderly Ms. Zou Jin, a Falun Gong Practitioner from Changsha City, Died as a Result of Persecution
August 24, 2011
|
By a Clearwisdom correspondent from Hunan Province, China
Name: Zou Jin (邹锦)
Gender: Female
Age: 77
Address: Unknown
Occupation: Unknown
Date of Death: March 2011
Date of Most Recent Arrest: February 20, 2001
Most Recent Place of Detention: Changsha City No. 1 Detention Center (长沙市第一看守所)
City: Changsha
Province: Hunan
Persecution Suffered: Electric shock, sleep deprivation, illegal sentencing, beatings, torture, rape, physical restraint, home ransacked, interrogation, detention
(Clearwisdom.net) Ms. Zou Jin was subjected to brutal torture and insult by the Chinese Communist Party (CCP). She died in extreme pain on March 2011 at the age of 77.
Ms. Zou started to practice Falun Gong in 1997. She benefited a lot and her illnesses disappeared. She also strived to be a better person. Since the CCP began to suppress Falun Gong in 1999, Ms. Zou had suffered numerous instances of persecution.
Police officer Lei Zhen from the Jingwanzi Police Station in Yuhua District and several other officers arrested Ms. Zou on February 20, 2001. The police ransacked her home and confiscated 3,000 yuan in cash and a bankbook with a 1,500 yuan balance. She was later taken to the Changsha City No. 1 Detention Center. On November 18, 2001, she was sentenced to nine years in prison on a fabricated charge.
She was subjected to inhuman torture in the detention center. The guards often interrogated her, shocked her with electric batons, pulled and slammed her head against the wall, deprived her of sleep, made her stand for the whole night and did not give her any food or water, etc.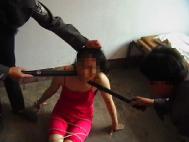 Torture re-enactment: Shocked by electric batons
Two guards went to Ms. Zou's cell and interrogated her for a whole night. She didn't answer their questions. They pulled her onto the bed and tied her arms and legs to the bed. They took her pants off and raped her. They later shoved an electric baton into her vagina to shock her. Ms. Zou cried in pain. The guards took it out only after she lost consciousness. Her vagina was bleeding and swollen; she was in intense pain. The guards left afterward. Ms. Zou couldn't sit or walk for more than a month.
Ms. Zou was on the verge of death and was hurried to Changsha City No. 3 Hospital on the evening of March 24, 2003. The hospital discovered that several illnesses had surfaced at the same time, that were very likely going to claim her life. They advised her family to prepare for the worst. The prison was afraid of being held responsible, so they quickly released her on the condition that she would serve her term outside the prison.
Two weeks after her family took her home from the hospital, she was able to walk and eat. However, the CCP didn't let her go. She was monitored around the clock. The police also went to her home to harass her, threaten her and follow her.
Ms. Zou's income was cut. Her workplace stopped issuing her monthly pension of 300 yuan. A staff member from the Political and Legal Committee in Tianxin District, Mr. Li, pretended to be a family member, and claimed more than 3,000 yuan of the monthly compensation issued during her detention. She tried to seek help, but was sworn at and threatened instead. She had no income for all those years and had to rely on her relatives, friends and neighbors' support.
Ms. Zou's health declined day by day. Her illnesses recurred and she was paralyzed from the waist down. She passed away on one morning of March 2011.
Earlier report:
http://www.clearwisdom.net/emh/articles/2004/9/13/52393.html