Name: Tian Sufang (田素芳)
Gender: Female
Age: 74
Address: Hongshan District, Chifeng City, Inner Mongolia Autonomous Region
Occupation: Retired teacher from Tienan Elementary School in the Hongshan District
Date of Death: March 15, 2011
Date of Most Recent Arrest: February 11, 2003
Most Recent Place of Detention: Inner Mongolia Women's Prison (内蒙古女子监狱)
City: Chifeng
Province: Inner Mongolia
Persecution Suffered: Illegal sentencing, beatings, imprisonment, torture, extortion, home ransacked, interrogation, detention
Key Persecutors: Zheng Enwei, local police officer
(Clearwisdom.net) Ms. Tian Sufang, a seventy-four-year old retired teacher, lived in Chifeng City in Inner Mongolia. She started practicing Falun Dafa in 1996 and after several months of practice, the illnesses she previously sought treatment for and that doctors could not cure, disappeared. After Falun Gong was suppressed by the Chinese Communist regime in July 1999, Ms. Tian was arrested and tortured countless times. Finally she was to five years in prison. She passed away on March 15, 2011.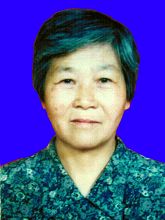 Ms. Tian Sufang
The following is a partial account of the persecution Ms. Tian experienced. She had intended to submit this report to the World Organization to Investigate the Persecution of Falun Gong (WOIPFG) on June 29, 2009.
By 1993 I was afflicted with all kinds of illnesses, including high blood pressure, high cholesterol, and rheumatism. In the spring of 1994, my eyes started to bleed. I sought treatment from many hospitals, large and small, but no doctor could treat my condition. In 1996, I was fortunate to learn Falun Dafa, and within a few months of practice, all my ailments disappeared. Falun Dafa has given me a new lease on life.
When the persecution began on July 20, 1999, I was by police officers while taking a walk in the park. I was detained for one entire day. Some practitioners were beaten until blood flowed from their heads and their bodies were covered with wounds. Some practitioners were forced to squat, stand in the hot sun, or stand for long periods of time facing a wall. One male practitioner was beaten so badly that his forehead was disfigured.
Police officer Zheng Enwei subsequently often harassed me. One night around 11:00 p.m., Zheng brought along an army officer and a security guard and wildly pounded on my door. My husband and I shook in fear. They broke into our home and ransacked everything. Such incidents happened frequently.
Brutally Tortured in Detention
One day in October 2000, Zheng Enwei suddenly broke into my house, ransacked our things, and confiscated my Dafa books. I was taken to Changqing Police Station where I was interrogated and abused for one day. I was not given anything to eat or drink. That night, Zheng Enwei took me to the detention center where I was imprisoned for 15 days.
While there, I saw many practitioners, including Ms. Zhou Caixia and Ms. Yuan Shumei. (Both of whom were subsequently persecuted to death)
(Related articles: http://www.clearwisdom.net/html/articles/2011/5/7/124988.html ; http://www.clearwisdom.net/html/articles/2011/5/13/125131.html )
All the practitioners in the detention center were brutally beaten and had wounds all over their bodies. Every inch of visible skin was covered with burn marks from electric batons. Some practitioners' heads had been shocked so many times that they were were numb.
Ms. Hu Sumin's wrists were handcuffed to the top and bottom of a heating pipe and she could neither sit nor squat. She was forced to remain in this position for the entire night. Another practitioner was forced to kneel on the ground while an officer stomped on her calves with his heavy shoes, grabbed her hair and pulled her head back, then shocked her chest and neck with an electric baton.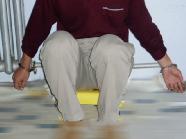 Torture re-enactment: Handcuffed to a heating pipe
When Ms. Yuan Shumei was taken to the detention center, she was tortured so severely that she became disfigured. Guard Chai Yumen relentlessly kicked her in the crotch.
Ms. Zhou Caixia was taken away one day by officers from the Domestic Security Division and handcuffed for four days and nights without food or water. She was sent back to the detention center, nearly lifeless.
Zheng Enwei extorted 3,000 yuan from my family before releasing me.
In June 2000, officers from the Domestic Security Division suddenly barged into my house and took me back to the Domestic Security Division. They returned to my home and while they ransacked through our belongings, my elderly husband came home. Zheng Enwei and several officers shoved him to the ground and beat the seventy year-old man into unconsciousness. Kind neighbors took him to a nearby hospital to be treated for his injuries.
I was tortured and interrogated at the Domestic Security Division. I was handcuffed and the cuffs cut deeply into my wrists, cutting through my flesh and exposing the bones. At night, I was shoved to the ground and forced to kneel down. My hands were shackled to the highest point of the back of a metal chair and the shackles dug into my bones.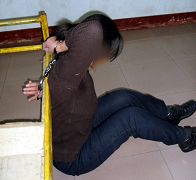 Torture re-enactment: Handcuffing behind the back
I was taken to the detention center the next day. I was released 12 days later, after they extorted 3,500 yuan from my family.
Sentenced to Five Years of Imprisonment
On February 11, 2003, I was illegally arrested again by agents from the Hongshan District Domestic Security Division. They interrogated me for eight days and I was kept handcuffed to a metal chair the entire time. They even ordered inmates to slap me until I lost consciousness.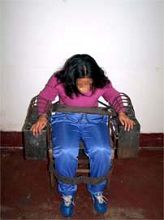 Torture re-enactment: Handcuffed to a metal chair
I was beaten until my head was spinning and I didn't have the strength to even open my eyes. They saw that I was very weak and sent me to the detention center. I lay there, unable to move. Female officer Deng Liyan threw all my belongings into the corridor. I was left lying on a wooden board for two days before she got someone to pick up my belongings and bring them into my cell.
In the early morning hours of February 28, 2003, at around 3:00 a.m., Ms. Zheng Lanfeng was tortured to death. As she lay dying, her hands and legs were still shackled. Her entire body was covered with bruises and wounds. To cover up how she was killed, detention center personnel lied and claimed that she had a sudden illness and died on the way to the hospital for emergency treatment. Ms. Zheng's family was given several thousand yuan to silence them and she was hastily cremated to hide the evidence of the torture.
(Related article: http://www.clearwisdom.net/html/articles/2011/5/7/124988.html )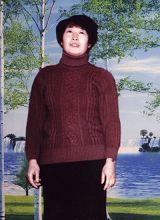 Ms. Zheng Lanfeng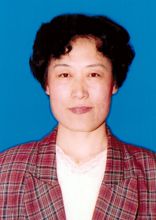 Ms. Zhou Caixia
After Ms. Zheng's death, the guards were afraid that I might die while in detention. To avoid responsibility, they notified my family to admit me into a hospital for medical treatment.
Guard Bai Gula extorted a large sum of money from my family then released me on medical parole. However, Deng Liyan wanted me dead because I knew how Ms. Zheng Lanfeng was tortured to death, so I was again arrested and taken to the detention center. After being held for more than ten days, I was illegally sentenced to five years in prison and sent to the Inner Mongolia Women's Prison.
At the prison, I went through a physical examination and the doctors refused to admit me. They said that I had high blood pressure and my heart was weak. However Deng Liyan refused to send me home.
In prison, like other practitioners, I was treated more harshly than the criminal inmates, some of whom had committed heavy crimes. I was tormented there for five years.
I finally returned home on August 31, 2007. I have been persecuted for over ten years. My house was ransacked countless times. I was fined, and in August 2003, the Hongshan District Education Bureau stopped my pension payments, thus I lost my source of income.
My family and relatives have also been harassed. Even my pregnant niece was arrested and taken to the police station, and had 2,000 yuan extorted from her before she was released. She was so traumatized by the experience that she had a miscarriage.