Name: Ma Zhiwu (马智武)
Gender: Male
Age: 41
Address: Unknown
Occupation: Former driver at the Security Supervision Office of Yinchuan Railroad Sub-bureau
Date of Most Recent Arrest: September 12, 2010
Most Recent Place of Detention: Yanchi County Detention Center (盐池县看守所)
City: Yinchuan
Province: Ningxia Autonomous Region
Persecution Suffered: Detention, forced labor, beatings, forced-feeding, illegal sentencing, sleep deprivation, torture, physical constraint, drug administration, denied visits, home ransacked
(Clearwisdom.net) The Intermediate Court of Wuzhong City, Ningxia Autonomous Region secretly held the second trial of Falun Gong practitioner Mr. Ma Zhiwu on June 8, 2011.
Mr. Ma Zhiwu started practicing Falun Dafa in May 1998, and benefited from the practice in both mind and body.
Arrested, Detained, and Secretly Sentenced
On September 12, 2010, Mr. Ma was by police from the Huamachi Police Station in Yanchi County, and his borrowed vehicle was confiscated. Ma was then sent to Yanchi County Detention Center. Mr. Ma's wife, father-in-law, and the owner of the vehicle visited the county's police department, , and court multiple times to request his release and the return of the vehicle, but were met with rejection and deception.
In April 2011, Mr. Ma's family heard that on March 31 the Yanchi County Court had secretly sentenced Mr. Ma to three and a half years of imprisonment.
After the trial Mr. Ma appealed the sentence. The Wuzhong Court agreed to have Mr. Ma's wife act as his defense for the second trial. The court reviewed her qualifications and issued her a "Notice of Defense." The court informed Mr. Ma's family that the date of the second trial would be May 18. Mr. Ma's wife prepared for the defense. When the trial date approached, however, the court staff notified Mr. Ma's family that the presiding judge, Ai Jinchun, had hurt his leg and the court session had to be rescheduled. The next day Ai Jinchun called saying that due to his hypertension and discomfort the court session was canceled and would be rescheduled. A court staff member then told Mr. Ma's wife to come to a meeting at the court to discuss issues pertaining to the defense. Mr. Ma's wife went with two relatives. The court staff deceived her into handing over her the "Notice of Defense," then announced that her qualification as the defense was revoked, and they would notify her when the trial date was decided. The second trial was held in secret, and Mr. Ma's family was not notified.
The Secret Second Trial
A police car arrived at Yanchi County Detention Center for Mr. Ma Zhiwu's arraignment on June 8, 2011, shortly after 9:00 a.m. Mr. Ma's family happened to be at the detention center. Soon a group of police arrived and forcibly took Mr. Ma to Yanchi County Court. A number of police officers guarded the entrance. Ningxia staff, vehicles, and plainclothes police were present. Mr. Ma's family members were not allowed to enter the courtroom. The second trial was manipulated by the 610 Office behind the scenes, and the verdict is unknown.
Previous Persecution Suffered by Mr. Ma and His Family
After the Chinese Communist Party launched the persecution of Falun Gong in 1999, Mr. Ma went to Beijing to appeal and was detained at Yinchuan City Detention Center, followed by three years of forced labor at Ningxia Baitugangzi Forced Labor Camp (also known as Ningxia Autonomous Region No. 1 Forced Labor Camp). He was brutally beaten and force-fed. Mr. Ma began a hunger strike to protest the persecution, but the authorities used this as an excuse to imprison him for an additional six years.
Mr. Ma was sent to Guanmahu Prison in Wuzhong on April 18, 2002, where he was tortured by inmates under the direction of wardens Liang Haiwang and Guo Jiwang. The torture included beatings, two weeks of sleep deprivation, and "riding an airplane" (in this case his hands were bent behind his back as he lay on the floor with his mouth stuffed).
Mr. Ma was once tortured on a "" for more than 40 days. His arms were stretched out in opposite directions and his hands were cuffed tightly. His feet were shackled and both feet and torso were tied to the bed, resulting in unbearable pain in his muscles and entire body. Moreover, before putting him into the "death bed," the perpetrators force-fed him with a kind of paste mixed with unknown drugs, dirty water, flies, and flour. He experienced a burning sensation afterward, and lost the ability to walk or even stand. Other inmates had to move him around by carrying him.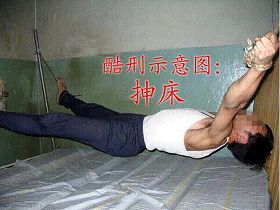 Torture re-enactment: Death bed
Mr. Ma's wife was pregnant when he was arrested the first time. She had to raise their daughter and support the family all by herself. Her requests to visit her husband were turned down by the prison, and the local 610 Office harassed her and ransacked her home many times. In order to force Mr. Ma's wife to give up her belief, the Xihuayuan police took away her two-year-old daughter on November 20, 2001. Due to the mental abuse and the pressure of the persecution, Mr. Ma's father passed away in 2001. His mother suffered severe mental torment as well.
Mr. Ma's daughter was eight years old when Mr. Ma was released in February 2008. Since July 1999, the family has been able to be together for a total of only about two years.
Wuzhong City Intermediate Court:
Second Hall presiding judge Ai Jinchun: 86-953-2134036, 86-18995339880
Second Hall vice presiding judge Du Liwen: 86-953-2134037, 86-18995339872