Falun Dafa Participates in Belgium's National Day Celebrations (Photos)
July 26, 2011
|
By a practitioner in Europe
(Clearwisdom.net) July 21, 2011, was Belgium's National Day and marked Belgium's 180th anniversary of Belgium becoming a sovereign and independent nation. The Divine Land Marching Band and a Falun Gong exercise demonstration participated in the festivities for the first time this year, adding joy and splendor to Belgium's National Day Celebration.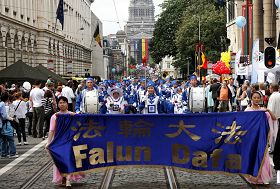 Falun Dafa European Divine Land Marching Band is the first entry in the civilian parade
Divine Land Marching Band appears in Belgium's National Celebration
About 300,000 people gathered in Brussels to watch a grand parade and share the joy of the holiday. The organizers divided the day's event into two parts: one was National Day parade, the other was various activities in the Royal Park in Brussels.
Following a military parade, Brussels Mayor Fred Tillman arrived at the starting point of the parade route to begin the civilian component of the parade. Among 15 parade entries this year, the Divine Land Marching Band was close to the front. Immediately following was a group of Falun Gong practitioners dressed in golden yellow kassayas demonstrating the Falun Gong exercises.