(Clearwisdom.net) On July 17, Falun Gong practitioners from all over Japan held a grand parade in Tokyo, calling for an end to the persecution in China.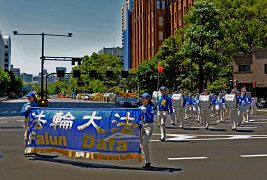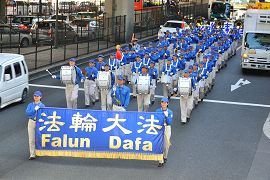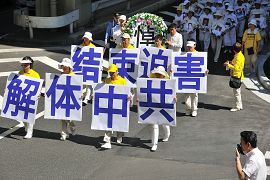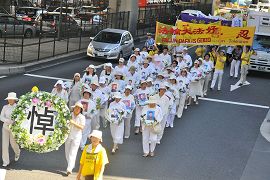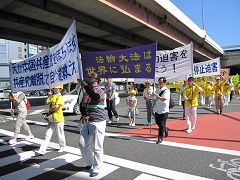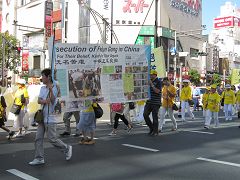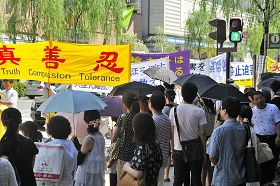 The parade
The parade started at 1:00 p.m. and traveled the busiest streets in Tokyo. The Divine Land Marching Band led the group. Following the band, practitioners held photos of those who were tortured to death. There was also a banner team. Several speakers broadcast the truth about Falun Gong and the persecution. Practitioners also handed out truth-clarifying materials.
Although it was 95 degrees, many people were out, since it was a long weekend holiday in Japan. Many watched the parade and read the Falun Gong materials. Many Chinese tourists and students were also happy to accept the materials. Several of them said that they wanted to know more about Falun Gong.
Many Japanese were shocked by the brutality of the persecution. A young lady said that she had been to China and had heard about the persecution. To her, it was unbelievable that Chinese people don't have freedom of belief. She said, "People in Hong Kong have freedoms, but people in China don't. Not only do they not have the freedom of belief, but the government also persecutes them. That shows what a tyrannical government it is."
Over the last 12 years, Japanese police have helped to keep order and direct the traffic at every large scale Falun Gong activity. One policeman commented that he has seen Falun Gong many times. "I didn't know who they were at the beginning, but later I learned that they are very nice people. I have sympathy for them, and I also support them. I admire their peacefulness, solid belief, and courage."
The persecution of Falun Gong is still going on in China. Mr. Dai Xianbing, a practitioner living in Japan, told the reporter that his brother, Dai Xianxi, also a practitioner, was arrested in Dongguan, Guangdong Province, on May 26, when he was passing out Falun Gong truth-clarifying materials. He is still jailed in a detention center in Dongguan. His family has called the police station, asking why he was arrested, but they've never been given an answer. They don't even know who is handling his case. On July 12, they were informed that Dai Xianxi was sentenced to one year of forced labor.
Mr. Dai Xianbing holding a photo of his brother, Dai Xianxi
Dai Xianbing joined the grand parade. He said, "I hope that more people will learn about the persecution of Falun Gong in China, which is still going on. I call upon all kind people to help stop it."
Ms. Ge, a practitioner living in Japan, said that her sister, who also practices Falun Gong, was sentenced to three years for handing out Falun Gong materials. She is still incarcerated in Hebei Province Women's Prison. Her mother, a practitioner, is often harassed by local police. Ms. Ge said, "The persecution has been going on for 12 years. It is very meaningful for us to hold activities on July 20, so that Japanese people, as well as Chinese, will learn about it and help to stop it."