Malaysia: Practitioners Hold a Candlelight Vigil to Call for an End to the Persecution (Photos)
July 21, 2011
|
By a practitioner in Malaysia
(Clearwisdom.net) It has been 12 years since Falun Gong practitioners started protesting the persecution by the Chinese Communist Party (CCP). Practitioners in the Selangor Area of Malaysia conducted a group practice and held a candlelight vigil at dusk on July 17, 2011, in Taman Jaya, Petaling Jaya, to commemorate those practitioners who have lost their lives because of the persecution and to call for it to stop.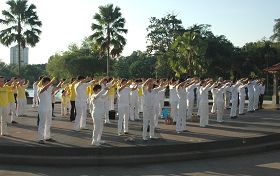 Practitioners in the Selangor Area in Malaysia do the exercises in Taman Jaya on July 17, 2011
Practitioners in Malaysia hold a candlelight vigil in Taman Jaya
A candlelight vigil in the Selangor Area in Malaysia to commemorate practitioners who have died as a result of the persecution in China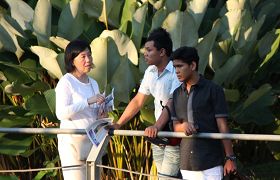 People come to learn the facts about Falun Gong
Local residents learn to do the exercises
The peaceful and solemn scene drew the attention of many. Mr. Fauzi, a Malay resident, learned about the brutal persecution of Falun Gong in China and said that Chinese people should enjoy freedom of belief and Falun Gong practitioners shouldn't have been treated this way. "Such a good practice that can bring people peaceful minds and improved health shouldn't be persecuted," he said.
An Indian man said that people in Malaysia need such a good practice, because it can guide people to be good and improve their health.