Li Xiwang Illegally Detained for More Than Six Months
July 01, 2011
|
By a Clearwisdom correspondent from Tianjin City, China
Name: Li Xiwang (李希望)
Gender: Male
Age: Unknown
Address: Sanyi Apartment Building, Hexi District, Tianjin
Occupation: Factory owner
Date of Most Recent Arrest: December 21, 2010
Most Recent Place of Detention: Hexi Detention Center (河西看守所)
City: Tianjin
Persecution Suffered: Detention, beatings, illegal sentencing, imprisonment, handcuffing and shackling, solitary confinement, home ransacked, extortion
(Clearwisdom.net) Mr. Li Xiwang, a Falun Gong practitioner who owns a small business in the Hebei District of Tianjin, has been in the Hexi District Detention Center for more than 6 months due to his steadfast belief in Falun Gong. In his absence, his business has been forced to shut down and his employees lost their jobs. His family also lost their source of income and is experiencing financial hardship. Neither his teenage son nor his elderly mother have anyone to take care of them.
Mr. Li and his wife were arrested by officers from the Domestic Security Bureau and the Dayingmen Police Department of Hexi District in Tianjin around 10:30 a.m. on December 21, 2010. They were sent to the Hexi District Detention Center. The officers broke into Mr. Li's apartment on the 15th floor of the Sanyi Apartment Building in Hexi District and confiscated more than 500 yuan from his 15-year-old son. They also went to Mr. Li's factory in Hebei District and confiscated cell phones, computers and printers.
Mr. Li is an honest, upright and kindhearted man. He is known in the community as someone who is always ready to help others. He has been illegally detained in the Hexi District Detention Center for more than 6 months, which exceeds the detention time allowed by law without trial.
Prior to this arrest, Mr. Li was detained in the Gangbei Prison in Tianjin for 8 years due to his belief in Falun Gong. He did not give up his belief even when faced with severe torture. In one torture, which he suffered for 28 days, his hands were cuffed to a column, and one foot was shackled with heavy chains and hung from above while he was forced to face to the ground. According to a prison guard, no one had ever survived this torture method for more than 6 days, so officials were very surprised that Mr. Li was still alive after 28 days. Although he developed incontinence as a result of this torture, he survived. Mr. Li was also detained in a tiny cell with the area of only one square meter for more than a year. The cell had no windows, only a small metal door for food service. He had to sleep, eat and relieve himself within this limited space.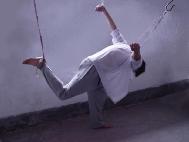 Torture re-enactment: Handcuffed while hanging
Mr. Li's elder brother is also a Falun Gong practitioner. He was sentenced to a 10-year prison term due to his belief and has been detained in the Gangbei Prison in Tianjin.
Parties involved in persecuting Mr. Li:
Zhen Xiaoqing, director of Dayingmen Police Station in Hexi District,Tianjin: 86-22-88292068
Shen Lu, deputy director: 86-13602004436 (Cell)
Related article: