Malaysia: Divine Land Marching Band Performs at Carnival Jom Santai (Photo)
June 08, 2011
|
By a practitioner in Malaysia
(Clearwisdom.net) Carnival Jom Santai was held in Port Dickson from June 4 to 5, 2011. Performances by various groups, including the Falun Dafa group's Divine Land Marching Band, attracted many local residents.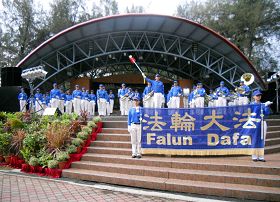 The Divine Land Marching Band performs at Carnival Jom Santai in Port Dickson, Malaysia.
At 4 p.m. on June 4, the Divine Land Marching Band entertained the crowd with joyous music. The pieces they performed included "Falun Dafa Is Good" and "Fa Drums and Trumpets Shake the World in Ten Directions." When the Malaysia folk song "Rasa Sayang" was played, the audience sang along.
After the performance in the afternoon, the host asked the band to perform again that night. He said, "Your music is wonderful! The mayor will come tonight and we hope that you can perform again for our community leaders."
After the band performed for the mayor of Port Dickson and other VIPs, the mayor shook hands with the director of the band and accepted Falun Dafa informational materials. The mayor exclaimed, "Your performance is very good!" The host invited the band to demonstrate the Falun Dafa exercises the next day.
One June 5, members of the Divine Land Marching Band demonstrated the exercises. Many people in the audience followed along to learn the movements, including the host.