UK: Practitioners Call for Wen Jiabao to Bring to Justice the Chief Culprits in Persecuting Falun Gong During His Visit to the U.K. (Photos)
June 28, 2011
|
By a practitioner in the U.K.
(Clearwisdom.net) Chinese Premier Wen Jiabao visited the MG Motor Plant in Longbridge, in Birmingham, U.K. at noon on June 26, 2011, as part of of his three-day visit to the United Kingdom. Practitioners and human rights groups gathered outside the factory gates, protesting the persecution by the Chinese Communist Party (CCP).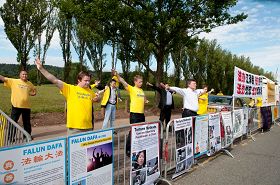 Practitioners do the exercises together at the protest venue
A police officer on duty carefully reads messages on the display boards, while practitioners perform the Falun Gong exercises
Practitioners hung more than ten banners and display boards outside the factory gates. The banners bore messages in both Chinese and English, reading, "Falun Dafa is Good," "Falun Dafa—Truthfulness-Compassion-Forbearance," "Bring Jiang Zemin, Luo Gan, Zhou Yongkang, and Liu Jing to Justice," "The Persecution of Falun Gong has Persisted for 12 Years--Immediately Stop the Persecution!" The display boards and photos introduced Falun Gong's tremendous effects on practitioners' physical and mental well being, and exposed the CCP's brutal torture of practitioners.
The practitioners performed the Falun Gong exercises at the protest venue, and their solemnity and peacefulness formed a stark contrast with the loud and noisy drums played by the welcoming group composed of overseas Chinese students organized by the Chinese Embassy. On-site police officers carefully read the messages on the practitioners' truth clarification displays. One of the officers told practitioners after the protest activities were over, "If all protest groups were as peaceful as you, that would be great. Take care!"
A few media outlets interviewed practitioners. Dr. Liu Wei said in an interview, "We are here to convey a message, that is, stop the persecution of Falun Gong! The CCP has persecuted Falun Gong practitioners for 12 years, and its brutality is outrageous. The CCP must immediately stop the persecution." "We hope the Western governments do not forget the serious human rights violation against Falun Gong in China when dealing with the CCP authorities, and address this issue with Wen Jiabao when he visits their countries." Dr. Liu concluded, "We hope more people will become aware of the CCP's persecution of Falun Gong, and understand what Falun Gong is about, so as to end the persecution soon."
At 1:30 p.m., Wen Jiabao's motorcade reached the protest banners, and left amid the protest.