(Clearwisdom.net) The city of Salaberry-De-Valleyfield in Quebec originally celebrated Saint-Jean-Baptiste Day, celebrating both the summer solstice and the feast of John the Baptist. The Quebec legislature declared June 24 a public holiday in 1925. This year, the Divine Land Marching Band, consisting of Falun Gong practitioners from Ottawa and Montreal, participated in the annual parade held in Salaberry-De-Valleyfield.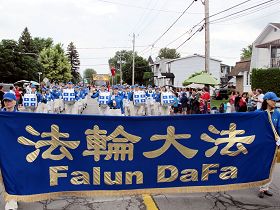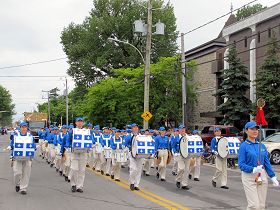 The Divine Land Marching Band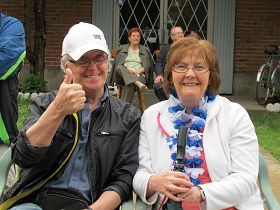 Spectators enjoy the band's performance
The parade started at 6:15 in the evening and went on for almost three miles in two hours. The spectators along the parade route were very receptive to the band's performance. A Canadian gentleman followed the band from the beginning of the parade to the end. He was very excited and said to a drummer in the band, "This is the most harmonic and perfect band that I've ever run across. Your band is so special, different than any others. Your performances were perfect. Every member was perfect. Do you practice eight hours a day?"
The drummer told him that each member of the band practices Falun Gong, which teaches the principles of Truthfulness, Compassion and Forbearance. The drummer also told the gentleman about the persecution of Falun Gong in China. The man said that he knew about the history of the Chinese Communist Party, but he had never heard about Falun Gong. He was glad to learn about the practice today.
Jean-Marie Riendeau, the bus driver for the band, was happy to serve them today. He had heard about the Divine Land Marching Band a long time ago, from his co-workers. He told the practitioners that he has read Falun Gong materials, and asked if they could teach him the exercises. Jean-Marie, a musician himself, enjoyed the band's performance very much.
The organizer of the parade said that he hoped to see the Divine Land Marching Band again next year.