(Clearwisdom.net) Shen Yun Performing Arts New York Company staged five breathtaking shows at the Lincoln Center's David H. Koch Theater in New York City, New York, from June 23-26, 2011.
Former NYC Ballet principal dancer: "I love it!"
Adriana and Leonid Kozlov at Lincoln Center's David H. Koch Theater, in New York City.
Leonid Kozlov, a former principal dancer with the New York City Ballet, attended the show with his wife, Adriana, a ballet instructor and former lead ballerina in productions of The Nutcracker and Swan Lake.
"I have always been fascinated by the beauty of [Chinese dance]," said Mr. Kozlov, who has toured worldwide and is now director of his own Kozlov Dance Studio.
He spoke about Shen Yun's "very wonderful qualities," and how the company performed classical dance and also interpreted folk dance.
"I enjoyed it very much. The music and the costumes, the instruments, the story telling—very beautiful," said Ms. Kozlov, who has mastered not only ballet, but also jazz, folk dance, and acting.
Mr. Kozlov defected from the Soviet Union in 1979. Because of his background, he said he could easily relate to the difficulties that classical Chinese dancers face under the Chinese communist regime, in terms of freedom of expression.
The Chinese Communist regime will not allow Shen Yun to perform in mainland China. "I have really got that freedom, which I hope the Chinese dancers will get too," said Mr. Kozvol, empathizing with the performer's plight.
Mr. Kozvol commented on how his new life in the United States gave him the freedom of artistic expression through dance. "Art is impossible without freedom," he said.
The Chinese regime sought to destroy all forms of traditional beliefs and culture
during the Cultural Revolution in China. It is Shen Yun's mission to revive these ancient traditions.
"The cultural revolution has been such an extreme. Whatever I've heard has been just terrible and I hope they will get rid of that," said the artist.
He added that he "absolutely" agreed that Shen Yun should be allowed to perform worldwide. "It is the most wonderful way to introduce people to Chinese history and Chinese people. I love it, and I think it is wonderful," he said.
As the two professional dancers watched the show they were struck by the gentleness of the female dancers.
"I always admire the ladies they are so gentle and feminine," said Mr. Kozlov.
"I think it so colorful, bright and lively. Very energetic you can feel the energy coming off the stage from the dancers and the orchestra as well," said Ms. Kozlov.
They recommended everyone come watch Shen Yun.
Chinese cultural department official: "Shen Yun brings people good fortune and happiness!"
While visiting her relatives in the United States, Ms. Li Yuan (pseudonym), an official from a cultural department in China, also attended the Shen Yun performance.
"I want to speak from the bottom of my heart, about my love for Shen Yun," said Ms. Li, "and about my present feelings."
"I've been suppressing my excitement and tried hard to hold back my tears. The performance was really mind-blowing, really fabulous. No language can accurately describe its beauty, truthfulness, inspiration, kindness, and my love for it. I think no language in this world can completely describe this spectacle."
Ms. Li continued, "I've never seen such a wonderful performance, even inside China.
"It's the first time I've ever experienced a true-to-life performance in a theatre. The first program was particularly amazing. As soon as the curtain opened, I felt as if I had entered a celestial world. It was right in front of the audience's eyes. Very sacred.
"All of a sudden, I felt as if my heart was being tightly held. I was very surprised; I was overwhelmed. Then I quickly felt as if I was pulled into the program. Miraculous!
"At that moment, I forgot everything. I forgot that I was still in this mundane world. I forgot all the worries and unpleasant things in my life. It was as if I was in another dimension, where the atmosphere was peaceful, full of energy and compassion. I felt the Divine power of Shen Yun, a power that can bring people good fortune and happiness.
"All the music I listened to, all the scenes that I saw, everything I thought about, everything that I felt, and everything that put me in a state of awe, were so beautiful, so completely beyond my expectations.
"I'm deeply impressed with each program as it tells about China's culture and history; its excellence and beauty.
"I'm gratified and proud. My heart danced with the performers on stage, and my heart beat with each note and rhythmic beat. I was so excited."
She said, "I don't think young people nowadays truly understand or cherish our traditional culture. They need to come see Shen Yun. I sincerely hope that Shen Yun will one day perform in China.
"I believe that Shen Yun will gradually become a model of traditional Chinese culture in the hearts of the world's people.
"I'm looking forward to seeing Shen Yun in China. I also thank the overseas artists for their contributions and all of the efforts they've made to put on such an incredible performance," Ms. Li concluded.
Former Polish ballet dancer moved to tears
A retired Polish ballet dancer with his wife at the Shen Yun Performing Arts matinee at the Lincoln Center's David H. Koch Theater on June 25.
A retired ballet dancer from Poland was so moved by Shen Yun that he cried during and after the performance.
When he was asked to give his opinion of the show, he said, "My opinion? It was excellent! See my eyes." They were moist with tears.
He explained that he knew what it was like to live under Communist rule, what it felt like to be an artist in exile, and to have one's artistic expression suppressed and contained.
Shen Yun cannot go to China because the current Communist regime will not allow the company's depictions of traditional Chinese culture and the depiction of religious persecution in the country today.
"I have the same kind of feeling that the Chinese people have because I'm from Poland, and it's a similar story," the man said. "We also had to escape from our country to show ourselves." He said the performance was "just superb."
His wife explained that he used to dance in the Warsaw Ballet in Poland. "I feel for these people, I feel this," he said.
His wife said, "I loved this show. They do everything straight, everything together. I love that. And I love the color. It was a story about China. It was beautiful. I have no idea how to describe it."
The dancer expressed gratitude to Shen Yun for showing the beauty and culture of China. "It's so emotional. I'm sorry, so much emotion," he said.
When asked what it was about Shen Yun that people should take note of, he merely said, "You have to see it!"
Fox 5 anchor Ernie Anastos: Shen Yun was "Breathtaking"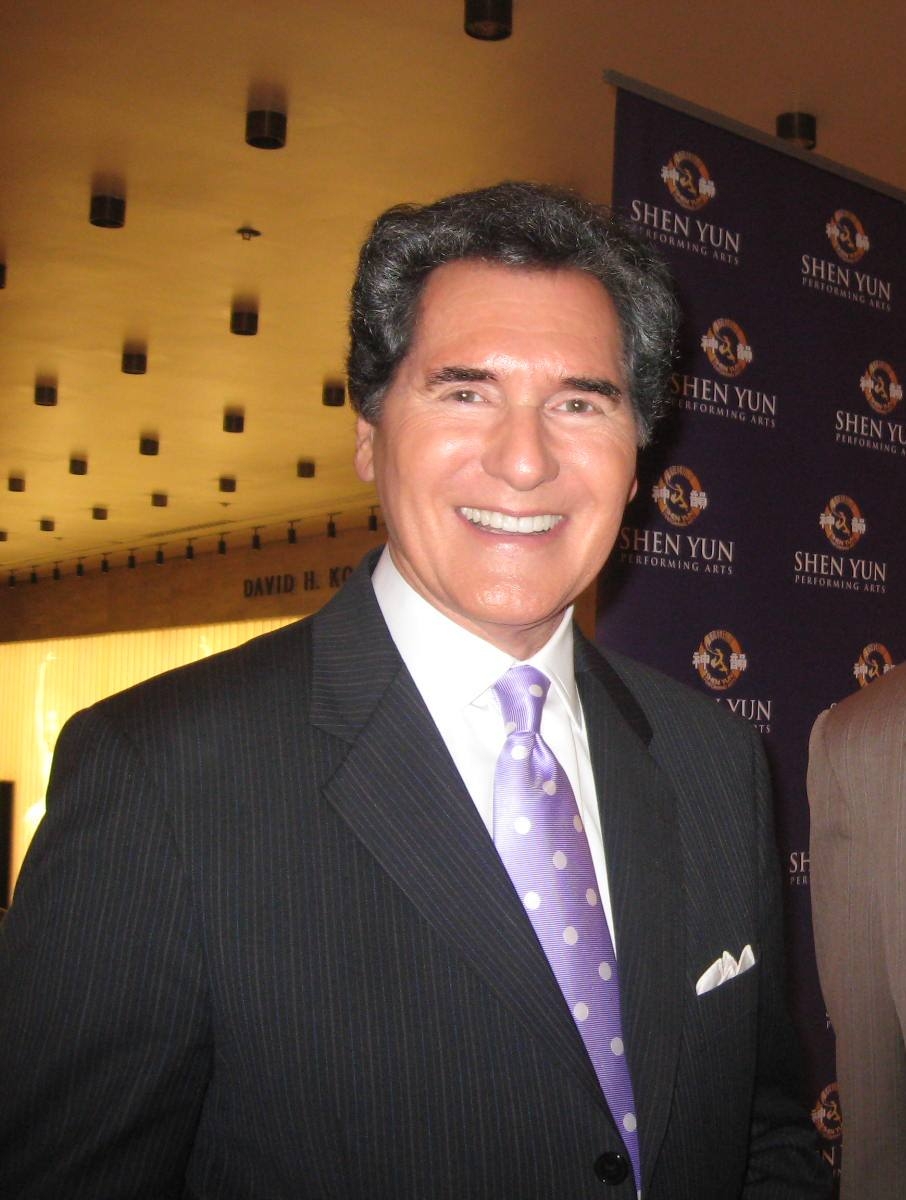 FOX 5 "News at 10" anchor Ernie Anastos at Lincoln Center's David H. Koch Theater, in New York City.
Among the many distinguished guests in the audience was FOX 5 "News at 10" anchor, Ernie Anastos.
"I think the performance is extraordinary, I think there is terrific talent," he commented. "The presentation and spirituality of the performance … the choreography was great. It was breathtaking, all the acts were great."
Mr. Anastos spoke about the different message within the show. "All the acts were great, just beautiful, and there's a message in every act, every performance, about the culture, the history, and also the present day.
When he was asked how he felt about the messages conveyed by the program, he said: "I enjoy history and I enjoy current events. This is a combination of the two. It gives me a nice perspective.
He said that the artistic design made the stories come alive. "I always look to see what the presentation is like … I think the backdrop and visuals are great," he said.
"I also think the timing is great, I'm always aware of time, because of what I do. Each performance moves in a nice beat, and I like that," Mr. Anastos said.
"I just thought the show was so tastefully done, so creative, and the messages are very strong—a message of spirituality, of finding ourselves, who we are, and where we came from," he said. "I think we need that kind of understanding more than ever. A better understanding of mankind and an appreciation for all people."
Mr. Anastos concluded. "I'm going to mention it on the news that I think it's a great performance and people should see it," he said before leaving the theater.
Famous basketball trainer enjoys Shen Yun
Lucy and Sandy Pyonin, at Lincoln Center, celebrating Lucy's birthday at Shen Yun's performance.
Sandy Pyonin is no stranger to hard work and discipline, having trained 32 NBA basketball players over the last 35 years.
"I like the skills and I know how much hard work it takes to get the coordination to put together a program like this," he said.
His wife, Lucy, who is from Ukraine, also enjoyed the performance.
Mr. Pyonin was unaware of some of the oppressive realities of modern day China, where there are heavy restrictions on freedom of expression and belief, including the arts.
"They beat the teachers up?" he asked. "Why are they doing that?"
He was referring to the dance piece, Our Story, in which a teacher is persecuted for teaching her pupils three words: truthfulness, compassion, and tolerance, the three central tenets of the spiritual discipline of Falun Dafa also known as Falun Gong.
The piece is a snapshot picture of the persecution that millions of Falun Dafa practitioners have been subjected to since 1999, when Falun Gong was banned in China.
"It's unfortunate," Mr. Pyonin said.
In talking about the stunning stage-wide digital backdrop, he simply said, "A nice touch."
Mr. Pyonin said he would highly recommend Shen Yun to his family and friends, especially those interested in the arts. "It relaxes me," he said. "I enjoy the beauty."
Hearst Publications editor finds Shen Yun "So creative"
Carol Plum, an editor for Hearst Publications, at Lincoln Center's David H. Koch Theater, in New York City
Also in the audience was Carol Plum, an editor for Hearst Publications, which includes Cosmopolitan and Elle magazines.
She said that she found herself "fascinated" by the beauty of the performance.
"It was a very well thought out program," said Ms. Plum, "I've been fascinated with China ever since I was a child."
The discipline of the performers greatly impressed her. "They must do the routine a lot. They must practice a lot, because they're that precise, and to do that with that many people, it's very difficult," she said.
Ms. Plum particularly enjoyed the choreography in the two dances sets, Plum Blossom and Nymphs of the Sea.
"There was the sense that the flowers were really opening," said she of Plum Blossom, also saying that she adored Nymphs of the Sea, which she found "just so creative."
Ms. Plum also liked the Shen Yun costumes, calling them "fabulous."
Montblanc NY general manager: "A very nice celebration of Chinese culture"
Kevin Mantell (R), general manager of Montblanc in the Greater New York City area.
"I'm impressed with the visual display, the sets, with the performance, wonderfully synchronized—a very nice celebration of Chinese culture, really enjoyed it," Mr. Mantell said.
He continued. "I am an avid supporter of the martial arts, especially Chinese martial arts, so from that point of view, I was very impressed by how well it was done."
Merrill Lynch adviser: "I love it!"
Valery Craane at Lincoln Center's David H. Koch Theater, in New York City.
Valery Craane who works for Merrill Lynch and is listed in the Prestigious Barron's Top 100 Women Advisers, talked about her experience of Shen Yun, saying, "I love it! It is so colorful, so uplifting, it makes me happy. It was very lovely."
Ms. Craane said that after watching the performance all the feelings of fatigue she had been carrying went away. She explained that she got so immersed in watching the show that she forgot about her worries and troubles.
Ms. Craane said that she particularly liked the dance set, Handkerchiefs.
As for telling her friends and family about Shen Yun, Ms. Craane said, "Definitely they should go this is the one thing that I'm going to tell them."
She added too that she will definitely tell her Chinese friends to go too. "I can't wait to get home, call them on the phone and say 'Have you seen it? Not yet? Well you better go."
NY Assemblyman presents proclamation to Shen Yun

New York Assemblyman Eric Stevenson with Gail Rachlin from Chinese Arts Revival, the presenter of Shen Yun Performing Arts, holding the New York State Assembly proclamation at Lincoln Center's David H. Koch Theater on June 24.
With an official proclamation in hand, New York State Assembly Member Eric A. Stevenson came to congratulate Shen Yun Performing Arts for their unique display of classical Chinese dance, following the company's Friday evening performance at Lincoln Center.
"Shen Yun seeks to present the true culture of China's 5,000-year old civilization, which has sadly been decimated by decades of Communist rule in modern-day China," reads the Proclamation.
It continues: "No other art form in the world boasts such strong expressive qualities and diversity of technique as classical Chinese dance.
"For those who see the show and understand the show, and the meaning behind the show, and sees the greatness of it—it is well deserving of a proclamation!" said Mr. Stevenson after the Friday performance. "And beyond that, it is deserving of having the persecution of these Falun Dafa people, stopped."
As a staunch defender of human rights, Mr. Stevenson has been a vocal critic of the Communist regime's persecution of Falun Dafa, also known as Falun Gong. Some of the pieces in the Shen Yun performances depict the current persecution of the meditation discipline, which is still banned in China by the Communist regime.
For Mr. Stevenson, tonight's show was a wake-up call to help stop the persecution of Falun Gong, and he urged others to help the cause.
"They're peaceful people [Falun Dafa adherents] and the show tonight just proves that. We encourage [President Obama] to come one day and to see the show," Mr. Stevenson said. He hopes that Obama can do more to support the Chinese community, including Falun Dafa practitioners, since "they are citizens and they're American."
According to Mr. Stevenson, audiences who see Shen Yun will surely understand the need for stopping the persecution of Falun Gong.
"After seeing the show, how could anybody in their right mind imagine persecuting such people?" Stevenson asked.
The Assemblyman connected his willingness to help stop this persecution with the last dance of the performance, titled The Opening of Heaven's Gates.
Describing Heaven's Gates as a destination all people might aspire to, Stevenson made the clear distinction that those involved in the persecution won't make the cut.
"If they want to be part of those people entering the Heaven's Gates, they need to stop the persecution."