Falun Dafa Cultivation Experience Sharing Conference Held in Surabaya, Indonesia (Photos)
June 16, 2011
|
By a practitioner in Indonesia
Falun Dafa Cultivation Experience Sharing Conference Held in Surabaya, Indonesia (Photos)
(Clearwisdom.net) The Indonesia Falun Dafa Cultivation Experience Sharing Conference was held on May 8, 2011, in Surabaya, Indonesia, with more than 600 practitioners attending. The conference began at 9:00 a.m. and twelve practitioners shared their cultivation experiences and understandings.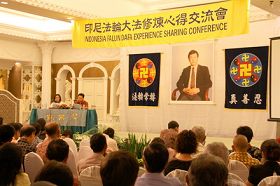 Fa conference venue
Practitioners share their cultivation experiences
A practitioner from Bali Island shared his experience of participating in preparing for Shen Yun performances in Sydney, Australia early this year. He has learned a lot from Shen Yun performers, and experienced how to eliminate all interference by sending righteous thoughts at the top of each hour.
A 17-year-old high-school student from Jakarta shared how she looked within in conflicts and learned from other practitioners' merits and strengths. Since she joined the Divine Land Marching Band, she found that the key was not to focus exclusively on mastering a musical instrument, but rather to improve her . She also talked about how to cooperate with other members in the band, and she understands that only by sending righteous thoughts can we have a better effect in saving sentient beings.
A practitioner shared how she cultivated together with her husband in their everyday life. Cultivating Truthfulness-Compassion-Forbearance enabled her to overcome the conflicts she has encountered. She has also become more independent and cultivated more solidly.
A practitioner from Tanjung Pinang shared his experience and understanding of participating in and coordinating several large-scale parades on Indonesia's National Day and other city-level festivities. They once met with the interference of bad weather during their activity. He understands that it was because participating practitioners didn't have sufficient righteous thoughts, and practitioners as a whole didn't coordinate and cooperate well. After sending righteous thoughts, the interference was eliminated, and practitioners were able to demonstrate the wonderfulness of Falun Dafa to the local people.
After the Fa conference concluded, many practitioners said that they had greatly benefited from the conference, and were motivated to be more diligent in their future cultivation.