Name: Gao Mingxia (高铭霞)
Gender: Female
Age: 45
Address: Apt. 202, Unit 2, Building 1034, Zhonglao Road, Licang District, Qingdao City, Shandong Province
Occupation: Chengyang District Technical Supervision Bureau (former employer)
Date of Most Recent Arrest: July 11, 2010
Most Recent Place of Detention: Dashan Detention Center in Qingdao (青岛大山看守所 )
City: Qingdao
Province: Shandong
Persecution Suffered: Sent to labor camp twice and tortured; solitary confinement, hung up and handcuffed to a window frame; deprived of sleep; forced to sit on a stool for extended periods of time; deprived of food and water, deprived of bathroom use; forbidden to change or wash clothes for several months; home ransacked
(Clearwisdom.net) After practitioner Ms. Gao Mingxia from Qingdao City was detained for nearly one year, 610 Office officials sentenced her to five years in prison on May 26, 2011.
Ms. Gao stated in court that she had not violated any laws by practicing Falun Gong and becoming a better person. She said it was the CCP judicial officials and 610 Office who had committed crimes since they fabricated stories to defame innocent people. Ms. Gao turned her head several times in order to try and see her mother and daughter. The guards forced her head back and pushed her into the seat. When the judge announced the verdict - five years in prison, Ms. Gao immediately requested an appeal.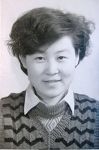 Ms. Gao Mingxia
Judge Diao Zhengwen attempted to leave after he dismissed the court, but Ms. Gao's mother asked him for the verdict paperwork. Diao was not prepared and said the paperwork could not be given to an under-aged person. Ms. Gao's mother said, "I am more than 70 years old. How could I be considered under-aged? You people fabricate stories and make up your own rules to persecute innocent people." Diao then said the verdict could only be given to the defendant herself. Gao's mother asked for this policy in a written form, but several guards forcibly dragged her out of the courtroom.
Ms. Gao Mingxia, 45 years old, lives at Apt. 202, Unit 2, Building 1034, Zhonglao Road, Licang District, Qingdao City, Shandong Province. She used to work at the Chengyang District Technical Supervision Bureau and began to practice Falun Gong in March 1999. Once she started to practice, not only did her physical and mental health improve, she also disciplined herself with the principles of Truthfulness-Compassion-Forbearance. Her coworkers and neighbors said she was a good person who was willing to help others.
After the CCP began to persecute Falun Gong on July 20, 1999, Ms. Gao was sent to a labor camp twice, where she was severely tortured. In March 2007, she left her home for a time in order to avoid persecution. Yue Feng and several other agents from the Licun Police Station arrested her outside of her home at 7:00 p.m. on July 11, 2010.
An Unusual Court Hearing
On May 9, 2011, Licang District Court held a criminal hearing inside the Dashan Detention Center in Qingdao City. The judge deliberately created difficulties for the two defense attorneys, who became so upset that they protested by refusing to come to court. The court later notified them that another hearing would be held at 2:00 p.m. on May 26.
On the afternoon of May 26, officials assigned Xiazhuang Residential Committee personnel to keep Ms. Gao's family under surveillance and assigned police agents to watch Ms. Gao's attorneys, even during the time they went to the bathroom. Ms. Gao's family and attorneys could not obtain passes to enter the court room. Xiazhuang Residential Committee personnel, however, entered with courtroom passes. When the court staff was asked the reason for this, the staff told them to wait and said that only three passes could be granted.
The security check did not start until 3:00 p.m. During this process, the guards sharply reprimanded Ms. Gao's attorneys. They also did a full body search at least three times for Ms. Gao's family and attorneys. This was clearly done to intimidate and humiliate the family and their attorneys.
Guards and Residential Committee personnel ordered Ms. Gao's family to sit in assigned seats, which were separated from one another.
Summary of Ms. Gao's Previous Persecution
Ms. Gao was previously sent to a labor camp twice. Guards tortured her while she was incarcerated at the Wangcun Forced Labor Camp in Zibo City in November 2003. She was frequently locked up in a solitary confinement cell, and twice hung from a window frame for an extended period of time. Her scars from being tied up are still visible today. Ms. Gao was forbidden to sleep for 17 days. She was forced to sit on a small bench for long periods, and was forbidden from using the toilet, brushing her teeth, or washing her face. She was also forbidden from changing or washing her clothes for several months until her labor camp term was up and she was released.
When Ms. Gao visited her neighbor, Sun Suqi, during the 2007 Chinese New Year, she explained the facts about Falun Gong and asked a family to remember, "Falun Dafa is good." However, Sun Suqi and local residential committee head Hu Chongfang reported her to the police. Jin Weihong (female, about 30 years old) from the Dongshan Residential Committee and several agents from the Xiangtanlu Police Station, including Shao Yue, broke into Ms. Gao's home on March 30, 2007. They ransacked it and took her to the Licun Police Station. She eventually escaped and decided to stay away from home.
Ms. Gao was arrested again at around 7:00 p.m. on July 11, 2010 while walking home. Officers from the Licun Police Station, led by Yue Feng, participated in the arrest. Yue Feng called Ms. Gao's husband on the afternoon on August 9, 2010, saying that Ms. Gao's case had been transferred to the Licang Procuratorate.
Ms. Gao's family has contacted Licang Procuratorate, Licang District Police Department, and Licun Police Station many times, but these officials pushed responsibility to one another. Her case was handed to the Licang District Court on February 14, 2011.
Ms. Gao's husband became ill during the 2011 Chinese New Year. Ms. Gao's family visited the Licang District Police Department in late February to request her release so that she could take care of her husband. Officials said Ms. Gao could be released only if she gave up her belief in Falun Dafa. Her husband's health deteriorated and he died at 10:00 p.m. on March 8, 2011. Ms. Gao's family contacted the local residential committee and police station personnel, as well as other government agencies, hoping that she could see her husband's body. Officials denied her request because she refused to give up her belief.
Related article: http://www.clearwisdom.net/html/articles/2011/4/11/124341.html
Related personnel and offices:
Dongshan Residential Committee: 86-532-87681546
Licun Police Station: 86-532-66576660
Licang District Police Department: 86-532-66576518
Licang Procuratorate: 86-532-83012132
Liu Xiangqian, 610 Office personnel: 86-13176865929
Wang Jianyuan, police officer: 86-13697665031
Jin Weihong, Dongshan Residential Committee head: 86-15864209626
Diao Zhengwen, judge
Chen Jieping, deputy procurator
Lian Qingrong (610 Office personnel), juror
Zheng Senchuan (610 Office personnel), juror