Ms. Ba Lijiang's Family Anxiously Awaits Her Release After Nine-Year Imprisonment
June 01, 2011
|
By a Clearwisdom correspondent from Heilongjiang Province, China
Name: Ba Lijiang(巴丽江)
Gender: Female
Age: about 44
Address: Hulin Cinty, Heilongjiang Province
Occupation: Unknown
Date of Most Recent Arrest: June 14, 2002
Most Recent Place of Detention: Heilongjiang Women's Prison (黑龙江省女子监狱)
City: Harbin
Province: Heilongjiang
Persecution Suffered: Detention, illegal sentencing, beatings, solitary confinement, hung up by limbs, force-feedings, denied visitation, forced labor
(Clearwisdom.net) Falun Gong practitioner Ms. Ba Lijiang has been tortured in Heilongjiang Women's Forced Labor Camp for nine years. On June 13, 2011, her term will end. Her family members are anxiously waiting for that day to come.
Ms. Ba had more than one major heart attack, cholecystitis, and hepatitis B. After she practiced Falun Gong, all her illnesses disappeared.
On June 14, 2002, Ms. Ba was arrested in Hailin and sentenced to a nine-year prison term by a female judge named Bi Xu in Hailin Court. In September 2003, she was detained in Heilongjiang Women's Prison. Throughout her detention, Ms. Ba kept her belief in Truth-Compassion-Forbearance. She was beaten, detained in a small solitary room, hung up many times, and also force-fed for a long period.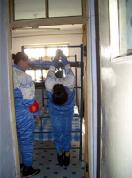 Torture re-enactment: Hung up
In May and June, 2005, Ms. Ba went on a hunger strike to protest the torture. She was detained in a small solitary room for over a month, during which she was force-fed. Li Jie put ten times more salt than normal in her porridge, and used this to force-feed Ms. Ba three times a day.
[Replacing original photo. Please insert here. ]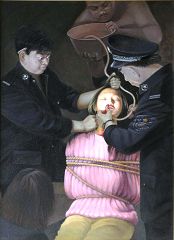 Torture re-enactment: Force-feeding
In June 2008, her family members went to visit her but were not allowed any contact with her. Because she had been severely tortured, prison personnel did not want her family to see her for fear that they would discover the truth. Later on, her family members received her letter, saying that she had been severely tortured. As a result, she was having trouble moving her arms, her right leg, and her fingers and was unable to take care of herself.
Ms. Ba's husband divorced her in 1999. Her father passed away on November 28, 2010, while he was in detention for practicing Falun Gong. Her sister, Ms. Ba Lihua, and brother-in-law, Zhang Shujun, went to Dumuhe in Dongfanghong to clarify the truth of Falun Gong on January 2, 2011, but were reported and sent to forced labor camps. Her mother, in her 70s, is grief-stricken over the suffering of her loved ones.
Heilongjiang Women's Prison:
Fang Genbao, director, 86-451-87086377, 86-451-86639099, 86-13351911299 (Cell)
Bao Rui deputy director, 86-451-86639066, 86-451-82612188, 86-13303600660 (Cell)