Falun Gong Practitioner Ms. Yuan Yongwen Passes Away After Being Tortured to Critical Condition (Photos)
May 27, 2011
|
By a Clearwisdom correspondent from Sichuan Province, China
Name: Yuan Yongwen (袁永文)
Gender: Female
Age: 67
Address: Qionglai City, Sichuan Province
Date of Death: May 7, 2011
Date of Most Recent Arrest: March 26, 2008
Most Recent Place of Detention: Yangma prison (养马监狱)
City: Jianyang city
Province: Sichuan Province
Persecution Suffered: illegal sentencing, imprisonment, torture

(Clearwisdom.net) On April 21, 2010, practitioner Ms. Yuan Yongwen was released after she became paralyzed and fell unconscious because of torture she suffered in Yangma Prison in Jianyang City. She passed away on May 7, 2011. Staff at Jianyang Yangma Prison and Chengdu Police Hospital carry full responsibility for her death.
In March 2008, while she was talking to people about Falun Gong, Yuan Yongwen was reported to the police by someone who had been deceived by Chinese Communist Party (CCP) propaganda. On March 26, 2008, the police arrested her. Shortly after, she was sentenced to a three-year prison term and taken to the Jianyang Yangma Prison.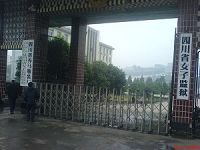 Sichuan Women's Prison located at Yangmahe Town, Jianyang City
Ms. Yuan Yongwen was brutally tortured and was in critical condition many times. After she was transferred to the Chengdu Police Hospital the authorities continued to torture her. On April 21, 2010, the prison authorities, to escape responsibility for her imminent death, released her. She was in critical condition.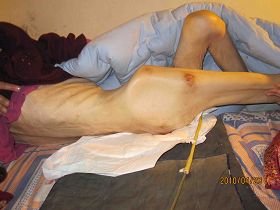 On April 20, 2010, Yuan Yongwen was emaciated and disoriented as result of torture in the Chengdu Police Hospital

Upon her release, Ms. Yuan Yongwen was paralyzed, emaciated and unable to move. She could no longer control her bladder or bowels and medical staff had inserted a urinary catheter. She appeared to suffer dementia and her speech was incoherent. She was unable to eat or or drink. When touched, she shouted, "Don't hit me!" There were many needle marks on her right hand.

After Yuan Yongwen returned home, her family took good care of her. She could only take in some liquid food and was bedridden. She was like this for one year. She passed away at 5 a.m. on May 7, 2011.
Since Yuan Yongwen started practicing Falun Gong, she lived by the principles of Truthfulness-Compassion-Forbearance. Before practicing Falun Gong she was weak and unhealthy. After practicing Falun Gong, she became very healthy and kind. She never was a financial burden for her children or her work unit.