Practitioner Mr. Xiao Hongmo Tortured to Death with Forced Drug Injections at Sichuan Province Prison (Photo)
May 19, 2011
|
By a Clearwisdom correspondent in Sichuan Province
Name: Xiao Hongmo (肖洪模)
Gender: Male
Age: 47
Address: Geology Compound, 101 Dong Street, Luocheng Town, Guanghan, Sichuan Province
Occupation: Nuoergai 405 Mining Detection in Aba Tibetan and Qiang Autonomous Prefecture, Sichuan Province
Date of Death: Mid-March 2010
Date of Most Recent Arrest: April 18, 2008
Most Recent Place of Detention: Deyang Prison (德阳监狱)
City: Guanghan
Province: Sichuan
Persecution Suffered: Electric shock, brainwashing, illegal sentencing, forced injections/drug administration, beatings, imprisonment, solitary confinement, torture, force-feedings, physical restraint, home ransacked, interrogation, detention.
(Clearwisdom.net) Falun Gong practitioner Mr. Xiao Hongmo from Guanghan, Sichuan Province was subjected to brutal torture at the Deyang Prison in Sichuan Province. He lost consciousness after being injected with unknown drugs by prison guards on July 25, 2009. He died in mid-March 2010, at the Chengdu Prison for the Ill (known to the public as the Sichuan Province Judicial Police General Hospital) at the age of 47.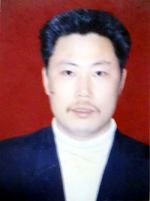 Mr. Xiao Hongmo
Some time ago, Mr. Xiao Hongmo recalled seeing a publication titled "Anti-Cult Internal Reference Material" (either the sixth or seventh issue). The prison's education section distributed copies to guards who were monitoring practitioners. The guard covering Mr. Xiao was not available that day, so the publication was left to a monitor (the guard's informant) to hold, who was also assigned to watch and torture Mr. Xiao. The two monitors went outside to discuss torture methods, and Mr. Xiao read the publication for over ten minutes. The "Method to '' Falun Gong Practitioners" section read, "For those stubborn Falun Gong believers, you can use drugs if needed, following a medical approach or clinical trial principle to achieve the goal of 'transformation'." The two monitors then returned and took the book away, saying "This isn't for you to read. We aren't even allowed to read it!" Mr. Xiao remembered these words and wanted to publicly disclose them after being released.
Mr. Xiao was arrested a few years ago, then sentenced to five years in prison. He was held in both Deyang Prison and Guangyuan Prison, Sichuan. He was subjected to brutal torture at both prisons. Beatings from the guards knocked out several of his teeth; guards laid him on the ground, stepped on his neck and beat him with hard-rubber sticks; they locked him in a cell with two monitors who tortured him secretly; and guards force-fed him after he went on a hunger strike.
Shortly after his release, he was arrested again on April 18, 2008, while about Falun Gong. He was held at the Guanghan Detention Center in Sichuan Province.
Mr. Xiao was sentenced at an unannounced hearing to five years in prison, and taken to Deyang Prison. On July 25, 2009, guards injected him with unknown drugs, causing him to lose consciousness and unable to control his bodily functions. He was taken to the People's Hospital in Deyang for emergency treatment. On July 27, he was transferred to a hospital in Chengdu, Sichuan Province. Mr. Xiao Hongmo died in mid-March 2010 at the Chengdu Prison for the Ill.
More information can be found at
http://www.clearwisdom.net/html/articles/2010/4/2/115831.html