Malay Businessman: It's My Lucky Day (Photos)
May 13, 2011
|
By a practitioner in Malaysia
(Clearwisdom.net) Practitioners in Malaysia held an activity on May 7, 2011, in Taman Tasik Titiwangsa, a famous resort in the capital Kuala Lumpur. They celebrated the 12th World Falun Dafa Day, also the 60th anniversary of Master Li Hongzhi's Birthday and the 19th anniversary of Falun Dafa's first public introduction. The grand celebration drew the attention of people of many different nationalities.
I have met what I wanted today!
Abdul Rahim Awang, a Malay businessman, lives in Bangi, Selangor. When practitioners arrived in Taman Tasik Titiwangsa, he followed them and started to learn to do the Falun Gong exercises.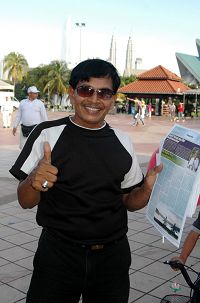 Abdul Rahim Awang: I have never see such a good practice as Falun Dafa; it's the best practice!
He was excited and said, "I'm honored, pleased, and lucky to meet Falun Dafa, because I obtain Truthfulness-Compassion-Forbearance. I've met what I wanted today."
Support promoting Falun Dafa in Malaysia
"It's the best practice for me. I've lived for 50 years, but I've never seen such a good practice as Falun Dafa!" Mr. Awang repeatedly thanked practitioners. He said that he strongly supports Falun Dafa and will introduce it to his friends. "I hope the practice will help people in Malaysia to be healthy. It's a healthy practice!"
It's heavenly principle that good will be rewarded and evil meet with retribution
Seeing photos on display boards depicting the persecution of Falun Gong practitioners, he said, "These photos make me sad. Children, adults, and young people—they were all killed. Why? "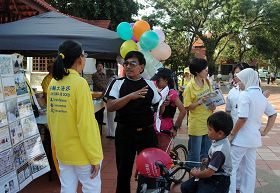 Mr. Abdul Rahim Awang talks with practitioners to learn more about Falun Gong.
Seeing the message on a display board, "Good will be rewarded, evil will meet with retribution," he said, "It's an eternal heavenly principle; it's precisely true."
"Today I'm lucky!"
Mr. Awang said, "Heaven has bestowed upon me this lucky day. I thank all practitioners and hope you keep up your efforts in your practice. It's the best practice I've ever seen in the entire world, because everybody, the old, the young, can learn to practice it." He said, "I sincerely congratulate you on World Falun Dafa Day."
Background
Falun Gong, also known as Falun Dafa, is a traditional Chinese spiritual discipline for mind and body. The practice involves slow, gentle movements and meditation. It is easy to learn, enjoyable to practice, and free of charge. Its principles are based on Truthfulness-Compassion-Forbearance. The practice was first introduced by Master Li Hongzhi in China in 1992 and quickly spread by word of mouth throughout China and then beyond. Its beneficial effects in uplifting an individual's physical health, spiritual wellbeing, and moral character, not to mention its positive influence in the community and society as a whole, have been undeniable. In fact, Falun Gong is practiced by over 100 million people in 110 countries. The main works of Falun Gong are available in over 30 languages.