(Clearwisdom.net) May 13, 2011, is the 12th World Falun Dafa Day, and also the 60th birthday of Master Li Hongzhi, founder of Falun Gong. Falun Gong practitioners in Malaysia held a celebration on May 7, in Taman Tasik Titiwangsa, a popular tourist hub in the capital, Kuala Lumpur. The practitioners shared with local residents how they personally benefited from Falun Dafa, which has been spreading around the world for 19 years.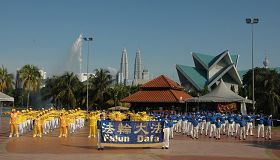 Group practice at the square in front of the Taman Tasik Titiwangsa in Kuala Lumpur
Waist drummers' performance kicks off the celebration
Divine Land Marching Band performs
Practitioners held group practice at 4:00 p.m. at the square in front of the Taman Tasik Titiwangsa. Prior to the celebration, all practitioners first respectfully wished Master Li Hongzhi a happy birthday.
The waist drum team's performance kicked off the day's celebration. The Divine Land Marching Band also played several music pieces. The resounding performances drew the attention of many people, who then took flyers to find out more about Falun Gong
Malaysia's 12th World Falun Dafa Day celebration attracts attention of many local people
Ms. Guo: No freedom in China
Ms. Guo who came to Malaysia more than one year ago from China said that she was very happy to participate in the day's celebration, because there is no such environment in China. She started practicing Falun Gong in 1997, and has been imprisoned several times for her practice, and subjected to severe persecution. Ms. Guo called upon people of justice to work together to stop the persecution, and bring human rights to China.
Mr. Cai Weiqiang: Everyone will choose to side with goodness
Malaysia Divine Land Marching Band conductor Mr. Cai has been to many places with the band in the past years to perform for the locals. He said, "Actually many people I met with are supportive of Falun Dafa. People are kindhearted, so after learning the truth, everyone will choose to side with the kind and righteous." He hoped everyone would seriously consider this issue and truly learn what Falun Gong is about.
Mr. Zhu Fu: Falun Gong is a way of life
Mr. Zhu Fu, 71 years old, has practiced Falun Gong for thirteen years. He obtained good health from practicing, and thought that he should volunteer his time to help more people to benefit as he did. He then found a practice site nearby and went there together with his wife to join regular group practice for the past six years.
Mr. Zhu Fu (middle) speaks with people about Falun Gong
Mr. Li Baoyuan: Foreigners also come to learn to practice Falun Gong
Mr. Li Baoyuan from Malacca said that practitioners in his place have been doing the exercises for two hours daily at practice sites since 2007.
Practitioner Mr. Li Baoyuan from Malacca
Mr. Li said, "Local people often see us doing the exercises, they want to learn what the practice is about and why so many people practice it. Thus many people have learned about Falun Gong, and they are supportive." When Mr. Li and other practitioners introduced Falun Gong at a tourist site, many foreigners expressed a desire to learn the exercises and the practitioners would teach them on the spot. Some would come again the next day to continue learning. There was a man from Switzerland who came to practice for eight months and also joined practitioners in their efforts to raise awareness.
Vendi Choo: I personally experienced the healing power of Falun Dafa
Vendi Choo is an accountant who started practicing Falun Gong in 2006. She was seriously ill, her sinusitis developed into asthma, before starting cultivation. Her husband suggested her to do some exercises in the park, so she learned Falun Gong in Pandan Perdana Park.
She said, "One evening, after I finished doing the whole set of the exercises, I fell asleep easily that night. Prior to that day, it was almost three months that I couldn't fall asleep. I also coughed badly. I had never believed in the miracles of qigong practice. But this truly impressed me, because I personally experienced this miracle." After that, practitioners encouraged her to read , "After reading it, what moved me the most is that these teachings enable us to return to our original, true selves. This is why I decided to cultivate," said Ms. Choo.
All practitioners call out in unison, "We respectfully wish Master Happy Birthday," and "Falun Dafa is good!"