Mr. Qin Yueming Brutally Force-fed in Jiamusi Prison the Day Before His Untimely Death (Photos)
April 06, 2011
|
By a Clearwisdom correspondent in Heilongjiang Province, China
Name: Qin Yueming (秦月明 )
Gender: Male
Age: Unknown
Address: Xiangyang Street, Jinshantun Area, Yishan City, Heilongjiang Province
Occupation: Unknown
Date of Death: February 26, 2011
Date of Most Recent Arrest: April 2002
Most Recent Place of Detention: Jiamusi Prison (佳木斯监狱 )
City: Lianjiangkou Town
Province: Heilongjiang
Persecution Suffered: Brainwashing, illegal sentencing, beatings, hung up, imprisonment, torture, detention
(Clearwisdom.net) Mr. Qin Yueming was arrested and tortured while being interrogated in 2002. He was put on trial for no valid reason, sentenced to a 10-year prison term, and sent to Jiamusi Prison. On February 26, 2011, Mr. Qin died as a result of torture and mistreatment in Jiamusi Prison.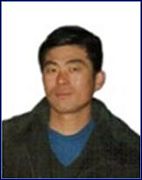 Mr. Qin Yueming
On February 21, 2011, practitioners Wang Lansheng, Qin Yueming, Fu Yu, Shang Xiping, and Yu Yungang were taken to the second enforced training section. On February 25, the guards took them to the prison hospital for force-feeding.
Mr. Qin was carried to the restroom on the first floor. Four people held his limbs, while another held his head when putting him in a chair. The guards also used hemostatic forceps, which are generally used to seize the end of a blood vessel to control bleeding, to pull out his tongue. They force-fed milk mixed with salt through a tube. At the time of the force-feeding, Yu Yifeng, the captain of the enforced training section; all guards assigned to the team; and Zhao Wei, the prison doctor, were present. Two inmate nurses carried out the force-feeding, one of whom was Yin Hongliang.
Mr. Qin screamed in pain during and after the force-feeding. The inmate in Mr. Qin's cell did not sleep the entire night and sent for the prison doctor, Zhao Wei, who said, "How come the nurses punctured his lung during force-feeding?"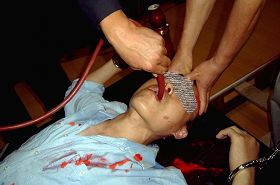 Force-feeding demonstration
Mr. Qing died the next morning, February 26. His family was not notified by the prison authorities until that night. The prison guards delivered the death notice to his family, claiming that he died a natural death.
Related report can be found at http://www.clearwisdom.net/html/articles/2011/3/10/123724.html