Additional Information about Ms. Lin Chunfang's Death in Tianjin
April 30, 2011
|
By a Clearwisdom correspondent in Tianjin City, China
(Clearwisdom.net) Ms. Lin Chunfang, a Falun Gong practitioner from Xianshuigu Town, Jinnan District, Tianjin, was arrested and brutally beaten by police when they saw her distributing materials. A week later, she died.
On the afternoon of November 15, 2004, Ms. Lin Chunfang was distributing information about Falun Gong at Xili Building 6, Theater West in the Jinnan District, and was noticed by anti-riot officer Zhao Baogangin, who lives on the sixth floor of the building. Zhao Baogang got the community guards to help him by telling them that Ms. Lin was a thief. Zhao and several guards then brutally beat her. They called the local police and Ms. Lin was taken to the station on Huannan Road in the Jinnan District.
Ms. Lin was tortured all night in the police station, which resulted in critical injuries. The next day, she was put on a respirator and taken to Xianshuigu Hospital. After a few days on an IV, she died from her injuries on November 23, 2004.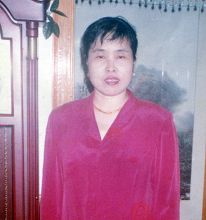 Ms. Lin Chunfang
Previous reports about Ms. Lin can be found at: http://www.clearwisdom.net/emh/articles/2004/12/1/55136.html