(Clearwisdom.net) "Falun Gong, really impressive!" a man from China exclaimed when he saw the Divine Land Marching Band in the Toronto Easter Parade on April 24, 2011. This was the fourth time the Band was invited to participate.
Band co-ordinator Mr. Jiang Fan said, "The organizers arranged our contingent behind the car of the parade Grand Marshal Heather Moyse, a Canadian Winter Olympics champion, at the head of the parade procession. The parade route is 2.5 km long and spectators packed the route."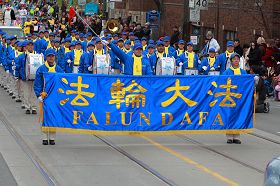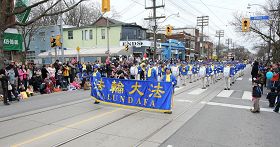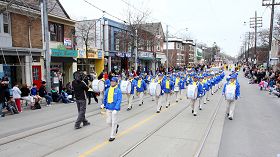 Toronto Divine Land Marching Band participates for the fourth time in the Toronto Easter Parade
Local Chinese people are pleasantly surprised to see a band organized by Falun Gong lead the parade
Ms. Zhang immigrated to Toronto not long ago and watched the parade with two members of her family. She said, "I'm so happy to see such a majestic band." She said she would learn more about Falun Gong. Her husband made a thumps up gesture and exclaimed, "Falun Gong, amazing! I never expected to see so many people practicing Falun Gong overseas. Remarkable! I'm lucky to see them so soon after I got here."
Ms. An from Shanghai watched the parade with her mother who had just come to Canada to visit. Ms. An said, "I'm impressed to see such a grand Falun Gong contingent. My mother was surprised and said, 'Falun Gong can parade on the street here!' She feels the freedom of a democratic country."
Ms. Wu immigrated to Toronto five years ago from China and came to watch with her children. She said, "The Falun Gong group is exciting, giving me a beautiful feeling."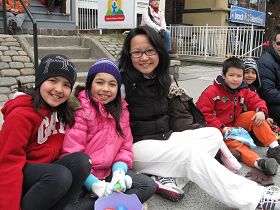 Ms. Guan from Guangzhou Province, China watches the Easter Parade with her children
Ms. Guan and her children clapped their hands enthusiastically. She said, "I'm a bit emotional. I feel this Chinese band is majestic, rarely seen."
People from around the world enjoy the band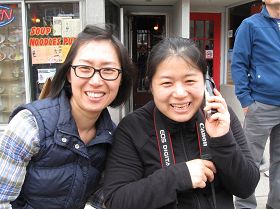 Jung Hoo (right) from Korea said, "It's the first time I've seen this big Chinese band, I like it."
Jung Hoo said that he liked the band's blue costumes and the music was pleasant to listen to.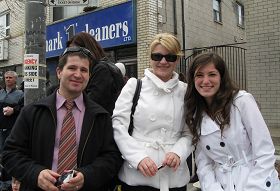 Denisa (right) from London said, "I love it, it's the first time I've seen this band."
Denisa and her family from London watched the parade. Denisa said that she felt the band played very well. The music left her with an unforgettable feeling.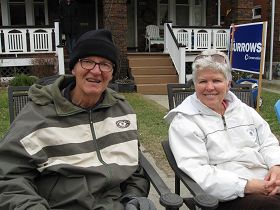 Jack, a Toronto resident and music teacher with 29 years of teaching experience, said, "The band is magnificent, the music has a strong rhythm and beat, and the performance is moving."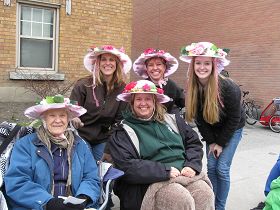 Linda (right at the front), a Toronto resident, thanks the Divine Land Marching Band for bringing beautiful performance to the parade
Linda, her 78-year-old mother, and their family watch the parade every year. Linda said, "We have seen this Chinese band many years. We love it!"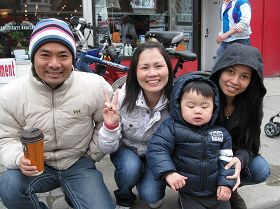 Thuy from Vietnam and family love the Divine Land Marching Band
Thuy from Vietnam said, "We've been in Toronto for three years. We see this big Chinese band every year. We love it!"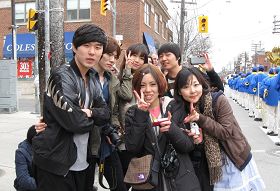 Japanese student Lina (center) and her classmates cheer the Divine Land Marching Band
Japanese student Lina, who just arrived in Toronto one month ago, said that they were excited to see such a large Chinese band in Canada. "We love it!"
Parade organizer Sharon Ramsden said, "Today's spectators are estimated to be around 50,000. This is the fourth year that the Divine Land Marching Band has participated in our parade. Their performance is outstanding."