Recent Torture of Falun Gong Practitioners in Siping Prison, Jilin Province
April 28, 2011
|
By a Clearwisdom correspondent in Jilin Province, China
(Clearwisdom.net) From October 18 to mid-December 2010, officials from the Jilin , along with two from Shulan conducted brainwashing sessions in Siping Prison. Various torture methods were employed, attempting to force Falun Gong practitioners to give up their practice.
Practitioner Li Dexiang is from Jilin Province, and is physically handicapped and legally blind. However, officer Yang Tiejun did not spare him from torture, and he received shock treatments with electric batons.

Torture reenactment: Shock treatment with electric batons
Practitioner Xu Hongwei is from Liaoyuan. On the afternoon of November 15, 2010, four police officers, including Yang Tiejun, Li Zhiqiang, Wu Tie, and Wang Siming, tortured him with four high-voltage electric batons simultaneously, for an extended period (the electric batons are called "Big Storm" and cause severe injury). If the torture continues for 20 minutes, it may damage internal organs and cause severe chest pain. After the torture, the burned skin on Mr. Xu's neck fell off. Following this brutal torture, officer Li Zhiqiang claimed that Mr. Xu was pretending to be sick, and he was forced to work. Officials later agreed that he shouldn't work until after a hospital examination.
Practitioner Zhou Jian is from Jingyu County. In 2010, he was given multiple shock treatments by officers Zhou Jijia, Yang Tiejun, Wu Tie, and others. His hands no longer function properly due to excessive handcuffing; however, he is still forced to do labor.
Practitioner Xu Hongjun is from Tonghua County, Tonghua. On November 24, 2010, He Yuqing, the director of the tenth division of the prison, along with assistants Zhou Jijia, Wang Siming, Wu Tie, and Li Zhiqiang, administered a shock treatment to Mr. Xu for nearly half an hour using the "Big Storm" electric batons. Afraid that he might die, they locked him in solitary confinement and ordered several inmates to monitor him. Mr. Hu's wounds and bruises can still be clearly seen.
Practitioner Wang Xuezhu is from Jingyu County, Jilin Province. On October 7, 2009, officer Li Haifeng, along with inmates Yang Xichen and Han Jingjun, beat him until he was completely bloodied. Mr. Wang still suffers from a chest infection, abdominal swelling, and hypotension. His blood pressure is 110/30 mmHg. Even though he has difficulty walking and breathing and is very pale, he is still forced to perform labor.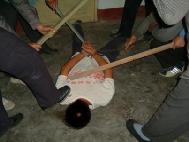 Torture reenactment: Harsh beating
Following the brainwashing session, officers Yang Tiejun, Li Zhiqiang and others were rewarded for their efforts in torturing Falun Gong practitioners.
In addition to individual torture, practitioners are forced to perform intense labor in Siping Prison. They are required to work 14 hours a day, from 6:00 a.m. to 8:00 p.m.. Six of the practitioners are in their 60s.
Sixty-six practitioners are currently being detained at Siping Prison. Forty-six are being held at the tenth division, and 20 in the eleventh division. Officials are planning to isolate the eleventh division and torture the detained practitioners there.