(Clearwisdom.net) April 7 is World Health Day, a day that honors physicians and their work. Meanwhile, in mainland China, the Chinese Communist Party has taken away the rights of many physicians who believe in Truthfulness, Benevolence, and Forbearance. These physicians were sent to prisons, physically abused, subject to forced brainwashing, and injected with harmful drugs. Their licenses were suspended and they lost their right to practice medicine. Many of them died from the mental and physical abuse. Among them are physicians from major hospitals. Some have private practices while others work in the countryside. They come from cities, towns, and villages of all sizes. The following are just a few of the many reported cases from the Minghui website.
Abused and Persecuted to Death Because of Their Beliefs
Dr. Shen Yueping was a physician at Yuxi Women and Children's Hospital. In October of 2000, Dr. Shen went to Beijing to appeal on behalf of Falun Gong. She was sentenced to three years at a forced labor camp. She was later sentenced to five years in prison, and spent three years of the term in a small cell in Yunnan Women's Second Prison. During that time, she was not allowed to shower or change her clothes. She had no freedom and was told when to stand, sit, or think. She could be beaten and stabbed with needles at any time. Sometimes even her food was mixed with drugs that could damage her nervous system. In May 2009, Dr. Shen's family received a "release for medical treatment" notice. By that time, her lungs were already severely perforated and she was dying. Dr. Shen passed away on July 16, 2009. She was only forty-nine years old.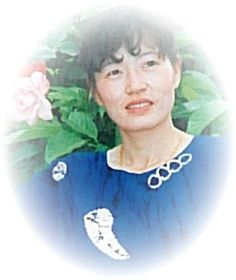 Dr. Shen Yueping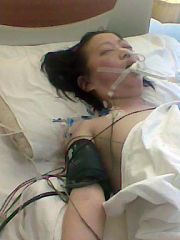 Dr. Shen Yueping undergoing emergency treatment
Dr. Dong Cuifang was a physician at the Women and Children's Hospital of Shunyi District in Beijing. She was sentenced to five years in prison by the Shunyi District Court because she spoke out in public about the facts of Falun Gong. On March 19, 2003, Dr. Dong died from physical abuse at Daxing Women's Prison in Beijing. She was only twenty-eight years old. Both of her legs were purple and swollen. Her lower legs were covered with extensive bruises and the muscles on her right shoulder were separated from the bones. Her family requested compensation, but they never received a reply from the prison. Dr. Dong's mother eventually sought out legal help but her efforts were fruitless.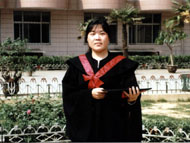 Dr. Dong at her graduation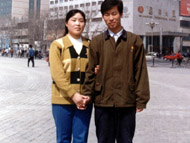 Dr. Dong and her boyfriend
Dr. Liu Haibo was a physician at the CT room of Luyuan District Hospital in Changchun. After the start of the persecution on July 20, 1999, Dr. Liu went to appeal on behalf of Falun Gong twice in Beijing. Afterwards he was sent to forced labor camps twice. While detained, prison guards tortured and beat Dr. Liu. and extended his term for another nine months. On the evening of March 11, 2002, seven or eight policemen from the Kuangcheng District Police Department in Changchun broke into Dr. Liu's home. They arrested Dr. Liu and his wife, and confiscated several thousand and other personal belongings. Several policemen simultaneously shocked Dr. Liu with electric batons. They tortured him and tried to force Dr. Liu to stop practicing Falun Gong. Policemen tortured him until after 1:00 a.m. They did not stop until they realized that Dr. Liu's heart had stopped beating. Dr. Liu was sent to Emergency Center No. 120, but by then he was already dead.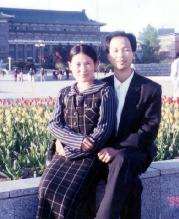 Dr. Liu Haibo and his wife on May 9, 1999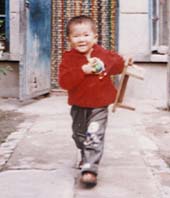 Dr. Liu's son, Tianchun
Physically Disabled After Brutal Torture
Dr. Liu Deqing, sixty years old, is a physician at the Hailun Health Care Institute in Heilongjiang Province. She was sentenced to a forced labor camp twice for a total of four years and four months. Later, she was again sentenced to five years in prison. The elderly physician was not allowed to sleep or go to the bathroom. She suffered beatings and needle stabbings, spent time in freezing temperatures, and was injected with unknown drugs. Her belly swelled up as if she were nine months pregnant. She then developed general edema.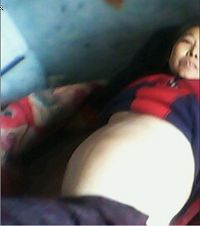 Dr. Liu Deqing 's swollen belly after being abused
Dr. Xu Zuoyou is a physician at Baojing County People's Hospital in Hunan Province. Dr. Xu was arrested and sent to brainwashing centers and forced labor camps on numerous occasions. Dr. Xu's home was also ransacked several times. In February 2004, Dr. Xu was arrested and sent to the Xinkaipu Forced Labor Camp in Changsha. There, Dr. Xu went through forced brainwashing. This included reading materials and watching TV programs of propaganda against Falun Gong. He suffered physical torture and was forced to wear restrictive clothing. Dr. Xu was also subjected to brutal force-feeding. His front teeth became damaged and his left clavicle was shattered from being beaten. He also suffered a number of other injuries from the beatings. Dr. Xu's chest, back, arms and legs felt numb and stiff. As of now he is unable to walk.
Dr. Xu was also sent to the Yongshun Mental Hospital, where he was force-fed with large amounts of anti-psychotic medications. Since Dr. Xu refused to take them, four doctors held him down on the bed and injected him with haloperidol. During his one year and seven-month stay at the mental hospital, Dr. Xu also suffered abuse and beatings from psychiatric patients.
Force-fed with Harmful Drugs
Dr. Pang Lijuan, 67 years old, was a physician in the military in Wuhan. She used to work for the Air Force Hospital in the military district of Guangzhou in the 1960's. Dr. Pang started her own private practice in 1992. On June 23, 2007, Dr. Pang was sent to Wuhan Prison No. 1 by the Hanyang . In order to protest, Dr. Pang went on a hunger strike for fourteen days. During that time, prison guards used bamboo sticks to pry open Dr. Pang's mouth and force down a cup of white milky liquid. Dr. Pang felt discomfort right after ingesting the liquid. Her mouth felt extremely dry and she felt mentally excited, and symptoms of having taken steroids. When Dr. Pang asked the guards about what they had given her, they just ignored her. After many years of inhumane torture, Dr. Pang had to be carried home. Currently she is in critical condition.
Use of Violence to Force "" at Brainwashing Centers
Dr. Qian Houmin is a surgeon at Sazhong Hospital No. 2 in Daqing. He was sentenced to seven years in prison. After Dr. Qian's prison term was up, he was sent to the Wuchang Brainwashing Center. Guards locked Dr. Qian in a dark room and cuffed his hands behind his back. He could not neither stand steadily nor squat. Furthermore, Dr. Qian was not given food to eat. They would not release him unless he wrote the "three statements". Eventually Dr. Qian's blood pressure went up to 180 mm Hg, causing him to lose sensation in one leg.
Dr. Zhang Guangcai was a dentist from Nanmancai Village, Xiedian Township, Guan County, Liaocheng City, Shandong Province. He was the third generation of dentists in his family. Dr. Zhang has been sent to brainwashing centers many times and forced labor camps three times. At the Xingtai Brainwashing Center, policeman Song Jiaxi from the Qiaoxi Police Department of Xingtai used an electric baton to force a confession from Dr. Zhang. He jammed books and bottles into Dr. Zhang's handcuffs and screamed, "Beating you to death counts as suicide!" Dr. Zhang resisted by going on a hunger strike. He eventually was brutally force-fed. In just a few days, Dr. Zhang's lungs were severely damaged.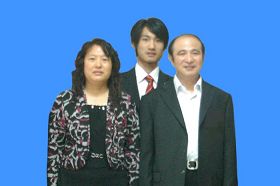 Dr. Zhang Guangcai with his wife and son
Heavy Sentencing
Dr. Li Aijun was an intern at the inpatients section in Xiyuan Hospital, Beijing. She was arrested in early 2002 for practicing Falun Gong, and was fired immediately. Dr. Li was sentenced to nine years imprisonment and was kept at Tiantanghe Women's Prison in Beijing. While in prison, Dr. Li was subjected to various forms of physical humiliation by prison guards. She was forced to work for over sixteen hours a day sewing and mending from 6:00 a.m. to after 10:00 p.m.
Dr. Du Guijie, thirty-eight years old, is a physician at Central Hospital in Hegang City, Heilongjiang Province. She was sentenced to ten years of imprisonment by the Xingshan Police Department branch office in Hegang. Dr. Du is currently in critical condition at Harbin Women's Prison. Her family pleaded for her release, but prison officials refused their request. Prison guards extorted nearly a thousand yuan from Dr. Du's family.
Taking Away Medical Licenses
Dr. Zhou Zaitian is from Zhugedian Village, Yanjiao Township in Sanhe City, Hebei Province. He has been practicing medicine for thirty-seven years in the countryside. He was detained in 2006 and was sentenced to prison in 2007 because he practices Falun Gong. The Public Health Department suspended his medical license after the sentencing.
Dr. Xu Faling was a physician at the Second University Hospital of Henan Medical University. After Dr. Xu spent three years in a forced labor camp, his employer terminated his position as a physician and sent him to do labor in the hospital laundry room.
Before he passed away, Dr. Liu Haibo from Changchun refused to write a "guarantee letter" renouncing Falun Gong. His employer suspended his position at the hospital and stopped his pay.