Name: An Fengbo (安凤波)
Gender: Male
Age: 40
Address: Jilin City, Jilin Province
Occupation: Police officer
Date of Most Recent Arrest: March 16, 2011
Most recent place of detention: Jilin Detention Center (吉林市看守所)
City: Jilin
Province: Jilin
Persecution Suffered: Detention, forced labor, beatings, brainwashing, hanging by handcuffed wrists, torture, physical restraint, solitary confinement, force-feedings, interrogation, denied visitation.
(Clearwisdom.net) Falun Gong practitioner husband and wife An Fengbo and Han Shuang were arrested by officers from the Henan Police Station, Chuanying Police Department, Jilin Province at 9:00 p.m. on March 16, 2011. They are currently in Jilin City Detention Center.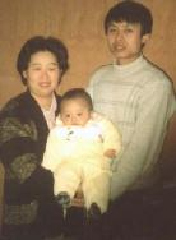 An Fengbo with wife Han Shuang and son
An Fengbo was a policeman at Huanxiling Labor Camp in Jilin City. His police number is 2214905.
Since 1999, when the persecution of Falun Gong began, An Fengbo has been arrested and detained several times, and he has been sent to forced labor camp twice. In the labor camp he was severely persecuted for refusing to give up his belief in Truthfulness-Compassion-Forbearance. He suffered intense physical punishments including beatings, wearing handcuffs and shackles, his limbs tied together, tied to a metal chair, and punitive force-feeding. He has been severely tortured physically and mentally.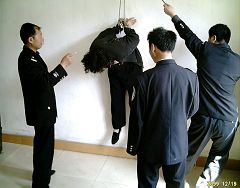 Torture re-enactment: hung up
Appealing for Falun Gong in Beijing
An Fengbo began the practice of Falun Gong in 1996. He has diligently lived by the universal principles of Truthfulness-Compassion-Forbearance. On July 20, 1999 head of the CCP Jiang Zemin orchestrated the brutal persecution of Falun Gong. On July 22, 1999, An Fengbo and his pregnant wife Han Shuang went to Beijing to appeal for Falun Gong.
In September 1999, after their son was born, An Fengbo traveled to Beijing to appeal for Falun Gong a second time. He was detained for a short time. Later, they went with Mr. An's mother-in-law and his seven-month-old baby to Beijing to appeal again. They were sent back to Jilin City by police from the Jilin Province Liaison Office in Beijing. The police detained An Fengbo and his mother-in-law, but released his wife since she was breast-feeding the baby at that time.
Sent to Forced Labor Camp in 2001
When An Fengbo refused to renounce his faith, he was sentenced to two years in a labor camp in 2001 and was detained at the Fourth Section at Yinmahe Labor Camp in Jiutai City, Jilin Province. He was forced to attend brainwashing sessions, where he was beaten by both police and criminal inmates. His front teeth were knocked out from a beating and his term was extended by two months. Finally, he was released around the New Year in 2003. He returned to his original workplace at the Huanxiling Labor Camp, Jilin City, Jilin Province.
Sent to the Forced Labor Camp Again in 2005
On the morning of March 4, 2005, Jilin City police officers Yu Lijun, Liu Jinyuan and Han Wei, broke into Mr. An's home and unlawfully arrested him after they found Falun Gong books and informational materials. Mr. An was taken to the Jilin City Third Detention Center.
On March 19, 2005, An Fengbo's wife and his father (An Yuzhen) went to Dadong Police Station to get him back. Four or five policemen pushed and roughly handled An Yuzhen. An Fengbo's wife tried to stop the policemen, but they pulled her hair, beat her and handcuffed her for an extended period of time.
An Fengbo began a hunger strike in the detention center to protest the persecution. Dadong Police Station then sent An Fengbo to Yinmahe Labor Camp in Jiutai City for a one-year term without notifying his family.
Brutally Tortured in Yinmahe Labor Camp
An Fengbo shouted, "Falun Dafa is good" at Yinmahe Labor Camp. Police instigated inmates Wen Sheng and others to take him to the "Strictly Controlled Team" area. Li Yunbo, the leader of the "Strictly Controlled Team," and instructor Feng Wei from the Fifth Section instigated two inmates to torture An Fengbo. Inmate Wang Tingwei beat An Fengbo and handcuffed him. They hung An Fengbo up using handcuffs. All of his body weight was supported by the handcuffs, which cut deeply into his flesh. This torture caused excruciating pain.
At the end of March, An Fengbo was transferred to the Fifth Section. Wang Tingwei and Zhao Dequan monitored him constantly. They did not allow him to talk to others. In May he was moved to the First Inmate Dormitory and monitored by Ni Chunguang. An Fengbo refused to work in the forced labor camp from March to July. He was put into isolation and physically abused every day.
At the end of September 2005, An Fengbo practiced the Falun Gong exercises in the inmate dormitory. Collaborators dragged him into the police office with his arms around his neck, and cruelly beat him. Policeman Feng Wei reported this to the labor camp director Liu Benwen. Liu Benwen said, "File a report to send An Fengbo to the small cell. I will approve it right away."
On October 8, 2005, An Fengbo was sent to the small cell for persecution. All of his limbs were shackled. It was cold in the small cell, but Feng Wei said, "No blankets for him". An Fengbo started a hunger strike in protest. Feng Wei and the other policeman tied him tightly to an and brutally force-fed him. When other practitioners protested against this, Feng Wei shouted out loud for everyone to hear: "I just want to torture him. I want to pull his teeth out and then shove the feeding tube in and out of his throat to torture him. Even if he wants to eat, I won't give any food to him, so I can force-feed him."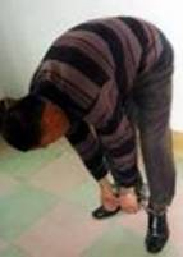 Torture re-enactment: Wearing connected handcuffs and shackles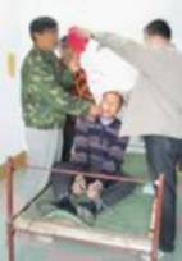 Torture re-enactment: Force-feeding
His Wife and Son's Tribulations
While An Fengbo was in the labor camp, his wife Han Shuang and relatives went to the related government offices to request his unconditional release. An Fengbo's wife took their six year old son to visit his father, but police refused to let her see him because she is also a Falun Gong practitioner. This greatly upset their six year old child.
After An Fengbo was sent to the labor camp, Hang Shuang did not have any regular income to support their living costs. She had to work 12 hours every day to support the family. An Fengbo was released after one year of severe torture.
An Fengbo and Han Shuang Beaten in 2006
On October 4, 2006 An Fengbo and his wife went to Jiangnan County to visit their aunt's relatives, but police from Huashanlu Police Station arrested them. They were interrogated and verbally abused by the police, but they were eventually released due to insufficient evidence.
At around 10:00 p.m. on October 4, 2006, five or six plainclothes policemen from Huashanlu Police Station came to his relatives' home in two vehicles. They lied to An Fengbo, saying, "You are not allowed to stay here, we have to take you home." When the vehicle arrived at Jiangnan County government, the police left the key to An Fengbo's relatives' home with the residential committee director. One policeman punched An Fengbo and shouted: "Do you know what kind of problems you have caused me?" They dragged An Fengbo and his wife Han Shuang into the police vehicle and took them to the Huashanlu Police Station.
They detained An Fengbo and Han Shuang separately and handcuffed them. They took turns interrogating them. One police officer, whose family name is Wang, told Han Shuang, "My supervisor and I sent your aunt to the labor camp." During the interrogation, Hang Shuang refused to answer their questions. Policeman Zheng Haifeng beat Hang Shuang with her handbag. At 3:00 a.m. they handcuffed An Fengbo to a bed and Han Shuang to a bench.
The next day at 3:00 p.m., police officer Zheng Haifeng tried to take a picture of An Fengbo and Hang Shuang, but they refused to cooperate. Zheng Haifeng beat them both severely in retaliation. At around 4:00 p.m. they were released, but police kept their cell phones. At 5:00 p.m. two plainclothes policemen told An Fengbo's mother-in-law that they were his friends and asked for his cell phone number and address. His mother-in-law did not allow them to come into the home. At around 6:00 p.m., two policemen took An Fengbo's father from home to the Huashan Road Police Station. There is no further information at this time about what has happened to him.
Related articles:
http://www.clearwisdom.net/html/articles/2005/3/24/58746.html
http://www.clearwisdom.net/html/articles/2005/4/10/59443.html
http://www.clearwisdom.net/html/articles/2005/7/16/62930.html