Authorities Harass the Families of Practitioners Imprisoned in Jiamusi Prison for Seeking Visitation (Photo)
April 01, 2011
|
By a Clearwisdom correspondent from Heilongjiang Province, China
(Clearwisdom.net) Three Falun Dafa practitioners were tortured to death in the last two weeks at the Jiamusi Prison. The families of imprisoned practitioners are worried about their family members' lives in prison, and have been asking for family visits. Instead of relieving the anxiety of the families, the Jiamusi Prison administration formed a Special Service Team to harass the families.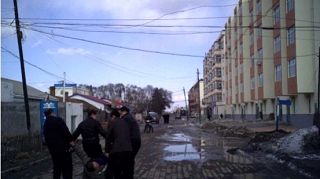 A visiting family member was carried away by four plainclothes officers on March 21, 2011
Plainclothes guards beat the family member of practitioner Mr. Jiang Botao. On March 21, 2011, four plainclothes officers carried a family member of a practitioner away by force. The whereabouts of the family member is unknown.
On February 21, 2011, the prison administration formed a strict monitoring section to coerce practitioners to "" using torture. In six days, on February 26, 2011, Mr. Qin Yueming, 47, was tortured to death. On the twelfth day, March 5, Mr. Yu Yungang, 48, died as a result of torture. Three days later, after 1:00 a.m. on March 8, Mr. Liu Chuanjiang died as a result of torture.