Poland: Visitors to Health Fair Rush to Purchase Zhuan Falun
March 05, 2011
|
By a Falun Gong practitioner in Poland
(Clearwisdom.net) The Natural Medicine and Health Fair, the most influential fair in the field in Poland, was held at the Cultural Centre of Śląska in Katowice from February 25 to 27, 2011. Falun Gong practitioners participated in the fair for the fourth time and introduced Falun Dafa, a cultivation system following the principles of Truthfulness-Compassion-Forbearance.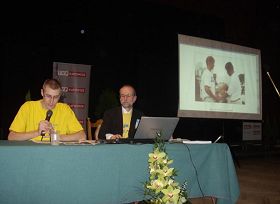 Practitioners introduce Falun Dafa to close to 400 people.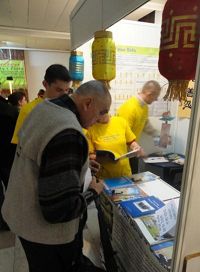 Visitors find out about Falun Dafa.


More than 200 groups, including some from other countries in Europe, participated in the fair. Four out of the five floors of the building were occupied with booths. A great variety of health products and medical equipment attracted more than ten thousand visitors.
Falun Dafa stood out and was of great interest to many people. The Falun Dafa booth was located in a high traffic area on the third floor and was decorated with a Falun Gong exercise illustration poster and pictures of Falun Gong's introduction in China as well as around the world. Available were introduction materials in Polish, the investigation report on the Chinese Communist Party's (CCP) organ harvesting of organs from living Falun Gong practitioners, and copies of . Practitioners from Warsaw had 40 copies of in Polish on hand.
Many people were attracted to the Falun Dafa booth. They took brochures, signed in support of Falun Gong, and wanted to learn it. All the copies of Zhuan Falun were sold. Practitioners even let their own copies of Zhuan Falun go and regretted not having brought more. It seemed that more and more people were awakening and longing for the truth.
The sponsor of the fair arranged a 45-minute introduction to Falun Dafa in the main hall on the first day of the fair. Close to 400 people listened to practitioners' introduction of Falun Dafa's history in China and the CCP persecution. The introduction included pictures projected on a big screen. People were very shaken and touched.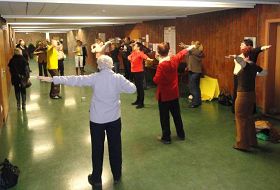 Many people came to learn Falun Gong.
After practitioners demonstrated the beautiful exercises, many people couldn't wait to learn them. The sponsor of the fair arranged for space to learn the exercises on the fifth floor. Because the space was limited, learners had to go in groups. One group after another learned the exercises, from morning to afternoon, nonstop. It was hard to estimate how many people learned the exercises during the three-day fair. Practitioners were happy to know that those who longed for the Fa got their wish fulfilled.
The Polish people warmly welcomed Falun Dafa and praised it highly. Practitioners believe more people will take up cultivation and find the right path toward a healthy mind and body.