(Clearwisdom.net) One day last year a business meeting erupted into laughter when a marketing manager said, "We must work hard to prevent fire, theft, and the government!" All those present were well-educated people with bachelor's or master's degrees, and their laughter only attested to one thing. The Chinese Communist Party (CCP) represents the same kind of threat as fire and theft. We Chinese people are family oriented, and we are always cautious of potential fire or theft. We also have one more item on our watch list... the CCP.
Regarding safety concerns, I'd like to remind everyone, especially those interested in watching the news, that the top priority in preventing the CCP from harming us is to scrutinize its news items, which not only deceive but also poison and even warp the minds of Chinese people. There have have been many lessons in this regard. When it comes to the persecution of Falun Gong, numerous incidents have spoken to the lack of validity of what's shown on TV. Below are a few examples that demonstrate how the Communist regime police have extracted information from minors in attempts to bring false allegations against their Falun Gong practitioner parents.
Case 1: The Miserable Childhood of an 11-year-old Girl in Wuhan City, Hubei Province
Eleven-year-old Qing Qing no longer wants to go to school. To get out of going, she has even tried to run away from home. She doesn't fear studying—that's far from it. When she was at school she often just sits quietly and studies her books. She may have even learned to read and write better than other children her age. But she is still haunted by the memories that come back to her every time she goes to school.
Memories of what happened in school still makes her tremble with fear. In 2008 Qing Qing's teacher told her to come with her to the office. Qing Qing followed her teacher to the office and found several strangers waiting for her. They asked her questions about her mother, Ms. Hu Huifang, who is a Falun Gong practitioner.
Her mother had taken her to a winter camp at the Cailin Guest House in the Hongshan District in Wuhan City on February 11, 2008, during the Chinese New Year. While she was teaching a class at the winter camp, a group of plainclothes officers from the Domestic Security Division of the Wuhan City Police Department charged into the classroom and detained her and Ms. Chen Man, another teacher who is also a Falun Gong practitioner. That was the last day Qing Qing saw her mother.
Only now did Qing Qing understand who the strangers really were. They asked her a few questions and carefully took notes. At the end of their questioning they told Qing Qing to sign her name and put her fingerprints on the notes they had taken. As a nine-year-old, she didn't understand why the officers were asking her questions, and even less did she realize what they had written in their notes.
The notes that the officers obtained from the child became "evidence," which was presented in court during the trial of Qing Qing's mother on April 16, 2009. Ms. Hu Huifang was sentenced to four years of incarceration at the end of the trial and sent to the Wuhan Women's Prison in July 2009. When Qing Qing later saw her mother in very bad shape in prison, she became distressed.
The police still often go to Qing Qing's school to intimidate her. She is now terrified that she might at any time run into the officers at school again. Without her parents' protection, the school has become a truly horrible place for Qing Qing. Every time she is told to go to school, she panics.
In the persecution of Falun Gong, the Communist regime has virtually "hijacked" every segment of society. It fabricates lies and causes untold harm to families, especially their children.
Qing Qing has endured the on-going persecution in China over the last 11 years. There doesn't seem to be an end in sight for Qing Qing's suffering.
(For details see http://www.clearwisdom.net/html/articles/2011/2/14/123236.html)
Case 2: Wuhan Police Target Lu Hai in Their Attempt to Persecute His Parents
In late 2010, police twice invited a boy named Lu Hai to dine at a fine restaurant. He was able to watch videotapes of his parents, whom he hadn't seen for many years. The officers acted friendly and chatted casually with him. The restaurant owner may have felt happy for Lu Hai, but little did he know that the child was just a second Qing Qing. By the way, the police videotaped Lu Hai at both gatherings.
Lu Hai previously had a happy family. Both his parents are Falun Gong practitioners. His mother, Li Shihong, is a woman with kind heart and loves to help others. His father, Lu Qiqi, 46, is a state-registered engineer. As the main technical person in charge, Lu Qiqi designed many local buildings. His moral standards are high. His boss praised him by saying, "Other folks come here to make money from the company. Mr. Lu is here to make money for the company." Mr. Lu started practicing Falun Gong in 1997 and follows the principles of Truthfulness-Compassion-Forbearance. However, ever since the regime started the persecution of Falun Gong on July 20, 1999, Lu Hai's parents have been repeatedly jailed and tortured.
Mr. Lu Qiqi was arrested again in December 2007 while distributing Falun Gong materials in Shenzhen City. Baoan District Court in Shenzhen sentenced him to four years in prison. He is currently in Shaoguan Prison in Guangdong Province.
Lu Hai's 70-year-old maternal grandmother, Ms. Song Wenxiu, was arrested in front of her house at noon on March 31, 2009. Participating in the arrest were Yu Jiming from the Danshuichi Police Station and officers from the Jiangan District Police Department. The officers ransacked her apartment and confiscated 1,200 in cash. When Lu Hai's mother, Ms. Li Shihong, got home that afternoon, she was also arrested and detained. Doing the dirty deed were Luo Lin from the Domestic Security Division, officers from the Jiangan District Department, and Yu Jiming, Yuan Qinghong, and Wan Baozhu from the Danshuichi Police Station.
In order to fabricate so-called "evidence" against Ms. Li Shihong, the police turned to her son, Lu Hai. A few days after her arrest the police went to Lu Hai's school and interrogated him. After extracting the needed information, they forced him to sign and put his fingerprints on the paperwork. They returned in June 2009, during mid-term exams. They ordered his head teacher to take him to the office, where they pressured him for two hours to disclose whom his mother had contacted, and what she had done. Lu Hai was unable to bear this and called his aunt when he went to use the restroom. His aunt rushed to the school and took him home.
Despite their tactics, the police were turned down three times when they attempted to bring allegations against Ms. Li Shihong. Under pressure, the local court eventually accepted her case in December 2009, and sentenced her to four years of incarceration. She is now at the Wuhan Women's Prison.
The CCP is no different than criminals when it comes to Lu Hai and his family. The police confiscated thousands of yuan while ransacking the family's home. Worse yet, the CCP deprived his family of their freedom of belief, which was their only guarantee of happiness. The police officers that harassed Lu Hai at his school made it impossible for him to maintain a normal child-parent relationship. Those that took him to the fine restaurant were not any better, since they used deception to deprive his family of their freedom of belief while trying to make them lose the courage to sue the perpetrators. In a nutshell, the police were trying to take away the family's bright future built upon the principles of Truthfulness-Compassion-Forbearance so they could pocket dirty money should Lu Qiqi and Li Shihong give up their belief under pressure.
(More information on the persecution of Lu Qiqi and Li Shihong can be found at: http://www.clearwisdom.net/html/articles/2009/5/14/107332.html
http://www.clearwisdom.net/html/articles/2010/7/30/118948.html)
Case 3: Lawless Police Force Falun Gong Practitioner's Teenage Son to Act as a Witness at an Autopsy
In Fucheng County, Hebei Province, a group of Fucheng police drove to a place called Jiangcun on February 23, 2002, to look for a 16-year-old boy named Liu Dong. They told him that they were there to take him to see his critically-ill father. The teenager was then driven to the Fucheng County Hospital and taken to the fourth floor, where he had to wait a couple of hours. When the police finally told him he could see his father, Liu Dong asked to wait for his mother. They insisted that he go in first since they had no idea of when she would arrive. They next led him to a shabby room on the southeast side of the hospital.
It is normal for a child to visit his ill father, but why did the police have to drive a long way to find Liu Dong? And how did his father end up in the Fucheng County Hospital? Below are some details.
Practitioner Liu Qiusheng lived in Qingdong Village, Cuimiao Township, Fucheng County, Hebei Province. The police arrested him on February 2, 2002, and took him to the police department. Deputy police head Kou Wentong, and Zhang Zhijun, head of the Political and Security Division, tied him up and tortured him for over an hour until he lost consciousness. It was learned from inmates that Mr. Liu was later beaten many times and was force-fed on a .
Within 20 days, between February 2 and 22, 2002, this strong, healthy 44-year-old man was tortured to death. In order to cover up their crime, the police, including Kou Wentong, went to the village Party branch head. They colluded to trick Liu Qiusheng's 16-year-old son, Liu Dong, into leaving his factory job, to be present in the autopsy room, and to act as a witness.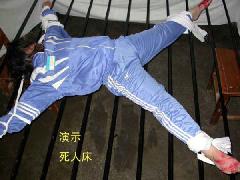 Demonstration: Tied to a death bed
Why did the police deceive Liu Dong about seeing his father? Did they want him to bid farewell to his father? No! As a matter of fact, by law, a family member needed to be present. If Liu Dong's mother had come, she definitely would have questioned the cause of death. But with Liu Dong, it would be a different story.
Teen-aged Liu Dong had already suffered so much as a result of his father's death due to torture. He was traumatized when he saw the doctor cutting open his father's dead body. The police notified Liu Qiusheng's wife after the autopsy was finished. His wife saw that his ears, face, lips, right shoulder, and right side of his chest were black and blue, yet the official autopsy report claimed, "No external injuries were found. Cause of death was fatty heart disease."
Liu Dong first had to accept the death of his father, and was then forced to witness the autopsy! The police used his presence at the autopsy to declare his father's death a result of natural causes, not torture!
(More information on the persecution and murder of Liu Qiusheng can be found from
http://www.clearwisdom.net/emh/articles/2005/2/15/57565.html
http://www.clearwisdom.net/emh/articles/2004/11/1/54081.html)