Ms. Chen Man Persecuted in Wuhan City Women's Prison
March 25, 2011
|
By a Clearwisdom correspondent in Hubei Province, China
(Clearwisdom.net) February 22, 2011 was family visitation day at the Wuhan City Women's Prison. Falun Gong practitioner Ms. Chen Man's husband Zhang Weijie went to the prison to see his wife as usual, but was denied visitation. Also, the prison police did not allow him to add more money to Ms. Chen's expense account at the prison. The police claimed that it was an order from the superior authorities.
Ms. Chen Man was arrested by plain-clothed policemen from the Wuhan City Domestic Security Division (also known as the Police Department's First Division) on February 11, 2008 when she was at Chailin Hotel in the Hongshan District of Wuhan City for her child's winter camp class. On October 10, 2009, the Hongshan District Court tried Chen Man along with Hu Huifang and Zhou Xiaojun. Ms. Chen's lawyer pointed out in court that the police's arrest and detention of Ms. Chen was illegal and that the police forged the "evidence." The lawyer also pointed out that practicing Falun Gong was not a crime. After the trial, all three practitioners were sentenced to heavy prison terms.
The prison authorities have kept denying Ms. Chen's family the right to visitation.
The prison police did not allow her family to add money to her expense account. When asked why, the prison police responded that it was their superior's decision. When asked which superior, they did not give any answer.
So far Ms. Chen has been detained at the Wuhan City Women's Prison for over three years.
More information about Ms. Chen Man can be found at
http://www.clearwisdom.net/html/articles/2009/8/1/109675.html
http://www.clearwisdom.net/emh/articles/2008/3/2/94967.html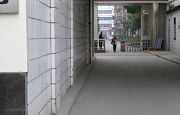 The entrance to Wuhan Women's Prison, Hubei Province