Ms. Zhu Ying, National Model Worker, Dies as a Result of Persecution (Photos)
March 21, 2011
|
By a Clearwisdom correspondent from Henan Province
(Clearwisdom.net) Ms. Zhu Ying, 53, was awarded the title "National Model Worker," and officiated at the Xinxiang City Workers' Union in Henan Province. She was diagnosed with ovarian cancer and underwent surgery in 2004. After Ms. Zhu began practicing Falun Gong in 2005, she soon became very healthy. That was until she was taken into custody in 2010. Having experienced the miraculous power of Falun Gong, she wanted to share it with others, and went out every day to tell people the facts about the practice.
Police officer Wei Guanglei took Ms. Zhu to a detention center on September 27, 2010. She was later sentenced to eight years in prison and transferred to Xinxiang Women's Prison. She died on November 30, 2010.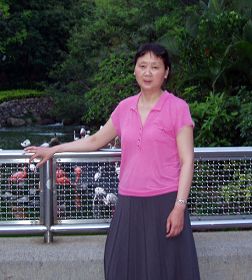 Ms. Zhu Ying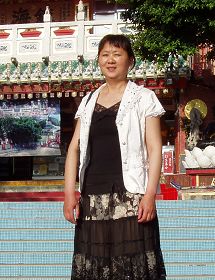 Ms. Zhu Ying
On the afternoon of September 27, 2008 Ms. Zhu was reported to the police when she was seen putting Falun Gong materials into bicycle baskets. Officers from Dongda Street Police Station arrested and held her in a detention center for 15 days. Ms. Zhu was arrested a second time on the evening of September 26, 2009, when she and another practitioner were offering to help people quit the Chinese Communist Party (CCP). She was first taken to the West Street Police Station and then to a detention center the next day. She sentenced to 19 months of forced labor, which was to be carried out at home. Her workplace withheld about half of her salary and subsequently dismissed her.
Police officer Zheng Kai and security officer Zhao Lichao arrested her at 4:40 p.m. on April 2, 2010, when she was seen handing out materials near the Xinxiang Sports Center. She was taken to Dongda Street Police Station. Wei Guanglei and Liu Yongsheng later took her to Xinxiang Detention Center.
Officials Qi Xiaodong and Zhang Yansheng, along with officers from the Rongxiao Road Police Station, Dongda Street Police Station, and the Street Committee, ransacked Ms. Zhu's home while she was being held at the detention center. They confiscated all of her Falun Gong books, two computers and printers, a large amount of cash, and other personal belongings.
Ms. Zhu was transferred to a detention center two weeks later. She kept vomiting, and pain in her abdomen prevented her from eating. She was taken to the No. 371 Military Hospital in Xinxiang, where she was diagnosed with two abdominal tumors. Officials at the detention center granted her medical parole in order to avoid responsibility if she died while in their custody. She returned home at 7:00 p.m. on August 6, 2010.
Wei Guanglei called Ms. Zhu three days later, and drove her to the Hongqi District . Li Luyu, head of the Procuratorate, and a woman with the surname Li, were assigned to look after her case.
Ms. Zhu was sentenced to eight years of forced labor by Hongqi District Court in Xinxiang, despite her poor health. She was held at Xinxiang Women's Prison, and her condition worsened. She was taken to a hospital several times, and was always handcuffed and shackled.
An official notified her family at 3:40 a.m. on November 30, 2010 to go to the hospital. When they arrived, they were informed that Ms. Zhu had died. Her legs and abdomen were severely swollen. No one would explain how or when she died. The doctor said she was dead on arrival at the hospital.
Ms. Zhu was cremated at the Xinxiang Crematory on December 2, 2010 in the presence of about 20 police officers. They threatened the family not to talk to anyone about her death, and would not let the family see the ashes. The prison compensated the family with 50,000 .
Officials who interrogated Ms. Zhu at the detention center include police officers Guo Yinshan, Qi Xiaodong, Zhang Yansheng, Li Luyu, and official Li from the Hongqi Procuratorate.
Others responsible for the persecution of Ms. Zhu:
Hongqi Police Department in Xinxiang City: 86-373-3060501, 86-373-3060502
Wang Zhiwen, head of Hongqi Police Department: 86-373-3060501 (Office), 86-13903738110 (Cell)
Dongdajie Police Station: 86-373-3052898, 86-373-3077250
Zhang Bin, head of Dongdajie Police Station: 86-373-3036300 (Office), 86-13903738368 (Cell)
Wei Guanglei, police officer: 86-373-2335892