(Clearwisdom.net) On March 4-5, 2011, Shen Yun Performing Arts performed at the Clowes Memorial Hall, at Butler University in Indianapolis, Indiana. The audience was delighted with the performance and many were deeply touched. Several from the political arena, including two mayors, a congressman, and a representative, as well as CEOs, attended the performance and expressed their delight with the show.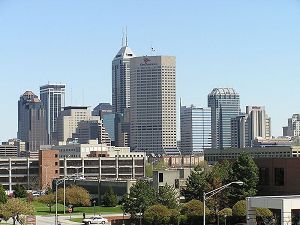 Indianapolis, Indiana
"I would recommend everybody to attend Shen Yun," Says Mayor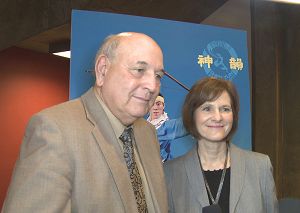 Mayor Campbell and Mrs. Campbell
"It's a fantastic experience!" said Harold Campbell, mayor of North Vernon, Indiana, who was accompanied by his wife. Many audience members have been touched by the performance "When Kings Followed the Creator to the Earth," which explains how divine beings together established all the world's cultures. Mayor Campbell was no exception and said, "The opening of the show, is just—It's just a fantastic experience. Next time I will bring the kids and the grand kids!"

Dan Terrell, mayor of Mitchell, agreed and said, "It's a wonderful show. This is my third consecutive year to see Shen Yun and it's a great chance for us to experience Chinese culture and Chinese history."

Mayor Campbell said he thoroughly enjoyed the artistry of the gorgeous hand-made costumes and backdrops. He elaborated, "The style, nothing I have ever seen before. I think it's out of heaven. It's fascinating. I'm so glad I had a chance to see it."

Mrs. Campbell was amazed by the artists and enjoyed the profound stories of classical Chinese culture. She said, "They have so much energy and so much strength. The colors are gorgeous and the costumes are so vibrant. I think it's something my granddaughter would just love to see. This is our first experience, everyone I have talked to loved the performance."
She added, "It's fascinating to know that the Chinese culture is 5,000 years old. We are so young, the United States is only 200 years old. I don't know if we have anything that's so diverse." Her husband agreed and added that he enjoyed seeing classical Chinese culture through the performances, "It's something I've never experienced before. It's purely enjoyable. It's heartwarming too, to know the history of the nation."

The New York-based company's animated backdrops have been admired by audiences world-wide. The hi-tech images set the stage amid blossoming landscapes and deep forests. Mrs. Campbell said, "It's just fascinating. I loved that! I liked the way people come and go, they are so graceful. And I liked how they pulled the moon forward [in "The Monkey King Outwits Pigsy"]. It's very neat."

The mayor summed up his experience by saying, "I would recommend everybody to attend Shen Yun and I'm glad I'm here!"
Indiana State Representative Amazed by Shen Yun, "It was incredible!"
Representative Woody Burton
"It's phenomenal," said Indiana State Representative Woody Burton. After the matinee he said, "It was fantastic—to see all the color, it was incredible. To see the culture of China like this, and the history, was fantastic!"

He was moved by the performance "The Opening of Heaven's Gates," which touches on the traditionally-held Chinese belief of good being rewarded and evil ultimately punished. "It was something to behold—it was just incredible." Rep. Burton elaborated, "You know, in this country we're so fortunate to be able to do what we want, whatever we want, and then you see what China has gone through—the thousands of years of history, it's just something to behold. It makes you really appreciate the world and all the different cultures."

He was amazed by the colors and the hi-tech backdrops. "It was phenomenal. The backdrops—where they looked like they were coming out of the sky, and then they were on the stage, I've never seen anything like that. It looked like they were flying down, and all of a sudden there they were."

Performances by leading solo vocalists are an integral part of Shen Yun, offering a glimpse into traditional Chinese thought and beliefs. Rep. Burton was greatly impressed by the soloists' performances "The Song in My Heart" and "The Only Hope," and said, "They are very talented. I've never seen somebody sing in another language, and then have it above them where you can read what they're saying. It actually makes it sink in when you're reading the words."

"We really enjoyed it. My brother, Congressman Dan Burton, invited me today. When he asked me, I said, 'Absolutely!'"

His brother, Congressman Dan Burton, said, "I think the show is one of the best things I have ever seen." He added that after seeing Shen Yun, he felt that everyone in America and the world should see it.

Rep. Woody Burton agreed and said, "It was really a great experience."
Congressman Says, "Everything is perfect," of Shen Yun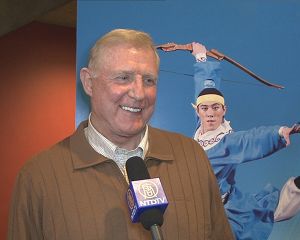 Congressman Dan Burton speaks to NTD Television after attending Shen Yun Performing Arts
Congressman Dan Burton also said Shen Yun Performing Arts gave an "absolutely spectacular" performance. After the matinee, he said, "Everything is perfect. It's like somebody came out of heaven and put a perfect program together. It can't be any better than this. It's just great."

Rep. Burton, who appreciates opera and other classical performing arts, said, "I think the show is one of the best things I have ever seen." He said he had attended Broadway performances and many other kinds of performances, but after seeing Shen Yun, he felt that everyone in America and the world should see it. He noted the skill of the artists, "All the training they've gone through and the coordination of the music. It's just indescribable." Rep. Burton praised the high caliber of the show. "I have never seen anything as beautiful as this, and the men and the women in the show and the orchestra, everything is fantastic." He found the appearance of the female dancers especially appealing. He said, "The way they dance is so beautiful to watch. The ladies are just beautiful."
Rep. Burton, like many other audience members around the world, said, "I have never seen anything like this. It's just fantastic. Everybody has to see it." He intends to see the 2012 performance, he said. "I loved it very much. I hope they invite me back next year. I'll be here for sure."
President and CEO Praises Shen Yun, "I appreciate being here!"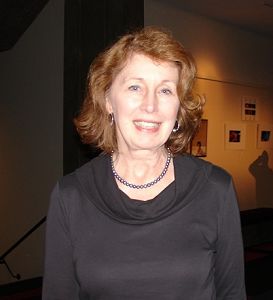 Helen Cross at Clowes Memorial Hall of Butler University.
"Each performer is magnificent!" said Ms. Helen Cross, the president and CEO of Fairbanks Hospital and Hope Academy. Named a "woman of influence" by the Indianapolis Business Journal in 2009, in her role as president, she has redesigned the hospital programs to fit the needs of the organization and the people it serves.

Ms. Cross said she was greatly inspired by Shen Yun's artists. "The dances each are very difficult, and yet everybody in the dance seems to be doing it so perfectly. Each performer is magnificent. Usually you have one performer [who] is great ... now you have a whole group of them in front of us. It's very, very wonderful!" The dancers she is talking about perform classical Chinese dance, one of the most elaborately expressive dance systems in the world, a dance form in which Shen Yun specializes.
Visibly moved by the performance, Ms. Cross said, "It's all been fantastic—the color, the costumes, the beauty of the dance!" Ms. Cross added that she learned a great deal about classical Chinese culture by watching the show. "It's more than I expected. I like that we're learning about the history. We're going back to the early dynasties of China, and now I know we'll be going a little bit into the more present time, but I'm learning about the history. I'm enjoying the dance. I'm loving the music, it's just magnificent." She concluded by saying, "I am enjoying it very much! I appreciate being here."
Chinese Professor, "This is genuine Chinese traditional culture"
"This is not the culture in which we grew up. This is the genuine traditional Chinese culture that I did not see in current China. I am surprised to see it here and feel emotional." said Ms. Cole after watching the Shen Yun show on the evening on March 4. She is a professor at the University of Indiana.
Ms. Cole immigrated to the United States in the early 1990s. "I heard of Shen Yun, but had never seen it before. This is my first time." said Ms. Cole, " I think the show is fabulous and impressive. I grew up in China and had never thought of such good program. In China, I had never seen such a show. It really opens my eyes."
"The first tenor was impressive as this was not available in China before. Thus I feel surprised to see the formal spread of the fortune." said Ms. Cole, "I came to the US in the early 1990s. I experienced the Cultural Revolution in China. I never knew divine beings in heaven. Such things were regarded as superstition and not allowed to talk about in China. Now such information can be spread in public. I am surprised."
Ms. Cole came to see the Shen Yun Performing Arts with her friend, and said to her friend, "We came to watch Chinese traditional culture that cannot be seen in China. It is a strange feeling that the show can be seen in the US. I think the show is great, very creative and sincere."
Her friend liked the show very much as well, "The performance is beautiful and lets people know Chinese history and culture. This is a good reminder. We are in America and need to safeguard freedom of speech and belief."
Ms. Cole said, "Many of my friends know Shen Yun is good. But I did not know how good it is. Now I finally see it myself. It is great. I'll bring my child to watch the show in the future."