(Clearwisdom.net) Ms. Liu Guijin(刘桂锦) was one of the lucky survivors of the 1976 Tangshan Earthquake, which claimed 240,000 lives. However, at 26 years of age, she was left with comminuted fractures of the first, second, and third vertebrae, fracture of the pelvis and pubis, severe atrophy of right leg muscles that left her paralyzed, and loss of bowel movement function for 18 years. She also had severe, concussion-related complications, as well as arrhythmia, and she suffered tremendously for 18 years. She was later diagnosed with vaginal cancer. She recovered completely after she began practicing Falun Dafa in March 1994. She was cured of severe myopia, recovered from her paralysis, and could walk lightly again.
The communist party began persecuting Falun Gong in July 1999 and officials tried to get her to renounce her belief. She refused and was brutally tortured. The abusers once put her into 9 kg [19.8 lbs] shackles for 20 days, injuring her legs in the process.
The police illegally arrested her for the third time at her home in the Shunyi District, Beijing on May 13, 2008, the day after the Sichuan Earthquake. She was subsequently sentenced to two years in a labor camp and covertly taken to Masanjia Labor Camp in Shenyang City, Liaoning Province, along with more than 50 other practitioners from Beijing, right before the 2008 Olympics Games.
She returned to Tangshan on May 12, 2010.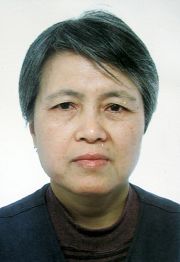 Liu Guijin
She first witnessed the power of Dafa through her mother, who was cured of all her illnesses, and whose hunchback was straightened despite her being in her 70s. Her family played Falun Gong exercise instruction videos for her. After watching them, she went to a hospital for routine examination and the doctor asked, "Where is the tumor? It disappeared!" She was skeptical, so she went to two other hospitals and got the same result. She said she would not have believed it, had it not happened to her.
She attended Falun Gong classes given by Mr. Li Hongzhi in Shijiazhuang, Tianjin in March 1994, and in Harbin in August 1994.
During the first Shijiazhuang class she learned many Fa principles and experienced tremendous physical changes. She recovered her colon functions and her myopia was corrected. After two more classes and six months of practice, she was able to enjoy robust health that she had not known for a long time. Falun Gong gave her a new life. She donated 500 yuan to Falun Gong as a token of appreciation, but the money was returned to her with a "thank you" note.
Persecution
Officers from the Shunyi District Police Department broke into her home in September 1999, when she was taking care of her blind mother and father, who had suffered a stroke. The perpetrators took lots of Falun Gong books, audiotapes, videotapes, and other valuable personal belongings.
Officers from Division 1 of the Tangshan City Police Department took her back to Tangshan the next morning. They verbally attacked Falun Gong and told Liu Guijin to "jump out of the car and kill yourself."
After returning to Tangshan, officials headed by Hao Dongping, head of Division 1 of Tangshan City Police Department, ordered 610 Office agents Xu Bojun and officers from the Dali Road Police Station to ransack Ms. Liu's home and arrest her and other practitioners. They were held at a Communist Party School and custody center. During the day they forced about 20 practitioners to half-squat outdoors in the sweltering heat. They would tie three or four bricks together and hang them from the practitioners' arms, and they would savagely beat the practitioners if they made any slight movements. They also tied toilet buckets to the practitioners' necks for days.
They saw Ms. Liu as an "important target" and took her to Dabei Prison. They found a copy of Zhuan Falun on her, so they used a torture tool on her hands. Four days later, her hands swelled to such an extent that it threatened to become a permanent handicap. With strong protest from others around her, the torture tool was removed, but then she was forced to wear 9 kg [19.8 lbs] shackles. Her legs were severely injured after 20 days of this.
During the nine months in official custody, Ms. Liu was tortured until she was handicapped, and she was taken to Tangshan Police Hospital. The guards demanded 4,000 yuan from her family, but her family did not have the money. The hospital immediately stopped all medical treatment and sent her home. She eventually recovered by resuming the Falun Gong exercises.
Tangshan City Politics and Law Committee head Chen Man ordered the second arrest of Ms. Liu on August 20, 2001. She was already disabled from torture and also had a serious heart condition. The officials were reluctant to attack a woman in such condition. Official Hao Dongping sent her to the Yutian County Detention Center on August 24 and instructed officials from the Yutian County Politics and Security Section to handcuff her into a metal chair while the guards took turns shocking her with electric batons and hitting her with plastic water bottles. They ran the electric batons from the top of her head to the bottom of her spine for more than two hours, until she had a heart attack and lost feeling in her legs. She eventually lost consciousness. The next day, she was cold to the touch and her blood pressure (diastolic) was only 40. She was rushed to the ER in the county hospital.
Ms. Liu was taken to Tangshan City No. 1 Detention Center on September 10, 2001 and was able to walk after three days. Later on she was forced to sit in a metal chair for seven days and then had to stand for two weeks. The guards continued to torture her until she showed symptoms that endangered her health, before telling her workplace superiors to take her home.
A dozen police officers arrested her at home in the North Jianxin District in Shunyi District, Beijing. This was the third arrest, and it took place at around 9:00 p.m. the day after the Sichuan Earthquake, on May 13, 2008. The persecutors did not present any warrant or badge. They also confiscated one computer, two printers, two paper cutters, three mobile phones, and more than 7,000 yuan cash [1,066 USD] as well as 100 U.S. dollars and a passport that belonged to her friend Song Yaqin. One official claimed to be from the Beijing Police Department No. 7 Division, and another official, claiming to be from the Shunyi Police Department Domestic Security Division, was following orders from higher-ups to make large-scale arrests citywide at 9:30 p.m. Ms. Liu was taken to the Shengli Police Station and from there to a detention center. She was eventually sent to a custody center on the evening of June 12.
The Beijing Forced Labor Dispatch Division sent Ms. Liu and about 50 other practitioners covertly to Masanjia Labor Camp on July 14, 2008.
Ms. Liu was not allowed to see her family during the two years she was held. She was released on May 12, 2010, but she was prevented from going home until mid-June 2010. This is when she realized the police did not return her belongings, including 7,000 yuan cash, pictures, ID, a gold ring, a pair of gold earrings, and a gold necklace box.
An earthquake survivor with severe injuries recovered by practicing Falun Gong, but she has been repeatedly persecuted physically and mentally for her belief. We call for help to end this brutal persecution.