Mr. Yu Yungang Tortured to Death in Jiamusi City Prison Shortly after Mr. Qin Yueming's Death
March 12, 2011
|
By a Clearwisdom correspondent from Heilongjiang Province, China
Name: Yu Yungang (于云刚)
Gender: Male
Age: 48
Address:
Occupation:
Date of Death: March 5, 2011
Date of Most Recent Arrest: February 2009
Most Recent Place of Detention: Jiamusi Prison (佳木斯监狱)
City: Jiamusi
Province: Heilongjiang
Persecution Suffered: Illegal sentencing, beatings, hung up, imprisonment, torture, force-feedings, physical restraint, home ransacked, interrogation, detention, denial of restroom use, denied visitation
(Clearwisdom.net) Mr. Yu Yungang was born on July 16, 1963. He was involved in clarifying the truth about Falun Gong by using loud speakers during the 2009 Winter College Student Sports Games. Police arrested him along with over 20 practitioners in February 2009, ransacked their homes, and tortured them brutally. Mr. Yu was tortured by the police hanging him up by his handcuffs, and cruelly beating and severely injuring him. When he was interrogated several days later, his head was still wrapped with a bandage. On July 7, 2009, he was sentenced to six years, and locked in Jiamusi Prison.
Jiamusi Prison setup a "Strict Management Ward" for the purpose of achieving an 85% "transformation" rate among the jailed practitioners. Since February 21, 2011, selected practitioners have been taken to this Ward. Many prisoners are assigned to watch each practitioner, forcing them to write statements that they will stop practicing Falun Gong, and depriving their rights to visitation, and calling home. They were also denied the right to buy daily necessities at the prison store, and even use of the toilet.
Mr. Qin Yueming died one week after being sent there (see http://clearwisdom.net/html/articles/2011/3/10/123724.html), and Mr. Yu Yungang who was also held in the Ward was in critical condition. At around 3 p.m. on March 1, 2011, Mr. Yu passed out due to torture, and was rushed to the 2nd Hospital affiliated with Jiamusi University. He went through Craniotomy surgery. The doctor took out a piece of skull from his head, and issued a "Notice of Critical Condition" to his family and suggested to them to prepare for the worst. After the surgery, Mr. Yu was sent to the Intensive Care Unit (ICU), which was heavily guarded by plainclothes officers and those in uniforms. The doctors and nurses were all quiet about this case, and nobody could enter his room without permission. After making an urgent request, his family was allowed to visit briefly, but they found Mr. Yu could not recognize them
The doctor gave Mr. Yu another emergency treatment at around 4 p.m. on March 3, 2011. By the afternoon on March 5, 2011, several dozen officers surrounded the ICU, and did not allow his family to contact any outside people. Officers took Mr. Yu's clothes from his family and quickly changed Mr. Yu, and were about to carry Mr. Yu away. Mr. Yu's family then realized he had died. They strongly requested to view his body in the ICU room, but were refused. Officers carried his body downstairs and into a police vehicle, and asked his family to sign the death certificate. His family was very angry at their scoundrel behavior. They refused to sign, and firmly requested to wait for the whole family to arrive. The Deputy Prison Director said, "I will only give you five minutes to view his body." After Mr. Yu's family saw him in the vehicle for five minutes, the vehicle took off like they were trying to hide it.
According to reliable sources, Mr. Li Shaozhi, Mr. Chen Jizhong (70 years old), Mr. Gao Yongsheng were all injured from torture. Mr. Tan Fengjiang was also cruelly beaten.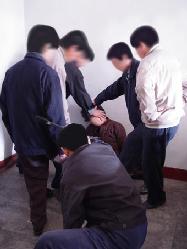 Torture illustration: Hitting and kicking
The brutality was not limited to the Strict Management Ward. Mr. Hou Xicai used to be a guard who worked in Mudanjiang City Prison, but is now a Falun Gong practitioner detained in the Jiamusi City Prison. At around 7 a.m. on February 17, 2011, Mr. Hou Xicai delivered a truth clarifying letter to the 4th Section, Second Ward guards while getting breakfast. Guard Ren Yanfeng grabbed Mr. Hou and took him back to the office, brutally punching and kicking him while cursing, until Mr. Hou passed out on the floor. Also, practitioner Mr. Jiang Botao in the 1st section of the 9th Ward was brutally beaten the night of February 28, 2011. The screaming and yelling was heard by people in other cells. The beating was to force Mr. Jiang to give up his belief in Falun Dafa.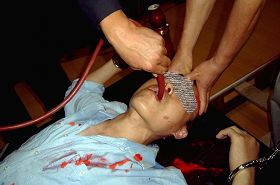 Torture illustration: Force-feeding
Mr. Shang Xiping used to be the Deputy Director of the Huanan Forestry Police Station. He was taken to the Strict Management Ward on February 21, 2011 as well. He has been on a hunger strike to protest the brutality, and was force-fed and given intravenous injections. He was hard to recognize due to the cruel torture.