Mr. Qin Yueming Tortured to Death in Jiamusi Prison
March 10, 2011
|
By a Clearwisdom correspondent in Heilongjiang Province, China
Name: Qin Yueming (秦月明 )
Gender: Male
Age: Unknown
Address: Xiangyang Street, Jinshantun Area, Yishan City, Heilongjiang Province
Occupation: Unknown
Date of Death: February 26, 2011
Date of Most Recent Arrest: April 2002
Most Recent Place of Detention: Jiamusi Prison (佳木斯监狱 )
City: Lianjiangkou Town
Province: Heilongjiang
Persecution Suffered: brainwashing, illegal sentencing, beatings, hung up, imprisonment, torture, detention
(Clearwisdom.net) At around 6 p.m. on February 26, 2011, Mr. Qin Yueming's wife received a phone call from Jiamusi Prison informing her that Mr. Qin had suffered a sudden heart attack and died. She was summoned to come to the prison to finish a "necessary procedure." Mr. Qin's family went to the prison on the afternoon of February 27.
Not long ago, Jiamusi Prison set up a "Harsh Management Team" for the purpose of reaching an 85-percent "" rate among Falun Gong practitioners. Since February 21, selected practitioners have been handed over to the "Harsh Management Team." They were not allowed to bring with them any personal belongings or daily necessities. Every practitioner is watched by several prisoners, and under constant pressure every day to write statements renouncing Falun Gong. All of their rights have been taken away, including family visitation, phone calls, purchasing daily necessities, etc. Mr. Qin Yueming was transferred to the "Harsh Management Team" on February 21, and died six days later.
Prior to his last incarceration, Mr. Qin was sentenced to three years in Yichun Forced Labor Camp in October 1999. In April 2002, Mr. Qin was arrested again. Meng Xianhua, head of the ordered guards to torture Mr. Qin using beatings, verbal haranguing, tying him to a , tying him up with ropes, and other abuses. The torture left Mr. Qin with broken ribs and a fractured leg. He was unable to walk.
Later, Mr. Qin was sentenced to 10 years in prison, and sent to Jiamusi (Lianjiangkou) Prison.
More information about Mr. Qin Yueming can be found at http://www.clearwisdom.net/html/articles/2010/12/12/121910.html.
Other Falun Gong practitioners currently subjected to persecution in the "Harsh Management Team" include: Wang Lansheng from Jixi (1st Section of 1st Division), Fan Qiang from Baoquanling (1st Section of 4th Division), Fu Yu from Jiamusi (1st Section of 7th Division), Shang Xiping from Huannan, Liu Junhua from Jiamusi, Chen Dong from Jiansanjiang, and Liu Zhenchang from Hegang. Mr. Shang Xiping is on a protest hunger strike.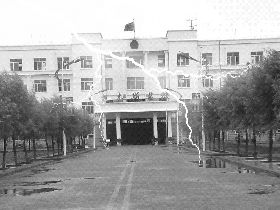 Jiamusi Prison