Falun Gong Practitioners Participate in Chinese New Year Celebration in Malaysia (Photos)
February 09, 2011
|
By a Falun Dafa practitioner in Singapore
(Clearwisdom.net) Divine Land Marching Bands and Waist Drum Teams from Singapore and Malaysia were invited to parade on February 6, 2011, in Tangkak and Bandar Maharani, two famous cities in Johor, Malaysia, where a large number of Chinese people live. Together with many local practitioners, the practitioners shared the majesty of Falun Dafa to the locals.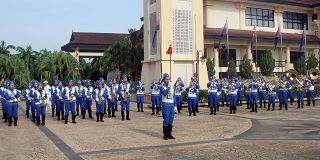 The Divine Land Marching Band performs in Tangkak, Malaysia
Falun Gong practitioners on parade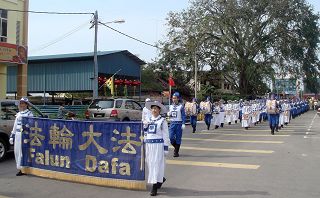 The Divine Land Marching Band leads the parade
The parade kicked off at 10:00 a.m. on the morning of February 6. The Divine Land Marching Band took the lead, and "celestial maidens" and a waist drum team followed closely. The parade procession traveled in the busiest downtown area in Tangkak for two hours. The band's music attracted the attention of many passersby who stopped to watch and listen.
An elderly Chinese said in an interview, "The Divine Land Marching Band's music was amazing, I have never heard such a beautiful music. It's great!" Local traffic police helped clear the way during the entire parade, which ended at noon.
At 4:00 p.m. that day, the Falun Gong practitioners' contingent arrived in Bandar Maharani. The Divine Land Marching Band performed "Falun Dafa is Good," "Joy to the World," "Ode to Joy," "Fa Rectifies Heaven and Earth," "Fa Drums," and "Delivery of Gifts."
Local Chinese citizens were impressed, exclaiming, "Falun Dafa's music is beautiful, fantastic! We hope the band to come perform in all festivities here." Many people were pleased to receive information about Falun Gong and practitioners' handmade paper lotus flowers. They asked for information about local practice sites and contacts and showed an interest in learning more about Falun Gong. The parade ended at 6:00 p.m.