(Clearwisdom.net) Shen Yun Performing Arts continues to delight audiences at the Capitol Theatre in Sydney, Australia. The world-renowned performing arts company is scheduled to perform sixteen shows from February 8-23, 2011.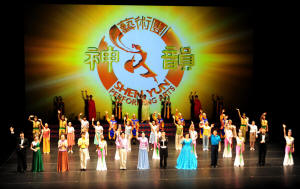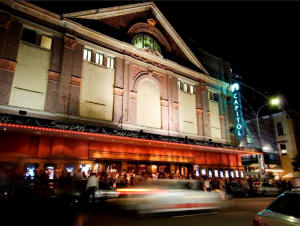 Sydney's Capitol Theatre
Australian State MP: Shen Yun "Very Uplifting, Very Exciting"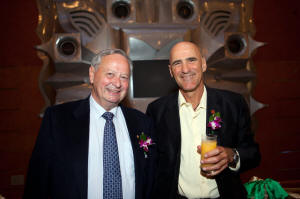 Greens MP Ian Cohen (right) attended the opening night of Shen Yun Performing Arts International Company at Sydney's Capitol Theatre Tuesday, Feb. 8.
Ian Cohen, Greens MP and member of the NSW Legislative Council, described Shen Yun as "uplifting."
"I found it to be a very enjoyable program and it was very uplifting, very exciting," Mr Cohen said, adding, "It was an extravaganza, it was very beautiful."
He said the costumes were "just fantastic" and particularly liked the Terracotta Warriors in the dance set, Recalling the Great Qin.
"The male acrobatics, especially the section with the Terracotta Warriors, that I found really very exciting. [It was] delightful to see—it made me want to go and see the Terracotta Warriors," Mr Cohen said.
Having seen Shen Yun perform three times in the past, he is well aware of Chinese Embassy attempts to interfere with Shen Yun. He said it "highlights the folly of trying to control something of beauty."
He said, "I personally resist that level of control."
"I support those who get out and express themselves culturally, as this event has, despite certain attempts at control, economic pressure and various other ways the central Chinese government works to suppress cultural flowering as though it's some danger. Whereas I believe a society that allows this cultural flowering is a much healthier society."
Miss World Australia 2010: Shen Yun dancers "Incredible performers"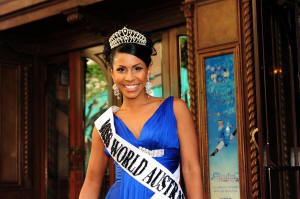 Ashleigh Francis, Miss World Australia 2010, experienced the wonder of Shen Yun Performing Arts International Company on opening night at the Capitol Theatre on Tuesday, Feb. 8.
Also in the audience on opening night were Ashleigh Francis, Miss World Australia 2010, and Sophie Laver, Miss World Australia 2009.
"The show has been amazing," said Ms. Francis at the VIP function following the performance.
"The dancers were amazing. Incredible performers!"
With a background in dance, Ms. Francis was able to really appreciate the different dance techniques of the Shen Yun dancers. She said, "The Chinese history and the technique is an amazing one, so it would be very difficult to learn. And I can really appreciate the skill of all the artists."
She commented on the Shen Yun Orchestra, saying, "The music was very empowering. I like how they used different levels with the instruments," Ms. Francis said.
She felt that the music was "keeping the culture within the performance."
Ms. Francis said that the Shen Yun costumes had an inner beauty which added to the performances.
"That's what Shen Yun has put into its performance. They put in the history of China and it's really come through in how passionate these dancers are."
In discussing a dance set that portrays the persecution in China, Ms. Francis said, "It is modern day, and it's sad to know that there are people out there that are unfortunately going through circumstances like that. But the fact that they can use dance to express themselves, to show what they're feeling—it's a great way."
"I think dance is a really great way to express yourself. I hope that the world would take on board what Shen Yun has to offer," she concluded."
Miss World Australia 2009: "Passionate about what they are doing"
Sophie Lavers, Miss World Australia 2009 said that she was "really impressed" with the show.
"I love it, I'm going to recommend it to all my friends."
Being versed in classical ballet and having a trained, critical eye, Ms. Lavers, she said that she is normally very hard to impress. However, she said she was "very impressed" with Shen Yun, saying, "I love it, I love every single piece."
"You can tell that they are trained to perfection, and they're all so passionate about what they are doing," she said.
Ms. Lavers said she was impressed with every aspect of the performance. "The costumes, the music, the choreography, it's all so well put together."
She thought the hi-tech animated digital backdrops added an extra dimension to each performance.
"The backdrop and the way they use the backdrop, with people flying through the air, it's just very different, and the tricks they perform. I didn't really know what to expect but I just think the whole thing is very stunning."
Ms. Lavers said that Shen Yun was "an interesting way for people to learn more about the Chinese culture. I think is a great way of encouraging people to understand the history."

Corporate advisor: Shen Yun focuses on 'What's important in life'
Matthew Ayres (MBA), a recognized expert in innovation and entrepreneurial growth, attended the show with his wife, Janelle.
He said that he was very impressed with the scope of the production.
"Clearly the dance and the arts presented were first class, but to me it wasn't just arts. It was a lot broader than that," he said.
Mr. Ayres said that his experience with the corporate world has shown him that many people today are genuinely concerned about the decline of values in society, particularly in the last decade, which he described as "the decade of greed, the decade of the self, and decade of self interest."
He pointed out that Shen Yun makes a point of subtly addressing these concerns, by focusing on "what's important in life. What's important in an individual," while presenting "principles and philosophies that are worth considering."
Mr. Ayres felt that there was an interactive aspect to the show which offered him "a rich cultural dialogue."
"And I would say dialogue," he said, "It's not a passive event. You feel engaged with what's happening."
In summing up, Mr Ayres said Shen Yun had been an experience on many levels.
"It's visually stimulating, so incredibly bright, the colors, provocative movements reflecting seasons, reflecting change, reflecting culture."
Shen Yun is "heavenly"
Michelle Jones, who works for the Australian Department of Education, was surprised to learn of the "underlying spirituality" within Chinese culture, as much of it has been lost during the Chinese Communist era.
"They've only been brought up in the time when they've been Communist, since 1943, right? So the whole time they've been Communist, so I didn't know about this underlying underpin of this spirituality that's gone on throughout their history."
In the hopes of not missing anything that was taking place on stage, she sometimes asked another audience member sitting next to her what certain parts in the show meant.
"I was a little bit confused and so I talked to someone next to me. Well what is Dafa? That's very, very interesting."
Dafa, which means "Great Law" in Chinese, is mentioned in some of the songs performed during Shen Yun. It is also part of the name of a spiritual practice Falun Dafa, which is referred to in a number of performances during the show.
Having no prior knowledge about Falun Gong (as Falun Dafa is also known) before seeing Shen Yun, Mrs. Jones said that she learned a lot from the show.
"Its very spiritual, very peaceful and its a belief in heaven ... It's easy to get confused when you're living your life, with all this materialism in front of you," she said. "So I found that really interesting, and I didn't really have a clue about that."
Mrs. Jones believes that Chinese people will definitely benefit from seeing Shen Yun. It even inspired her to want to learn more about traditional Chinese culture.
"Well, I think it's absolutely beautiful. I'd like to study more about it," she said.
She particularly enjoyed the heavenly scenes where the dancers seemed like "they are floating on air."
"It's a little bit heavenly ... Like, we're here, this is our life, but, we're from heaven, and the confusion I'm telling you about is this material world and everyone freaks out about everything.
"But, basically, it's all about really being of service to others and enjoying your time while you're here. And then you go back to heaven then. Well, that's what I thought."
Sydney lawyer finds goodness in Shen Yun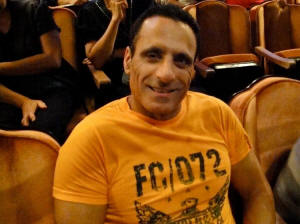 Mr. Rahme, the principal of Mark Rahme & Associates, at Shen Yun Performing Arts, on Feb. 13.
Mark Rahme, a general practice solicitor in Sydney and principal of Mark Rahme & Associates, attended the show with his personal assistant, Cathy Xie, who came to Australia from China four years ago.
It was an emotional experience for both of them, mixed with a deep appreciation of humanity's path towards goodness.
"[It's been] an experience for me. I've not seen anything like this before," said Mr. Rahme during intermission.
The story about a teacher being unjustly persecuted for her belief in Falun Dafa carried a personal level of meaning for Mr. Rahme.
"That was really quite emotional. I had a friend who was a Falun Gong follower. She was persecuted in China. About 10 years ago. That brought back a lot of special memories," he said.
Mr. Rahme believes that Shen Yun touches upon issues that help the audience further appreciate the freedom in Western countries.
"It's very different, some of the lives people live in China ... we take a lot for granted. You see just a little bit of what goes on ... you really appreciate a country like Australia. We are incredibly lucky."
Ms. Xie, said that the opening scene of the great kings descending to Earth brought tears to her eyes.
"Some dancing was very emotional. I like all the dances. First one really touched [me to] tears. And also the teacher dance," she said.
Mr. Rahme and Ms. Xie came to Shen Yun after receiving a promotional DVD of the show in the mail at their office. Mr. Rahme said he was immediately interested in seeing the show.
He felt that Shen Yun gives people who are not of Chinese background "a better appreciation of Chinese history and where things are now in China."
Mr. Rahme noted that despite the cultural richness that he experienced during his several visits to China, people there are still "very scared."
"The little bit I saw really shocked me," he said. "It's a shame. We criticize our politicians here, we are very, very lucky; there is a lot of tolerance, which does not exist in other countries."
Ms. Xie's experience of living in China firsthand prompted her to recall what the "older people" used to tell her about the Cultural Revolution in the 1960s and 1970s.
"Chairman Mao did wrong things ... pushed some nice people in jail. So terrible," she said.
Mr. Rahme concluded, "It's very sad because a lot of goodness just relates to the human condition ... compassion, tolerance, forbearance. The ideals of the Falun Gong movement—it should be allowed."
MP candidate: "I had tears in my eyes!"

Mark Sharma, (L) the Independent Member of State Parliament for Watson-Strathfield area in Sydney, with Phillip C. Roberts at Shen Yun Performing Arts, on Tuesday, Feb. 8.
Mark Sharma, the Independent candidate for State Parliament for Watson-Strathfield area in Sydney, felt connected to the contemporary performance Our Story, which depicts the persecution of the Falun Dafa spiritual practice by the Chinese regime.
"Not only did I get upset, I had tears … it is the reality, we need to do something about it," he said.
"The politicians are not doing enough. I'm very glad I came tonight. All the information here – I will write about it."
Mr. Sharma described the show as perfect and beyond expectations. He noted the skill of the bilingual emcees, who helped the audience to understand each performance.
"I find the emcees are very good—the Chinese and the [Western] gentlemen. He has good control of English and Chinese," Mr. Sharma said.
He concluded by saying that Shen Yun "is a must-see! You have to watch it."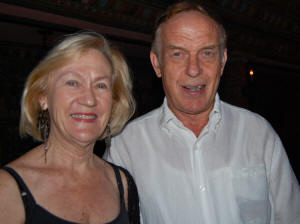 Monica and Geoff Saville both work in education, and found Shen Yun Performing Arts very educational.
Monica and Geoff Saville both work in education, Monica a former primary school teacher and Geoff a lecturer in education at university.
They loved Shen Yun and appreciated the educational aspects of the show.
"I think it's beautiful. I think it's quite educational," Monica said, adding, "I've enjoyed the commentary, so that we know what we are seeing."
Ms. Saville said, as a teacher, she was particularly interested to see the performance Our Story, a dramatic depiction of a young teacher in China who is taken away by state police for educating her students about truthfulness, compassion and tolerance, the values of her spiritual practice Falun Gong which is persecuted in China.
"I'm surprised to see references to Falun Gong in it," she said, commenting on the fact that Chinese authorities go to great lengths to keep their brutal persecution hidden from the outside world.
"We all see education as way to enlightenment and a way to a better life," she said. "Here of course she was being killed because she was doing her job in educating children."
"That touched me very much," she said.
Ms. Saville noted several appealing aspects of the Shen Yun show.
The backdrops were "lovely" she said, the dancing "was beautiful" and the women were "very graceful."
"Although I love classical ballet, I like to see women dancing, but not on the point of their shoe," she added.
Mr. Saville who has lectured in education at most of the major universities in Sydney, enjoyed the portrayal of China's 5,000 year history.
"I am finding it very interesting," he said.