Ms. Zhao Rongcai Subjected to Brainwashing in Nanjing Women's Prison
December 04, 2011
|
By a Clearwisdom correspondent from Jiangsu Province, China
(Clearwisdom.net) On the morning of February 17, 2011, several officers, including Cao Qiang from the Tushan Town Police Station and three people from the Pizhou City Court, broke into Falun Gong practitioner Ms. Zhao Rongcai's home and arrested her. They took her directly to the Nanjing Women's Prison and announced her prison sentence of four and a half years. However, they refused to provide her or her family any legal documentation. Ms. Zhao's four children are now left at home with no one to take care of them; the youngest is only six.
In order to "" Ms. Zhao, the prison authority called in guard Cao Xinhong from the Hongzehu Prison, who is regarded an expert in brainwashing. They assigned her the lead position for "The Steadfast Belief Transformation Team: Targeting Zhao Rongcai." The team took Ms. Zhao to the fifth floor of the No. 5 Ward and used various tactics to abuse her. However, she refused to give in to their attempts at "transformation."
At the end of September, Ms. Zhao began a hunger strike to protest her illegal imprisonment. As a result, the prison guards tortured her. Ms. Zhao is now very weak and in critical condition. The prison authorities refuse to release her despite her condition.
Ms. Zhao lives in Jiebei Village, Tushan Township, Pizhou City, Jiangsu Province. She began practicing Falun Gong in 1998. Since the Chinese Communist Party (CCP) started its suppression of Falun Gong on July 20, 1999, Ms. Zhao and her husband, Mr. Zhang Wei, have been persecuted many times. In 2008, Mr. Zhang was arrested and sentenced to four years in prison. He is being held at the Hongzehu Prison.
Ms. Zhao was arrested in 2005 and sentenced to three years in prison in 2006. She was taken to the Jurong Women's Forced Labor Camp in Jiangsu Province. She was released in the summer of 2008.
On March 31, 2010, Ms. Zhao was arrested in a market and held at the Zhanglou Detention Center in Pizhou City. Ms. Zhao demanded that she be released and began a hunger strike in September. She was force-fed, and she became emaciated and very weak. The guards had to release her on bail. Ms. Zhao's family has not seen any legal documentation regarding the situation.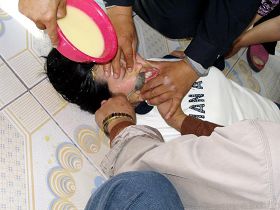 Torture re-enactment: forced-feeding
We ask for attention to the persecution taking place in Nanjing Women's Prison.
Cao Xinhong, guard at Hongzehu Prison: +86-13611572127 (Cell)
The Steadfast Belief Transformation Team: +86-25-86438279