Sixty-Eight-Year-Old Ms. Zheng Hongying from Fushun City, Liaoning Province Put on Trial, Villagers Call for Her Release
December 03, 2011
|
By a Clearwisdom correspondent in Liaoning Province, China
Name: Zheng Hongying (郑洪英)
Gender: Female
Age: 68
Address: Gengjiabu Village, Nankouqian Town, Qingyuan County, Fushun City, Liaoning Province
Occupation: Farmer
Date of Most Recent Arrest: September 6, 2011
Most Recent Place of Detention: Fushun City Detention Center (抚顺市看守所)
City: Fushun
Province: Liaoning
Persecution Suffered: Illegal sentencing, imprisonment, beatings, detention
(Clearwisdom.net) Ms. Zheng Hongying, 68, was arrested on September 6, 2011 as she spoke with people about Falun Gong in Wangjiabu Village, Nankouqian Town. Participating in the arrest were the Nankouqian Police Station head and two officers. They punched Ms. Zheng in the chest very hard, causing her severe chest pain from which she still hasn't recovered. Qingyuan County Court officials tried Ms. Zheng on November 18, in an attempt to imprison her.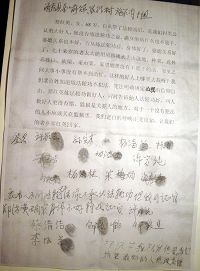 Neighbors from Ms. Zheng's village co-signed a letter calling for her release
Ms. Zheng was taken to the Fushun City Detention Center following her arrest on September 6, 2011. After more than two months, she is in very poor health as a result of the physical abuse and mistreatment she suffered while in detention.
Qingyuan County Court officials tried Ms. Zheng on November 18. The attorney that Ms. Zheng's family hired entered a not guilty plea and requested that she be unconditionally released. But Li Jing from the Procuratorate insisted on indicting Ms. Zheng. The court was adjourned.
Before practicing Falun Gong, Ms. Zheng had suffered from numerous illnesses, such as bile duct stones, headaches and other conditions. But all her illnesses disappeared shortly after she started the practice, and she was able to do all kinds of physical labor at home and in the field. Her family witnessed the wonderfulness of Falun Gong from the tremendous physical and mental changes she experienced. Her neighbors praise her as the best person in their village.
Such a good person as Ms. Zheng has been persecuted many times since the persecution started in July 1999. Xifeng County Court officials sentenced her to three years in prison in 2005, and she was released from Shenyang City No.2 Prison on December 25, 2007. The villagers all saw how she had been badly persecuted in prison and marveled at how quickly she recovered after resuming her Falun Gong practice.
Ms. Zheng is now suffering from dizziness, high blood pressure and rib pain as a result of her two-month detention. Her family tried many times to call the head and deputy head of the Fushun City Detention Center, demanding her unconditional release, but the two officials have never answered their phone calls.
People from Ms. Zheng's village stated in their co-signed letter: "Good people shouldn't be imprisoned. We call for justice and conscience, and please let our fellow villager Ms. Zheng Hongying return home."

Fushun City Detention Center
Zhang Jingwu, Qingyuan County Domestic Security Division head: +86-24-53031467 (Office), +86-24-53028486 (Home), +86-13704934678
Xu Xiangchun, participated in ransacking Ms. Zheng Hongying's home: +86-24-53023458, +86- 13188298899
Wang Yanbin, Nankouqian Town Police Station head: +86-13470516985, +86-24-53036985 (Home)
Please refer to the original Chinese article for more individuals and offices involved in the persecution.