(Clearwisdom.net) Falun Gong practitioners from Macao set up a booth at a famous tourist spot to help Chinese tourists quit the Chinese Communist Party (CCP) and its affiliated youth organizations. A young girl came to the spot and asked if there were any Falun Gong practitioners. One practitioner answered her, and the girl asked him if he could help her quit the Youth League. "Of course," he replied. "Why don't you use the name 'Shujun' to quit?" She said, "Great, thank you."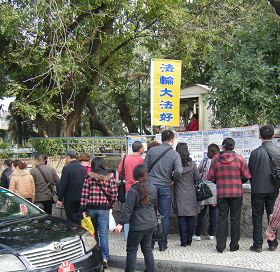 Practitioners' booth
When "Shujun" was still talking to the practitioner, an older lady came by. She asked "Shujun," "Can you quit the CCP here? Did you do it?" "Yes, I just did." This lady then said to the practitioner, "I am a member of the CCP, and I want to quit." The practitioner helped her.
She was pleased and asked the practitioner, "Is this announcement official? How can I prove that I quit?" The practitioner told her, "I will publish your announcement on the Epoch Times website" and explained the whole process to her. She was satisfied and announced, "Today is the happiest day of my life!" "Shujun" smiled and echoed, "Today is the happiest day of OUR lives." The lady smiled, too.
After they left, a group of young Chinese came by. They listened to the audio recording about quitting the Party put together by the Epoch Times and viewed the photos. The practitioner told them about the movement to quit the Party. Two young men said that they were members of the CCP and wanted to quit. The practitioner helped them. Later, one of them found his wife in the group and told her about quitting. She eventually quit the CCP, as well.