(Clearwisdom.net) Generally when a person is sick, he or she consults a doctor. When a doctor is sick, what is she to do other than helping herself? One morning after practice, Mrs. Hu, who is currently sixty-two years old, shared her experience of practicing Falun Gong for the past two years and validating its goodness.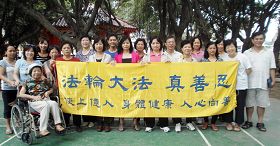 Ms. Hu (front row, fourth from right) pictured with fellow practitioners
Started Practicing upon Recommendation by a Chinese Medicine Doctor
Mr. and Mrs. Hu had lived in Virginia before returning to Taiwan a few years ago. Soon after returning to Taiwan, Mrs. Hu was plagued by various health conditions: dry eyes, breast fibrosis, frequent urination, arthritis, back arthralgia, insomnia and so on. Aerobic exercises did not help her much. Mrs. Hu recalled that her husband's mentor, a well-known Chinese Medicine doctor himself, recommended Falun Gong to them, so she started looking for practice sites.
She found a practice site in Taoyuan Longan Park near her home. Urged by the local assistant, she attended the nine-day lectures. From then on, she understood the meaning of cultivation practice and reasons for sickness.
Gaining Better Health and No Longer Suffering from Insomnia
Mrs. Hu recalled that she no longer suffered from insomnia after attending the nine-day lectures. She found herself listening to Master's lectures every now and then. She felt that the exercises were simple to learn, yet extremely effective.
So Mrs. Hu started on the path of cultivation, greatly improving her health both physically and mentally. However, Mr. Hu, who practices medicine himself, appreciated the value of Falun Gong only after trials of life and death.
Mr. Hu learned about Falun Gong on the Internet while in the United States, from his mentor's recommendation. Although he was practicing the Falun Gong exercises, he was also continuing to practice Tai Chi at the same time, which he had been practicing for thirty years. He could not dedicate himself to practicing Falun Gong. A series of unfortunate events happened this year. Mr. Hu accidentally fell three times in his home in Taiwan. At the end of March, he was diagnosed with brain and skin cancer, with surgery completed in June. Mrs. Hu planned for the worst, but a miracle happened.
Enlightened to Practicing in One School through Trials of Life and Death
Mrs. Hu attended to her husband in the hospital, and read the Fa or played the audio recordings of Master Li's lectures. When Mr. Hu somewhat recovered, Mrs. Hu practiced the exercises with him. Gradually, Mr. Hu recovered and looked better and better. Everyone was happy to see the changes. Going through the tribulation of life and death and reassessing the meaning of cultivation practice, Mr Hu gave up his attachment to Tai Chi and dedicated himself to the practice of one school, as required in cultivation. He is presently in the process of recovery.
Their son and daughter live overseas. When they called and asked Mrs. Hu to hire domestic help, she told them that her health has improved through practicing Falun Gong and she can manage the chores herself.
Gained Better Temperaments and a Better Relationship with Each Other
Mr. Hu said that the biggest benefit in practicing Falun Gong has been that both of them have gained a more peaceful temperament and their relationship has become more harmonious. They used to argue over trivial things before, like how toothpaste is squeezed. After practicing Falun Gong, they have both learned to care less about many things. A case in point, when Mr Hu was hospitalized, while caring for her husband, Mrs. Hu was under severe physical and mental stress. Mr. Hu also vented his pain on his wife.
With teachings of Dafa principles in mind, Mrs. Hu felt that it is not worthwhile to fight over small things. One should live happily, so she was particularly tolerant toward her husband. Mrs. Hu said that she was fortunate to have the guidance of Dafa to allow her to have physical and mental strength to deal with conflicts between them.
Wishing All to Learn the Truth and Cherish Dafa
Mrs. Hu recalled how people were commenting that she was looking particularly old when she first returned to Taiwan. She was indeed in poor health and there was also a tumor on her lip. As she practiced Falun Gong, her skin looked more radiant with fewer wrinkles. The tumor on her lip also became smaller.
Mrs. Hu exclaimed, "Falun Gong is truly great!" She was so happy to personally experience dramatic improvement in her physical and mental health, yet some people are still misled by the media and deceived by lies of the CCP. She will share their personal experiences in practicing with her friends and relatives. She hopes that people will not miss the opportunity to learn about Falun Gong and that they all have a chance to experience the magnificence of cultivating Falun Dafa.