(Clearwisdom.net) On December 8, 2011, just before International Human Rights Day (December 10), UK Falun Gong practitioners held a press conference in front of the National Gallery in downtown London, calling for joint efforts to stop the Chinese Communist Party's (CCP) persecution of Falun Gong. More than a dozen Members of British Parliament and European Parliament sent letters of support for the event. Falun Gong practitioners recounted personal experiences of suffering human rights abuses at the conference. Exiled democracy activists in the UK also gave speeches of support.
Practitioners in the U.K. hold press conference before Human Rights Day to call for an end to the persecution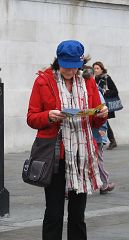 A passerby reads a Falun Gong flyer attentively
Calling for joint efforts to stop human rights abuses

UK Falun Gong practitioner Dr. Liu said: "It has been more than 12 years since July 20, 1999, and the persecution of Falun Gong has been ongoing in mainland China. According to statistics, there have been over 3,400 deaths due to persecution that had been verified through various channels. The actual death toll is much higher than this. Countless practitioners have been illegally detained in brainwashing centers, forced labor camps and prisons. Alarmingly, the hideous crime of organ harvesting from living Falun Gong practitioners is taking place in mainland China. We strongly demand the CCP regime to immediately stop the persecution of Falun Gong practitioners and to immediately release all practitioners illegally detained. At the same time, we call upon the international community to pay special attention to the persecution of Falun Gong in China, to stop the CCP's persecution, and to restore practitioners' freedom in mainland China."
For not giving up her belief in Falun Gong, a practitioner from the mainland, Ms. Zhou, had been arrested and detained three times in China. She said: "In China, I spent each day of my life being monitored and harassed. My daily commute, my participation in citizens' right of petitioning, and even going to the park with fellow practitioners were all being monitored." In order to avoid illegal arrest, she was forced into displacement. She said in her statement: "Under the CCP's repression and terror, when my relatives learned that I practiced Falun Gong, they were too scared to take me in." She recalled the experience in detention, "I was locked into a tiny room, with a cement bed large enough for only six or seven people. But more than twenty people were jammed in there. Bright lights lit the room 24 hours a day. All we were fed was cabbage soup. Other than three meals a day, I had to sit on the bench and was not allowed to talk. Every day I was subjected to abusive language and was interrogated ..."
She said: "My experience is only the tip of the iceberg in this genocide the CCP launched against Falun Gong practitioners. Tens of thousands of innocent practitioners have died as a result of torture or having their organs harvested. It has been twelve years, yet the persecution continues. I call upon kindhearted people to lend a helping hand. Let's all work together to stop the CCP's persecution against Falun Gong practitioners, and against all citizens demanding basic human rights in China."
Democracy activist: "Truth, Compassion, and Tolerance" is beneficial to the society
Speaking on behalf of the UK Division of the Democratic Front, Ms. Lucy Jin pointed out that the "UN Charter" was established 63 years ago, which enshrined that every human being has the freedom of belief, freedom of religion, freedom of speech and freedom of association. While the CCP regime signed the "UN Charter," its actions severely violated the Charter. She said: "In mainland China, not only Falun Gong practitioners are subjected to brutal persecution, underground Christian church members and all those who believe in the freedom of speech and dare to express their thoughts and opinions are being persecuted. The persecution based on one's conscience or belief is completely unjustified. In particular, such moral standards as [Falun Gong's core principles of] "Truth, Compassion, and Tolerance" is beneficial to the society, which does no harm to others. This is the conscience needed by the society. Why is the CCP afraid of these people? In my opinion, for a long time, the CCP's propaganda has led people to only believe in communism, to only bend to its violence and tyranny. So they do not like people to have independent thinking, or allow them to have the freedom to genuinely pursue their faiths."
Press conference spectator: We vowed after the Holocaust "never again," we have to stop this inhumane persecution
Londoner Andy took the leaflet that exposed the CCP's persecution of Falun Gong and organ harvesting. He came over to suggest to practitioners that a petition form should be added to the back of the leaflet, so that people could sign directly. Andy said with indignation: "After the Nazi's crimes at Jewish concentration camps during World War II had come to light, people vowed never to allow such inhuman crimes happen again. Now the atrocities committed against Falun Gong practitioners are more evil!" he said, "People should not just care about themselves. They should learn more and pay more attention to other things happening in the world to stop such crimes from happening again."
A councilor from Norwich, Ms. Lesley Grahame, passed by the press conference. Having learned about the CCP's persecution of Falun Gong and the atrocities of organ harvesting, she signed the petition to support Falun Gong. She said that independent investigations into the CCP's organ harvesting from living Falun Gong practitioners should be carried out, and the CCP's atrocities should be stopped. "I can not imagine the removal of organs from living beings is happening in this world. So much evil is driven by profit. And organ harvesting is the most evil crime." She said, "I have heard of the persecution of Falun Gong. I have also heard of organ harvesting happening in China. I did not expect that it happened to Falun Gong practitioners." She suggested to identify and to expose any institution or company associated with this atrocity, and to boycott such companies.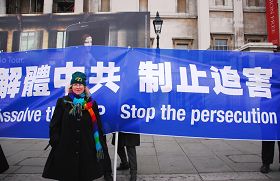 Ms. Lesley Grahame, councilor from Norwich: Organ harvesting is the most evil crime
Over a dozen VIPs send letters of support for Falun Gong
More than a dozen Members of British Parliament and European Parliament sent support letters for the event.
Councillor Brian Coleman from the City of London said in his support letter, "The practitioners of Falun Gong are to be commended for their continuing struggle against oppression by the Chinese Communist regime. Despite facing violence and imprisonment, Falun Gong practitioners have never faltered in their courageous fight against the appalling abuses of human rights perpetrated by the Chinese authorities. Falun Gong not only provide a voice for their own followers, but for the wider dissident community. I will continue to lend my support for their efforts."
MEP Richard Howitt from the East of England region wrote, "Thank you for your recent correspondence highlighting human rights abuses against Falun Gong members in China. In my capacity as the former Vice Chair of the Human Rights Subcommittee of the European Parliament, I am keen to promote the issue of human rights both within the European Union and throughout the world, and therefore I too am extremely concerned over these cases.
"I am aware that Amnesty International has published reports on several Falun Gong adherents and asked members to raise awareness of their situations. I believe the EU should be taking the lead on this issue. It is essential we establish dialogue within third countries and liaise with the relevant regional organisations, and NGOs to deal with human rights abuses, both in China and throughout the world.
"Thank you for writing to me on this issue. Please be assured I will continue to watch the developments on this particular situation and continue to use my position in the European Parliament to highlight issues of human rights violations."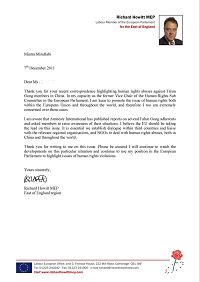 Letter from MEP Richard Howitt
Rt. Hon. Andrew Smith, MP for Oxford East, wrote, "Please convey my strong support and best wishes for the press conference and for the events that Falun Gong practitioners and their defenders will be holding to mark Human Rights Day."
A statement from Julian Huppert, Liberal Democrat MP, Cambridge, read, "For over 12 years now, China has systematically persecuted the practitioners of Falun Gong. This has got to stop. Despite numerous demonstrations within China and across the world, countless individuals have been detained and imprisoned simply for the peaceful practice of their beliefs. Freedom of religion is one of the most basic human rights, and it is completely unacceptable that the Chinese Government refuses to support it.
"It is time, therefore, that the Chinese Government accepts responsibility for the abuse of human rights, free those individuals who have been imprisoned for their beliefs and respects the universal right for all people to live in the way that they choose. In a globalised world where citizens have much more power, the Chinese Government can not continue to imprison, torture and even kill its own people without facing the consequences. I hope the Chinese Government will take immediate action to end the persecution of Falun Gong and make amends for the terrible human right abuses we have witnesses over the last 12 years."
Marina Yannakoudakis MEP, Conservative, London region, said in her support letter, "Please be assured I will continue to monitor and raise awareness of the situation facing the Falun Gong movement in China." She raised the following question of the European Commission:
"Is the Commission aware of the Falun Gong's struggle for basic human rights in China? If so, what pressure is the Commission exerting on the Chinese authorities in this respect?"
Answer given by High Representative/ Vice President Ashton on behalf of the Commission: "The EU is concerned that the extensive restrictions imposed upon members of the Falun Gong movement, as well as upon other religious or spiritual groups, are incompatible with freedom of conscience as recognized under Article 18 of the Universal Declaration of Human Rights. The EU has repeatedly raised its concerns with the Chinese authorities regarding reports of persistent intimidation, harassment, arbitrary imprisonment and torture of members of the Falun Gong movement. Most recently, at the last session of the EU-China human rights dialogue on 16 June 2011, the EU raised issues such as widespread imprisonment of Falun Gong practitioners in Re-Education Through Labour camps, the imposition of long prison sentences on Falun Gong practitioners solely for distributing leaflets concerning their beliefs and the effect of the so-called "strike hard" campaign concerning Falun Gong. The EU will continue to raise the issue of the treatment of Falun Gong practitioners at all appropriate opportunities with the Chinese authorities."
MEP Jean Lambert said in her support letter, "Although 2008 marked the 60th Anniversary of the Universal Declaration of Human Rights, basic freedoms, such as the right to freedom of thought, conscience and religion and the right to freedom of opinion and expression are still far out of reach for some, and being eroded for others. I am well aware that for Falun Gong practitioners in China, these rights are tragically still far from a reality, with thousands of practitioners arbitrarily detained and persecuted as part of an organized campaign of intimidation and persecution. The Greens/EFA Group in the European Parliament, with whom I sit as Green MEP for London are deeply committed to promoting and pushing for Human Rights for all, and strongly believe that respect for human rights must be at the forefront of the EU's policy towards China."
MEP Nikki Sinclaire, Member of the European Parliament for the West Midlands, wrote, "Any persecution and discrimination of a minority group is wrong and should be outlawed." MEP Andrew Duff, Liberal Democrat MEP for the East of England, said in his letter, "I look forward to a day where China joins the family of nations in which the rule of Law and respect for human rights are the basic foundation of a civil society, a China where executions, tortures and false imprisonments are a thing of the past."
MEP Fiona Hall said in her letter, "It is vital that those of us lucky enough to have the freedom to speak out against oppression do so. China's ongoing persecution and torture of people on the basis of their beliefs deserves the strongest possible censure. On International Human Rights Day we express solidarity with those who find their liberty restricted and their basic freedoms curtailed. We continue to shine a light on human rights abuses in the hope of bringing them to an end."
MEP John Bufton said, "I strongly advocate any action to stop the torture and suffering of Falun Gong practitioners in China. What could be more hatefully ironic than the incarceration, abuse and attempted "re-education" of a people who believe in peace, open mindedness, freedom and morality? Such despicable infringement of human rights must be stopped by the international community. Everyone deserves the individual liberty to live safely within their own belief systems."