(Clearwisdom.net) On December 10, International Human Rights Day, Falun Gong practitioners held a candlelight vigil in downtown Freiburg, condemning the 12-year-long persecution of Falun Gong in China.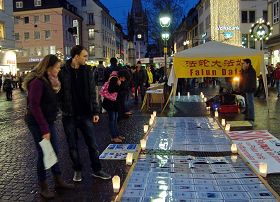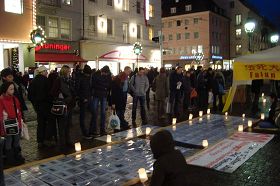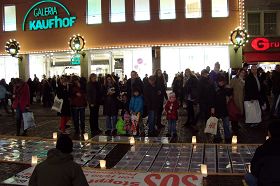 People viewing the photo display of Falun Gong practitioners who died in the persecution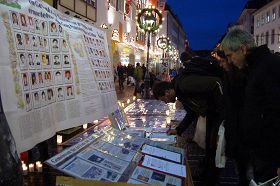 Signing the petition to support Falun Gong
The candlelight vigil started at 5 p.m. Practitioners displayed pictures of Falun Gong practitioners who died as a result of torture in China. In the last 12 years, 3463 people died in the persecution.
Many people stopped to view the pictures and read the information displays. Many said they were grieved to learn that such a brutal persecution is currently taking place. People waited in line to sign the petition. Some of them asked what they could do to help stop the persecution. Some of them took additional flyers for their friends.
A tourist from Beijing said: "Nobody can talk about human rights in China. People there don't have a chance to know the truth."
A German-born Chinese young man told practitioners at the event that he would urge his parents to quit the Chinese Communist Party. He asked for the website where one can formally denounce the Party.
A Chinese student didn't believe the information about the brutal persecution. Practitioners told him the details of the persecution and showed him evidence. He realized that all he heard in China about Falun Gong had been lies. He said that he would learn more on the Internet.