(Clearwisdom.net) I have about one acre of land about 80 kilometers from my city. When I showed interest in starting a Falun Dafa school there, some of the practitioners suggested that it would not work, because it is far from the city and difficult to manage. My wish is to have a school at which Falun Gong is practiced daily. This has become my dream, but not my attachment.
In the meantime, another practitioner and I tried to introduce the practice in different government and private schools, to people we came across on the road, in trains, and on buses whenever we travel, or in meetings with the press and media. During the process, I have faced many situations that helped me immensely in my cultivation. Some people raised issues, for instance, saying that our principles of Truthfulness-Compassion-Forbearance are good, but difficult to practice, or they had a general resistance to accepting new things.
My uncle, a retired professor, appreciated the practice and also the efforts we were making. As we teach the exercises, we are at any given place for 7-10 days. Because we were frequently changing places, my uncle wanted to know what we were doing to get feedback. Even though I told him that it is up to the individual person to decide whether he or she is interested in continuing or not after our introduction, his enquiry made me ponder a lot. I discussed this with another practitioner. We realized that since it is somewhat difficult to make the adults easily understand the greatness of our practice, we thought it would be better to concentrate on the nearby schools. We felt this way because young students are pure hearted, and it would be easier for me to follow up or continue teaching the practice three days a week regularly.
We tried to select two schools to start with, a government school and a private school. In the process, I was highly motivated by a lady practitioner from another city. One day last month, another practitioner and I went to apply for a free booth (we have been getting a free booth for three years) at the next All India Industrial Exhibition, to be held in Hyderabad early next year. As we left the office after applying for the stall, I happened to notice a Girls School operating inside the exhibition premises. I immediately had a thought about introducing the practice in that school, as it would reach a much larger group and also because those kids most likely lived nearby and could come to our Falun Dafa booth with their parents.
The first time there I didn't get permission to meet with the principal. I was asked to speak with the physical education director, who told me that he would need to get permission from his superiors. He told me that he would get back to me within a week's time. When no one got back to me, I went to the same school and luckily was asked by the director to explain Falun Dafa to the principal. I showed them photos, and I asked her for permission to introduce the practice for one week.
Thanks to our revered Master, the principal immediately agreed. Observing the interest shown by the students and the gradual change in the school environment, the principal later involved all the other teachers when the students were doing the exercises. She started asking me about the benefits of the practice in particular, and also the difference between Falun Gong and other practices. Since I noted her interest, I asked if I could continue teaching the practice for one more week. She gladly agreed.
With the help of another practitioner, the exercise instructions were downloaded onto a school computer. The principal gave me another week's extension and asked if I could come to the school every day during the afternoon to train ten volunteer students. She wanted these ten volunteers to teach the rest of the students daily. I complied with her request.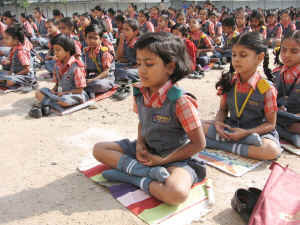 Through all these developments, I was fully aware of her interest in continuing, since she found our practice to be more convenient when compared with yoga. She also told me that she was about to start yoga classes in the school and it seemed that I had contacted her at just the right time. I told her that everything happens because of predestined reasons, and she agreed. She asked me how I managed to find the school, as it is inside the exhibition building and not known to a lot of people.
I explained what led me to the school, and she was happy to learn of my efforts. She advised me to introduce the practice at a polytechnic girls college and a degree college for women, which are also inside the exhibition premises. I thanked her for the information and assured her that I would contact the relevant people soon. To make my work easier, she gave me a letter of appreciation and a copy of the school's timetable showing the specific times when the Falun Dafa exercises are taught (see the images below).
The principal also asked us to continue teaching the practice until the school's physical education teacher returned from her leave. She asked us to train the teacher for a few days, and after that, she would continue our exercises daily in the school. I gave her both Falun Gong and Zhuan Falun, in English and Hindi languages. She advised us to help other people in the nearby schools, to which I quickly agreed.
I am very happy that my original wish to have a Falun Dafa school has been fulfilled this way. I would like to thank our Great Master. The school has nearly 600 students and is located just opposite to the exhibition booth given to us. This was a miracle.
In keeping with the principal's request, I obtained all the required permissions from government officials and started teaching in the school from 3:00 to 3:30 p.m. I will continue teaching here two to three days per week. Here, I would like to say that I will spare no effort to spread the practice as much as I can. I am very fortunate to have this divine job.
I would now like to quote our Master's words from "What is a Dafa Disciple?"
"I've seen recently that the Dafa disciples in mainland China have become more and more sober, and clear, amidst the persecution, and they are doing better and better. However, the Dafa disciples around the world, as circumstances have improved, have let up. Some people seem to be lacking enthusiasm in whatever they do, never mind in how they cooperate."
And,
"My hope is that Dafa disciples can all be like how they were with each other in the old times, and as diligent as before when you first obtained the Fa. There used to be a Buddhist saying, the idea of which was: If you can be like you have just begun, all the way from the beginning to the end, you will surely achieve Consummation."
Heshi to our Great Master.
Please feel free to provide any feedback or suggest anything that can be improved.