Jiao Lin Cruelly Tortured at Dongling Prison in Shenyang City
December 01, 2011
|
By a Clearwisdom correspondent from Liaoning Province, China
Name: Jiao Lin (焦琳)
Gender: Male
Age: Unknown
Address: Fengcheng City, Liaoning Province
Occupation: Unknown
Date of Most Recent Arrest: May 6, 2011
Most recent place of detention: Dongling Prison in Shenyang City (沈阳东陵监狱)
City: Shenyang
Province: Liaoning
Persecution Suffered: Detention, illegal sentencing, imprisonment, hanging by hands cuffed behind the back, handcuffing, brainwashing, denied visitation.
(Clearwisdom.net) Falun Gong practitioner Mr. Jiao Lin was transferred to Dongling Prison in Shenyang on August 16, 2011. He refused to cooperate with the guards or wear the prison uniform. He shouted phrases such as, "Falun Gong is good. Heaven will destroy the Chinese Communist Party," and for this he was cruelly tortured. When his family saw him, he was emaciated and barely able to walk. The guards threatened that if he did not give up his belief and was in danger, they wouldn't be responsible.
Jiao Lin was arrested by Chinese Communist Party agents in September 2010, when he was about Falun Gong and the persecution. He was tortured by Cao Dejun and other guards at the Fengcheng Detention Center. He became critically ill and was released.
On May 6, 2011, Jiao Lin went to the Fengcheng Political and Judiciary Committee to request the return of his vehicle, which was confiscated earlier. He was arrested by the Political and Judiciary Committee and the Domestic Security Division. On May 30, 2011, he was falsely accused and sentenced for three years in prison by the Fengcheng Court.
Jiao Lin's family went to see him at Dongling Prison in Shenyang City on November 17, 2011. He had become emaciated from mistreatment, and was wearing handcuffs during the visit. The handcuffs were so tight that his hands were extremely swollen. It was difficult for him to walk and he couldn't lift his feet. He and his family were being closely watched during the visit, and unable to speak freely. If there was any transgression, they were prevented from talking. The guards denied that he had been made to wear foot shackles, when the family asked, but they could tell from the condition of his body that this wasn't true. It appeared that he had been tortured by a method called, the "stretching bed." This is a cruel torture method where the person is hung in a horizontal position, facing up, with ropes attached to the four limbs.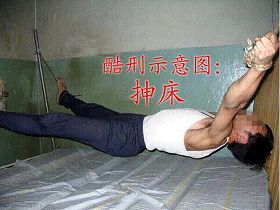 Torture reenactment: Stretching bed
Li Runbin, captain, and Yan Zhengyuan, assistant captain of the No. 2 Dongling Prison, admitted to handcuffing Jiao Lin around the clock in a specific position. They said that Jiao Lin wouldn't wear prison uniform, and they needed to force him to eat.
According to Li Runbin, Jiao Lin was brainwashed by the so-called legal system's psychologist around National Day on October 1. There were eight people in each group. Around the clock for 12 days, they took turns trying to coerce him into giving up his belief, but he was determined in his faith in Falun Dafa.
The authorities have since prevented Jiao Lin's family from visiting him at Dongling Prison. They have used a variety of methods to "" him, and are trying to get his family to assist in "transforming" him. Li Runbin and others have threatened his family, that if Jiao Lin still didn't give up his belief, he would be confined in a small room. They said they would no longer be responsible if his life was in danger.
Li Runbin, captain of No. 2 Dongling Prison in Shenyang City
Yan Zhengyuan, assistant Captain of No. 2 Dongling Prison in Shenyang City