Malaysia: Introducing Falun Gong at the International Health Fair (Photos)
November 11, 2011
|
By a practitioner in Malaysia
(Clearwisdom.net) The Eighth International Health Fair, the largest health expo in Malaysia, was held on November 5-8, 2011 at the Putra World Trade Center in Kuala Lumpur. Local practitioners participated in the event, introducing Falun Dafa's (also known as Falun Gong) benefits to physical and mental health.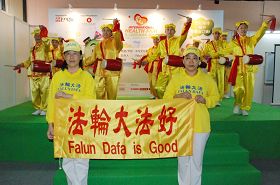 Practitioners' waist drum team performs on stage
The audience watches practitioners' waist drum performance
People learn about Falun Gong at the booth
The event exceeded 220 booths for the first time, with more than 80 local and foreign exhibitors showcasing a wide range of healthcare products and services. The number of visitors reached 50,000 last year.
This was the third year that Falun Gong practitioners took part in the health fair. A waist drum team composed of practitioners was invited to perform, and the audience warmly applauded their performance.
At the front of the Falun Gong booth was a large picture of Falun Gong exercise instructions, and a television set was placed on a table to play video of Master Li Hongzhi's exercise demonstration.
Practitioners demonstrated the exercises at the booth, attracting the attention of many visitors, who were also interested in the beautiful handmade paper lotus flowers. They came to the booth to learn the facts about Falun Gong.
A young man, Mr. Bin, who engages in early childhood education, had misunderstandings about Falun Gong because of the influence of the Chinese Communist Party's negative propaganda. After the practitioners' explanation, he was made aware of the facts and expressed his thanks. A practitioner told him that many elementary schools and kindergartens in Taiwan teach Falun Dafa, helping children to be well-behaved and improving their learning ability.
Dr. Huang came to the booth to learn about Falun Gong. A practitioner told him to read first. Dr. Huang bought a copy and an exercise instruction video tape.
Ms. Chen, a staff member from a nearby booth, learned that practitioners teach the Falun Gong exercises free of charge and said, "You're really kind to introduce Falun Gong here, you've done a great job."
Falun Gong practitioner Mr. Zhao said, "More visitors this year came to our booth to inquire about information about practice sites and buy Falun Gong books and CDs. Some visitors saw our booth last year at the fair and came over again this year to find out more about Falun Gong. We hope they will benefit from learning the Falun Gong practice."